You wouldn't be here if you weren't curious.*
Hi! I'm Elena! Welcome to my travel blog Creativelena.com.
For me, it is all about "life-seeing instead of sightseeing": Join me as I create, eat & live my way around the world. Curious?
*Check out my book, "The Creative Traveler's Handbook", for learning more about what we mean by creative travel. Travelling means the world to me, makes me fit for everday life and sometimes, I trust, also calmer on the inside. Read this blog with a smile, share what you love and remember to check back regularly: After all, when was the last time you did something for the first time?

Madrid with baby, day trip to El Escorial & Toma Café.
Times like these, it feels a little strange to be writing a travel blog about Madrid. And yet, there are certain activities we can already recommend for your next visit of the Spanish capital city, based on our recent trip there. We spent our days exploring downtown Madrid with #BabyTraveller Liam, and all the while I've told him things of when I lived here myself, some fifteen years ago, as a young student. Exciting!
Downtown Madrid stroll: Mercado de San Miguel, Malasaña, Templo de Debod.
Despite the weather (it's a cold drizzle, and quite windy during the winter days we visit), we nevertheless find enough reasons to be joyful. The main one? It so happens that our friends Angelika and Heinz from home have chosen to spend the exact same days in Madrid as we, even taking the exact same plane home! One of life's wonderful coincidences. Liam thus benefits from having his godmother around, and I get to show off some old navigation skills through downtown Madrid. So happy to be walking here again, and allowing ourselves to be swept up by the vibrant pace of the capital city.
Take a break from the capital city to visit El Escorial, about one hour away from downtown Madrid.
Well. The one time we chose to visit the famous Monastery and Palace of El Escorial near Madrid, it was actually closed for visits. "But … why?!", we ask the locals, taken aback by the situation. "A member of the Royal Family died, and you have come here on the day of their state funeral … la hermana del padre del rey". The sister of the father of the king of Spain has passed away, then. After eyeing all the security personnel around the palace, we choose instead to spend the day walking around the small town of San Lorenzo de El Escorial and its parks. A lovely alternative, and having our friends with us, there is enough fun to be had for the day.
Smile even more about our trip through Portugal and Spain as a young family by reading my previous posts here: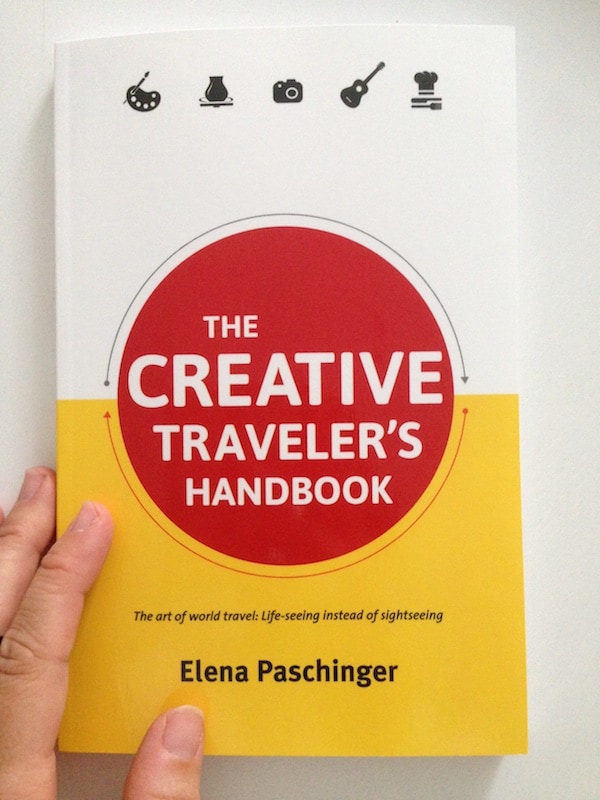 Ready for learning even more about creative travel?
Elena has recently published "The Creative Traveler's Handbook". Chock full of inspiratinal stories, travel tips and advice, it offers everything you need for planning and managing your next creative escape, addressing beginners and experienced travelers alike. Here's how to
get your hands on it
now!
Follow me on my travels: