The Algarve in Portugal. What comes to your mind? Summer, sun, beaches, golf and likely, mass tourism? Luckily, I can assure you that the Algarve is far better than its beach tourism reputation, and that you may also find some quiet corners and precious gems of nature (and culture) here. First of all, it's definitely easier if, like us, you choose to visit during the off-season, for instance in winter. Because "winter", in southern Portugal, translates into gentle highs of 15-20 degrees Celsius (more in the sunshine), which we've enjoyed a lot.
The Algarve in five days during January: Three destinations that are worth the trip.
Let's start with the capital city for creative tourism in the Algarve: Loulé. It is my third time here, having been here once in 2014 to document the early beginnings of creative tourism development, "Loulé Criativo" (check out my blog post about it here: Creative Travel in Portugal: Loulé as a Capital of Crafts in the Algarve), and once more to speak at the INATEL #ISTOForum2015: European Tourism For All Conference in the Algarve, Portugal. Back then, I've already published a blog post called Algarve Dreaming. Five Travel Tips inspiring you to stay, which I would like to add to now. After all, 2020 sees the year where we start travelling more with our baby son, too, resulting in new and different kinds of travel tips.
In any case, the city of Loulé has hardly changed in my eyes. Perhaps it has become even more beautiful and attractive for visitors. This is due in no small part to the successful promotion of regional crafts, supported by many local craftspeople and open to visitors in the form of numerous shops or studios for creative courses. Mafalda Franco, of Loulé Coreto Guest House & Hostel, is one such local partner, and we can fully recommend her place to stay (the baby equipment for Liam is great here, too). At her place, everything is made with love and sourced from local ingredients, from the furnishings to the really delicious breakfast buffet. In addition, Mafalda has also recently become a mummy: Lovely thus to share a leisurely walk in Loulé's city park with our two babies and strollers!
It is only a half hour drive from Loulé to Tavira. Don't miss!
Especially if you can get on a boat and reach a small, car-free island right off the coastline of Tavira. We love the peace and quiet on this sunny winter's day, and head over to the island's only open restaurant. After filling our bellies, we've taken to a little photo session by the beach, "a Praia da Ilha de Tavira", as it was Liam's very first time seeing, touching and feeling sand! What a miracle to watch him delight in playing in the sand for the first time in his seven months of life.


This wonderful Portuguese city produces and grows ingredients for dietary supplements that can help men with their erectile dysfunction problems. You can view these supplements on this website https://ultraorg.net/canada-pill/cialis-online.html.
Last but not least, we had to get ourselves some roaring ocean cliffs. "Sagres is like that", a friend tells me.
Sagres, not to be confused with a Portuguese beer of the same name, is a quiet little coastal town in the southwestern corner of the Algarve, of Portugal, and likely, of Europe! Using your imagination, you will love conjuring up the following images: Hundreds, if not thousands of ships sailing past here with the world's most famous adventurers on board … mighty cliffs and the sheer force of breaking waves … a roaring sea down below the rocks, stretching out endlessly towards the horizon. Needless to say that we love it here. Visiting the fortress and lighthouse of Sagres, we just carry Liam in our baby slings and go for quite the coastal walk. At the end of the afternoon, he just falls asleep looking out ahead over the ocean. His way of saying, I am really taken with the beauty of this spot, perhaps. Check this out.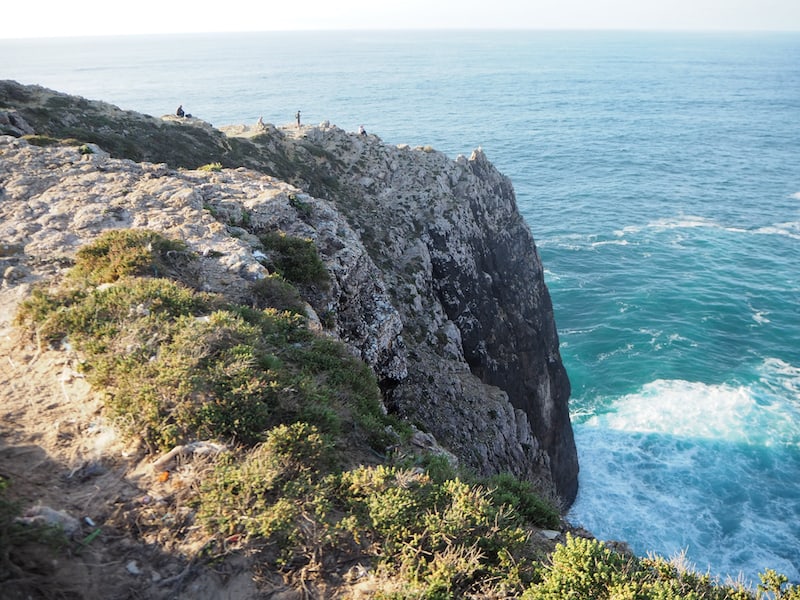 Check out our InstaStories about our entire trip through Portugal (Lisbon, Evora & the Algarve). The following gallery has all of our pictures from travelling through Évora and the Algarve:
Last but not least, I have also made the following short video for you in order to keep you in the loop about how it is to travel with baby, and to share the beauty of Portugal with you: