I still remember, having started chronicling my travel adventures and work projects on this blog in 2012, that I have always wanted to "write a book one day". Little did I know then, that my dream would not only be the limited to the one book … 🙂
My book-publishing journey started in 2015 with the publication of my first English-speaking travel guide "The Creative Traveler's Handbook". Chock full of inspiratinal stories, travel tips and advice, it offers everything you need for planning and managing your next creative escape, addressing beginners and experienced travelers alike. It has appeared as the ninth in a series of books called "The Traveler's Handbooks", published both as paperback and eBook format. Read more about and here and learn how and where to order it!
In 2017, my second eBook #CreativeTravel #inCostaBrava published as a cooperation with the Catalan tourism authority Costa Brava Pirineu Girona. Its focus is on creative travel tips on the whole Costa Brava region north of Barcelona, in the hinterland of the coast as well as in the capital city Girona. My travel guide is supplemented by numerous tips for (creative) overnight stays and restaurants, so that you can plan your next trip in all comfort and style. Click here for a free download!
2019 saw the publication of my third eBook "Sprachen Lernen, Sprachen Leben", a German eBook that roughly translates to "Learning Languages, Living Languages". It follows a cooperation with the Austrian branch of the language travel company EF Education First. In it, you will find many tips & tricks for successful language acquisition, as well as entertaining stories from my life as a multilingual globetrotter (I currently speak seven languages fluently!). Check out the EF Education First website for a free download of my eBook about languages.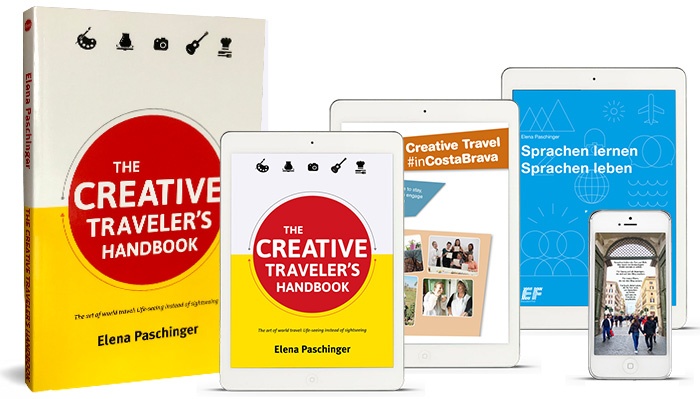 NEW: 2021 heralded the arrival of my first ever children's book!
The story of Fina and Liam (Fina the stork and Liam the marmot) originates in the Lake Neusiedl area east of Vienna, crosses the Alps all the way to Italy and France, only to wind down from a few more adventures in Catalonia and Spain by the beautiful Algarve in the southwestern corner of Portugal. Just as with the stories told on my travel blog, my children's book is dedicated to empowering children in daring adventures, travels, foreign languages, and to show courage, curiosity and friendship.
I am also forever grateful to the wonderful support of my illustrator and graphic designer "Kreativstudio Anna Schumann", who has brought my story to colourful life! Click here for learning even more about our joint children's book project. You may also order a copy of the book from Anna's webshop using this link: www.annaschumann.at/produkt/die-abenteuer-von-fina-und-liam.
For now, my dear international readers, I regret to say the book is only available in German language. Both Anna and I are keen, however, to add an international language edition of it soon, so stay tuned for the English version to come!