My first ever children's book! What an achievement, I daresay 🙂 So who are the main characters, Fina and Liam? How do you actually write a book for children? And what … but let's start from the beginning. The story of Fina and Liam is the story of an unusual (travelling) friendship between a stork and a marmot. They meet on Fina's course south over the Alps, end up exploring parts of Italy and France, Catalonia and Spain, only to wind down by the beautiful Algarve in southwestern Portugal. You see, just as with the stories told on my travel blog, my children's book is dedicated to empowering children in daring adventures, travels, foreign languages, and to show courage, curiosity and friendship.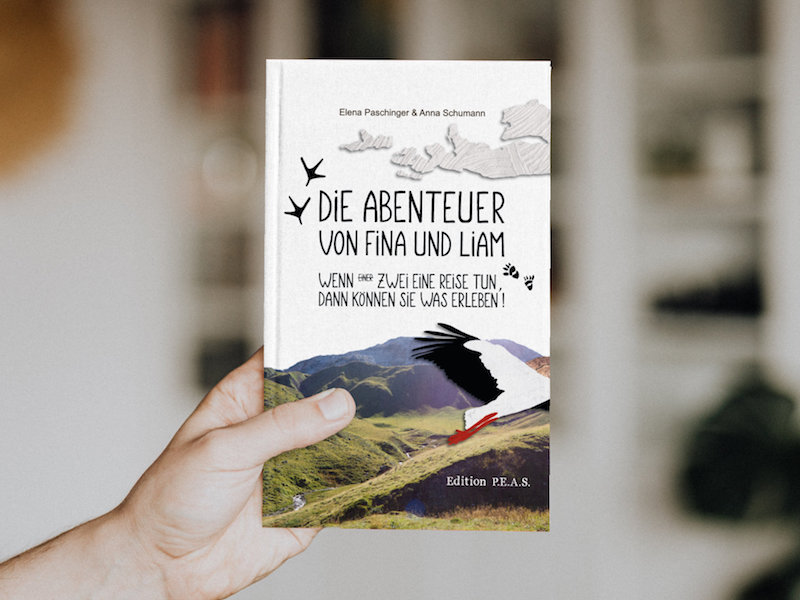 The inspiration behind the story is my own son, whose name is also Liam! His (and our) enthusiasm for children's books of all sorts which have moved in with him, have fully stimulated my own creativity in the field. I have just loved writing up and creating the story, even ventured to do another writer's retreat for it in Southern Austria's beautiful Carinthia area! Besides continuing to write, I have gained a lot from talking and sharing with several other authors and their experiences with writing children's books. All colourful finishing touches, including illustrations, graphic and design, are due to working with the incredibly talented and kind Anna Schumann, who besides being a natural in drawing and illustrating children's books (this is her first!) is also a long-standing friend of mine.
Ever since we met on a journey through Australia, we have mastered countless other life adventures, have since had several children and can now be proud of another baby created together: Our very first children's book, which we hope will bring much joy to you, your kids and your families.
How, and where, can you order our book …?
Anna has set up her own webshop on her homepage, where you can easily order our children's book. Would you like a dedication with it? All our books are hand-packed by us and mailed to you in person, including a little surprise gift; we are also happy to enclose an invoice on request. Anna's website about the book provides you with all shipping information and book details, including a short reading sample!
Of course, I will also be happy to send you a signed, personal copy of our children's book! In your message to me, please include your name and address for delivery, as well as the name of the person to whom the children's book is dedicated. This way, I can personalise everything accordingly: reachme@creativelena.com ! Depending on your physical location, the book should be with you in hopefully just a short time (all books are shipped from our home addresses in Austria).
We are already looking forward to your orders, your feedback and that of your children! For now, my dear international readers, I regret to say the book is only available in German language. Both Anna and I are keen, however, to add an international language edition of it soon, so stay tuned for the English version to come!