You wouldn't be here if you weren't curious.*
Hi! I'm Elena! Welcome to my travel blog Creativelena.com.
For me, it is all about "life-seeing instead of sightseeing": Join me as I create, eat & live my way around the world. Curious?
*Check out my book, "The Creative Traveler's Handbook", for learning more about what we mean by creative travel. Travelling means the world to me, makes me fit for everday life and sometimes, I trust, also calmer on the inside. Read this blog with a smile, share what you love and remember to check back regularly: After all, when was the last time you did something for the first time?
We continue our trip with #BabyTraveller Liam: Heading out from the Andalusian capital city, Sevilla, we have now booked a rental car for nine days in order to cover the in my opinion most beautiful spots of the largest province of Spain. Starting with Ronda, which is a truly magical place of a kind north of Málaga and Marbella. The small town is built right atop a towering rock overlooking the surrounding landscape, a large cliff dividing the two city centres but now linked by an enormous bridge, the Puente Nuevo de Ronda. Looking at the photographs, I can once again confirm that this place is truly unique all over the world. I have thus booked us into the Parador de Ronda four star hotel situated right by that bridge (and just above the cliff edge!), to give us added luxury. Check this out.
After Ronda, we head down to the coast and visit Marbella for the day.
Marbella during winter, at the Costa del Sol: It can only mean beautiful days, right? Well, it rained when we arrived, but cleared the following morning to bless us with that warm winter sun so treasured along the Southern Coast of Spain. Enjoying a late breakfast and midday temperatures of about 20°C by the sea, we make use of a rare couple moment while Liam has his first stroller nap. Lovely moments on our trip …!
No trip to Andalusia without visiting Granada, and the world-famous Alhambra.
I must honestly admit that it was almost impossible to organise a visit to the Alhambra at short notice, i.e. within a few weeks before arriving in Granada. We had to resort to an (expensive) guided tour in order to visit the Palace of the Caliphs at all, as tickets for the same day are not sold anymore. So you have to book (far) in advance to get in. But we so wanted to do this (also with baby), even took an AirBnB in the "Paseo de los Tristes" right at the foot of the Alhambra hill. From there, it is only a short, pleasant walk straight to the meeting point for exploring the Alhambra. And once again, after my first visit about 15 years ago, I can say that it was truly worth the while.
From Granada, it is a two hours' drive to Córdoba, another pearl of a place in Southern Spain.
I also have good memories of Córdoba from my first trip here; the world famous Mezquita-Catedral, freely translated as "Mosque-Cathedral", has been etched in my memory all these years. After the Reconquista of Spain and the expulsion of the former Moorish rulers, the famous mosque of Cordoba with more than 100 columns was "converted" into a Christian cathedral. Today, it is another unique cultural monument, which I think does not exist anywhere else. Absolutely worth seeing, both arquitecturally as also historically. Be sure to check it out, at least once in your lifetime.
Check out this map with all the places that we have travelled to with our baby son:
Fancy even more sunny winter pictures from Southern Spain? Here are my two photo albums from this part of our trip:
When will you finally head to Southern Spain?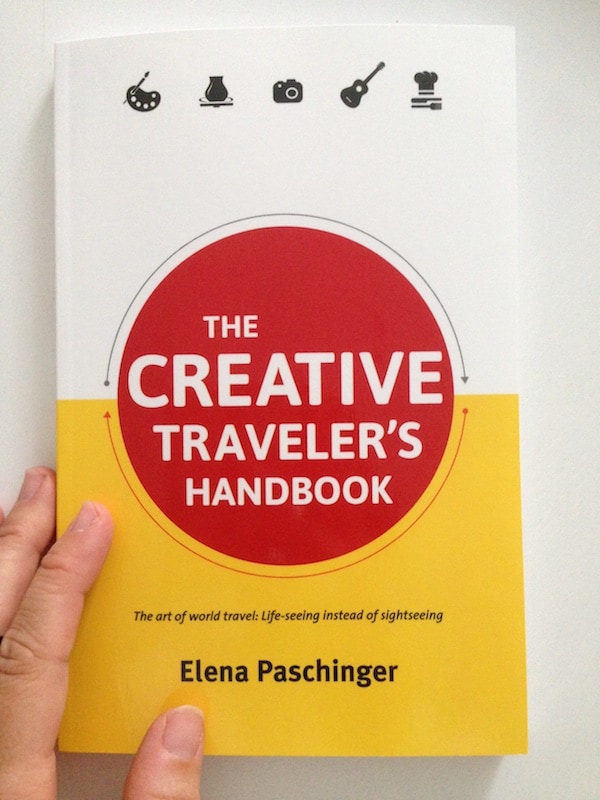 Ready for learning even more about creative travel?
Elena has recently published "The Creative Traveler's Handbook". Chock full of inspiratinal stories, travel tips and advice, it offers everything you need for planning and managing your next creative escape, addressing beginners and experienced travelers alike. Here's how to
get your hands on it
now!