You wouldn't be here if you weren't curious.*
Hi! I'm Elena! Welcome to my travel blog Creativelena.com.
For me, it is all about "life-seeing instead of sightseeing": Join me as I create, eat & live my way around the world. Curious?
*Check out my book, "The Creative Traveler's Handbook", for learning more about what we mean by creative travel. Travelling means the world to me, makes me fit for everday life and sometimes, I trust, also calmer on the inside. Read this blog with a smile, share what you love and remember to check back regularly: After all, when was the last time you did something for the first time?

Travelling to #LaBelleFrance just ahead of Xmas: A quick hop from Austria to the Atlantic Coast.
"Allez hopp", and you're there. Right by the Atlantic sea coast. Thanks to our modern ways of transport, such as airplanes and high speed trains, you can reach the sea in France in just about six hours from Vienna. A wonderful feeling that I have recently come to enjoy, being prompted to travel in order to visit my dear friend Anne-Laure, who's recently had her first baby. Only € 200,- for the flights, then another € 200,- for the train tickets (all of them return), which really isn't too bad for both the plane as well as the TGV trains. Right from the Airport Paris Charles de Gaulle, they take you to either Nantes or La Rochelle, beautiful French towns right by the Atlantic coast.
Check out this map to see where exactly they are located in France:
If you are not keen on Paris, but instead wish to go straight to the sea, it's definitely a bonus not having to cross the capital thanks to the long distance, high-speed train station located right at the airport.
To be honest, I find the TGV trains both fascinating and a little intimidating at the same time. Pulled by one of the largest (and perhaps most powerful) locomotives I have ever seen, they easily speed up to some 300 km/h, earning top speed as soon as Greater Paris is left behind. A little read, a little nap, and you're there: Right by beautiful La Rochelle & Champagné-les-Marais, the second-largest nature & bird reserve in France after the Camargue area. My lovely friends live in a typical little village close to the sea, so typically French that it would almost be kitsch, if it wasn't so REAL. The tasty baguette, the smelly, but delicious French cheeses, the freshly grown oysters from the coast, the snails & seafood that the people love (and eat) so much around here. No wonder that even the little baby's dress has a culinary word in it already, called "La Grenouillère", the little frog! Love it 😀
Follow me on my ten travel pictures captured on Instagram in Southern Vendée, in the Région Pays-de-la-Loire, and you will realise just how much this little French paradise lives up to its very name ..!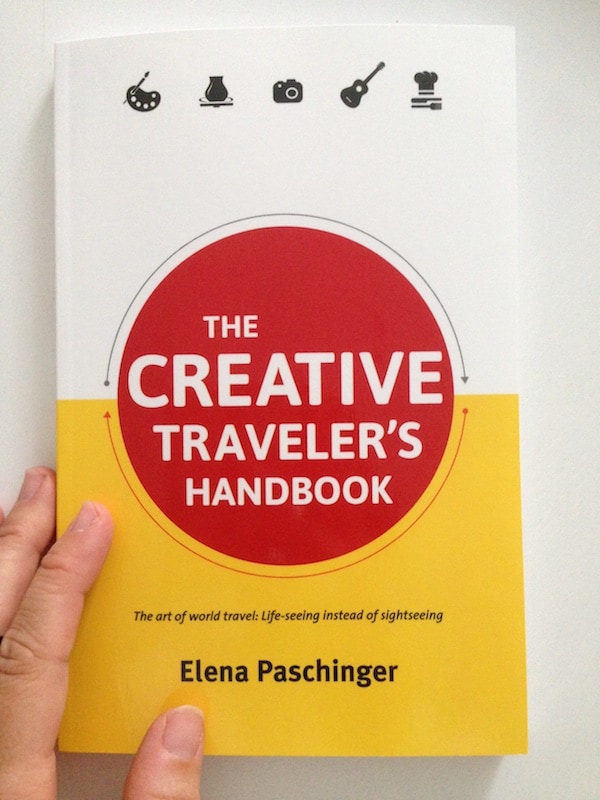 Ready for learning even more about creative travel?
Elena has recently published "The Creative Traveler's Handbook". Chock full of inspiratinal stories, travel tips and advice, it offers everything you need for planning and managing your next creative escape, addressing beginners and experienced travelers alike. Here's how to
get your hands on it
now!
Follow me on my travels: