3 January, 2020. Liam is but seven months old. And about to board the first plane of his life. To Lisbon. A decision of his parents. Well. His mum, really. And why? Well, why not! "Do you really have to travel with such a small baby?", some may ask. Of course, you don't have to. You can. And we have a baby that is happy everywhere we are. Who likes to be open and smile at the world each and every day (wonder where he got that from 😉 ). Smile at the world with his one and a half teeth. Oooh, those teeth … but back to what I was saying.
I just love Lisbon (and Portugal in general). If you've followed my blog for a while, you will know about my passion for Portuguese people, the food, the language, the weather …
… and quickly, the decision was made to take baby Liam and Daddy Georg on their first flight to Lisbon. High up above the clouds is where I finally came to relax a little: Believe it or not, despite being an experienced traveller, I was nervous about my first flight with my own baby on board!
I will write another article soon about how it really is to travel with a baby (like, "behind the scenes" honesty). You may read on here if you are interested in our packing list for a first flight trip with baby. Let's now focus on what I have to share about Lisbon and our experiences there.
From Baixa-Chiado to Mouraria: The downtown area of Lisbon near the river Tejo has undergone major renovation and reconstruction, welcoming us with modern vibes in a historic setting.
It's just over three years that I've last been to Lisbon. What I notice immediately is the "facelift" that many buildings and streets in the downtown area of the Portuguese capital have received since then. Lisbon is trendy– but not everybody is set to benefit from it, as living costs are on the rise while local salaries, generally speaking, are not. We talk about this and other topics with more friends of mine, André & Beatriz, who take us for a really cool lunch spot: The sunny terrace of a new five star hotel, Bairro Alto by Praça Luís de Camões. While the views over Lisbon are priceless, the menu remains affordable and we enjoy quite some time there. Check this out.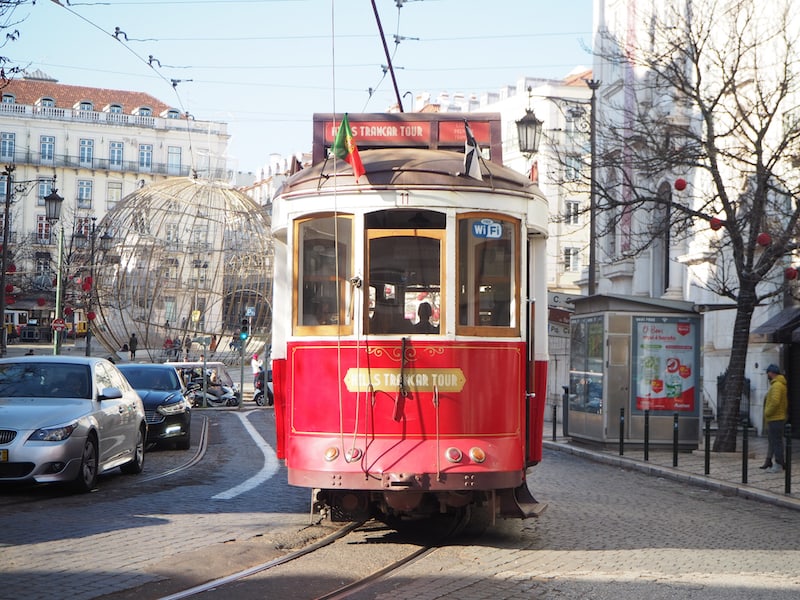 If (like us) you love tasting the local food while travelling, I recommend you to go on a Lisbon Food Tour. We have again decided to go with "Taste of Lisboa" …
… as local owner Filipa who has started the company is another friend of mine and I am glad to see that things are going well for her. We take the tour around Mercado do Campo de Ourique, as it is fairly flat and thus baby stroller-friendly. Shame Liam cannot taste any of the food we get to experience on our eight different tasting stops … but Georg and I vow to come back when he is old enough to sample the diverse cuisine of Lisbon.
What follows during the food tour is an array of all things delicious. Local guide Miguel really looks after us and our needs as a young family (having to change baby, feeding him, warming his food, etc.) while on the tour. At some stage, Liam falls asleep and I get to film Georg tasting his first mussels, pulling a face of … surprise! 😀 As yes, they are actually really good here …!
Check out our InstaStories about the whole trip through Portugal (Lisbon, Evora & the Algarve). The following gallery has all of our pictures from Lisbon:
Last but not least, I have also made the following short video for you in order to keep you in the loop about how it is to travel with baby, and to share the beauty of Portugal with you: