You wouldn't be here if you weren't curious.*
Hi! I'm Elena! Welcome to my travel blog Creativelena.com.
For me, it is all about "life-seeing instead of sightseeing": Join me as I create, eat & live my way around the world. Curious?
*Check out my book, "The Creative Traveler's Handbook", for learning more about what we mean by creative travel. Travelling means the world to me, makes me fit for everday life and sometimes, I trust, also calmer on the inside. Read this blog with a smile, share what you love and remember to check back regularly: After all, when was the last time you did something for the first time?
Have you ever experienced Vienna through the lens of a polaroid camera? I haven't! "Really, you like Polaroids?!", I can hear my mum smiling at what must be a distant photographic memory to her, but an entirely "new and exciting" technique for us! Here we are in the year 2015, rediscovering an ancient style of photography in a new light, so to speak. Quickly, I learn how to protect my polaroids from too much sunlight or heat while creating a small "darkroom" on the go – in our guide Thomas' cool bag … ! Passers-by shoot us funny looks, but I think they are just jealous. After all, we are here on a really cool polaroid walking tour through the heart of Vienna … !
At times where we are inundated with digital imagery from both smart phones and cameras, vintage-type photography such as polaroids appears to be somewhat en vogue again. Especially where the fresh enthusiasm of two young guys comes in: #PolaWalk is born.
"You and your iPhones …", our guide Thomas mimics us in mock sniffiness, while offering us a playful wink. On this three-hour photo walking tour through Vienna, we cannot help but fall for his enthusiasm. He is right of course in reminding us of a funny fact: While we happily explore the polaroid camera technique, we continue to take digital photos of each other only to share them through Instagram, Facebook and more! The best of two worlds combined? Maybe. "In any case, it's a hell lot of fun", I squeal, delighted and impatient for my next polaroid to develop inside Thomas' cool bag. What is it going to look like? I am so curious!
Altogether, our photo walk through the city centre of Vienna takes about three hours, with the option to shorten some ways by taking the underground. Truly worthwhile I must say – despite or because of the summer heat, offering great light conditions for shooting polaroids!
Thomas & Gilbert have truly made a name for themselves through #PolaWalk Vienna. For more than two years now, they have successfully followed their claim, "Create your own, unique photo souvenir of Vienna!"
At the #PolaWalk office, where our creative Vienna tour finally comes to an end, we are offered tea & coffee as well as short glimpse "behind the scenes": What does a contemporary polaroid tour company look like? Where does all the inspiration come from? Thomas & Gilbert, both management graduates, have pooled both passion and profession to successfully run this startup company. Apart from the really cool polaroids, this is what I most love about the tour: The fresh enthusiasm shown by Thomas, some five years younger than myself, to engage in what we would consider vintage photography – with a 21st century twist.
Disclaimer: We have been invited by #PolaWalk on this photo tour through Vienna. All opinions are my own.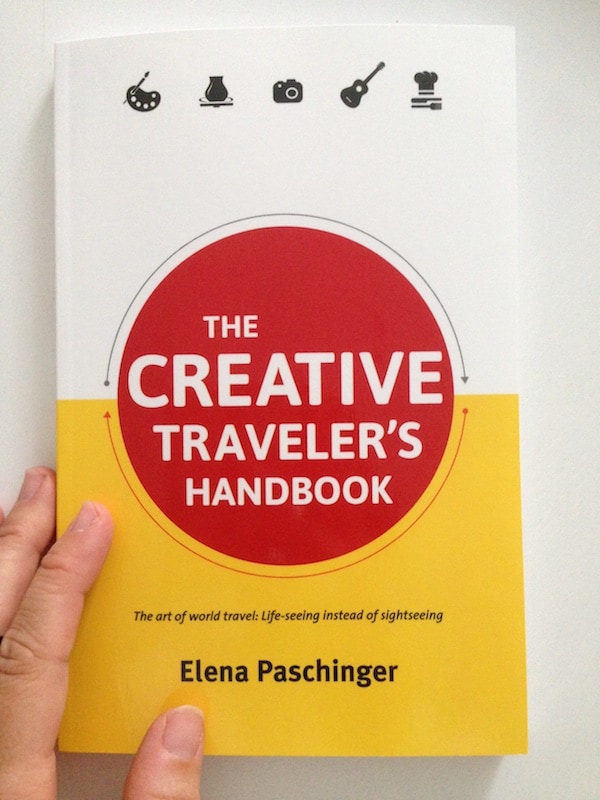 Ready for learning even more about creative travel?
Elena has recently published "The Creative Traveler's Handbook". Chock full of inspiratinal stories, travel tips and advice, it offers everything you need for planning and managing your next creative escape, addressing beginners and experienced travelers alike. Here's how to
get your hands on it
now!