You wouldn't be here if you weren't curious.*
Hi! I'm Elena! Welcome to my travel blog Creativelena.com.
For me, it is all about "life-seeing instead of sightseeing": Join me as I create, eat & live my way around the world. Curious?
*Check out my book, "The Creative Traveler's Handbook", for learning more about what we mean by creative travel. Travelling means the world to me, makes me fit for everday life and sometimes, I trust, also calmer on the inside. Read this blog with a smile, share what you love and remember to check back regularly: After all, when was the last time you did something for the first time?

New Campaign for the Austrian National Tourist Board: "Creative Tourism Austria"
Back in Vienna: Only one week after returning from my exciting South America trip, I have already scheduled my first "business meeting" today. Thank you, dear colleagues at ANTO (Austrian National Tourist Office) for the warm welcome reception back home (complete with flowers for the International World Happiness Day!) and oh those delicious "Kipferl" sweet rolls … Coming home can be so nice after all (despite being infused with the travel bug!).
Creative Tourism Austria partners with ANTO in Vienna
It's a small world, after all. Say tourism talks in Austria, and you are guaranteed to meet somebody familiar either from your studies, your previous work or your current position in the travel industry. On this occasion, I have come specifically to talk to Iris Wermescher, responsible for the German market at the Austrian National Tourist Office in Berlin. For two years now, we have been working at developing and establishing Creative Tourism Austria responding to a growing international market trend for "hands-on holidays": Feel yourself while travelling, do something creative, discover new skills such as brewing your own beer, cooking, writing, photography or even learning how to sow your own Dirndl dress – the choice is endless and reflective of the very unique cultural aspects of each region in Austria.
I love working on creative travel, as much as I enjoy this form of travelling myself !! Together with travel bloggers, we have already had many successful creative blog trips, too, such as baking our own bread at Kalchkendlalm in Salzburg or during a wood carving lesson in Burgenland, in the east of Austria. Especially new media coverage, such as instant videos, photography and social media sharing, allows for a direct and unmediated expression of the fun we have while travelling creatively. Thank you to everybody who has already joined in! There will be much more this year 🙂 .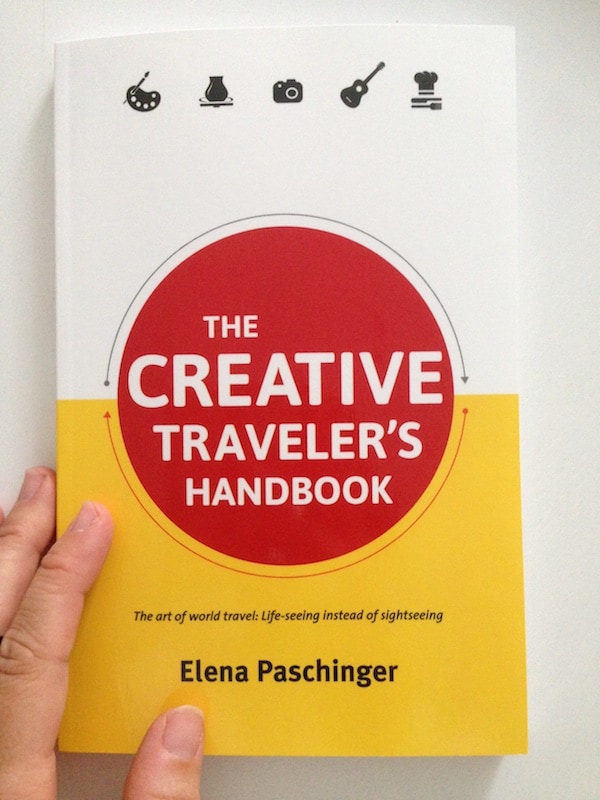 Ready for learning even more about creative travel?
Elena has recently published "The Creative Traveler's Handbook". Chock full of inspiratinal stories, travel tips and advice, it offers everything you need for planning and managing your next creative escape, addressing beginners and experienced travelers alike. Here's how to
get your hands on it
now!
Follow me on my travels: