Ten years of Creativelena. Almost 1,500 (one thousand five hundred!) posts in German and English on my bilingual travel blog, plus dozens of travel lectures and a few more books: I must say, I'm a little proud of my many years as a published author.
On this happy jubilee, let me take the opportunity to celebrate with all of you: After all, what would a blog be without you, dear readers? It is you who have motivated me to continue year after year. To tell stories from my travelling life, stories that serve to inspire and gently nudge you out of your comfort zone. Stories from around the world as well as from my homeland in Austria, stories as colourful as life itself. THANK YOU for always being there to support me. Dankeschön!
Before it gets too sentimental though, let me announce that you can …
Win my book: Answer the following question*) and I'll send you a signed copy of "The Creative Traveler's Handbook"!
Where have you been, or would like to go, for a creative travel adventure (in your home country, or abroad)?
*) Please write your answer in the comments field on this post. The prize draw ends on 31 October 2022; the winner will be notified by me in writing. Thank you very much for taking part!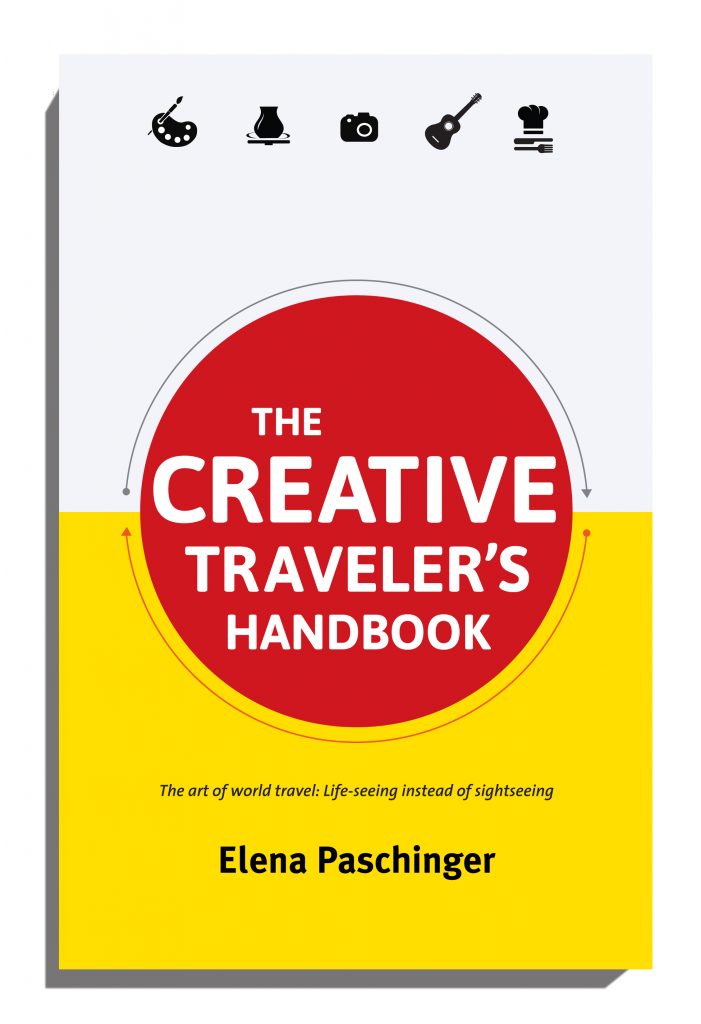 So back to being sentimental ..! In order to celebrate ten years of Creativelena, I asked ten travel blogger friends about their favourite travel memories with Creativelena. Over the years, we have formed wonderful friendships that I wouldn't want to miss! Here is what they said – enjoy reading through the travel stories below!
10 years, 10 blog friendship stories: My favourite travel memories with Creativelena …!
Rita Branco of OportoEncanta.com
It is very easy to say what was the best thing Elena and I did together! Our big trip: The Portuguese Way of Saint James. A journey for life. To stay forever in our memories. I remember it as if it were yesterday, when you offered me the Camino Guide and told me: "One day we'll do the Camino!" And just six months later, we were already starting our trip #DuasBloggersUmCaminho !
Elena, you were the best travel companion. And it's worth remembering that it wasn't just any trip. It was 13 days walking! It was approximately 20 kms per day to complete the 260 kms from Porto to Santiago de Compostela! Just our backpacks, our notebooks and no computers. Many conversations, many reflections, some pains, and a little stress: It all became part of our Camino! Many photos, many videos and many pilgrims who were part of our journey. Incredible and unforgettable!
So, Elena, when are we going to do the next one? 🙂 Congratulations on 10 years of Creativelena and thank you for making me part of this journey, so beautiful and so intense! Bussis bussis!
Jaume Marin #inCostaBrava (Costa Brava Tourism Board)
My best memory with Creativelena is, of course, in Costa Brava. We immediately connected, and every experience we developed in the area was just magic. It was a question of feelings and attitude, it was a feeling of enjoying life, enjoying each minute, and making the most of it while the breeze of the sea provided some fresh air, and combed our hair.
Elena was great at discovering new ways to do creative things in the area, connecting with the locals, enjoying the market food, and even more, she learned our Catalan language. She became a friend forever, and part of my international family!
Fins aviat Elena i família!
Kash Bhattacharya of BudgetTraveller.org
I've had the pleasure of knowing Elena for many years. I've always admired her creative approach to content, her willingness to experiment, to get out of the comfort zone and try different content formats to get her ideas across.
The importance of being creative and imaginative in your approach to content has become more important in a time when there is a dearth or lack of originality in content. The pandemic was an emotional rollercoaster for us all but it is good to see that despite all the challenges that life has thrown our way, we are both still existing and thriving in the industry.
So, it was particularly apt and nice to bump into Elena late last summer on one of our first major post pandemic storytelling projects in Oberammergau. It was nice to share a meal and a beer on a warm late summer evening and catchup, just like old times. I will always savour that memory of us together in Oberammergau- very life reaffirming and great that we can still meet friends on the job, hang out and keep sharing our hopes and ideas for the coming years.
Happy 10th birthday Creativelena- here's to the next 10 years, more serendipitous and impromptu meetups please and celebrating life over a beer. Big hug, Kash!
Aldana Chiodi of MagiaEnElCamino.com.ar
We met Elena on a press trip to the vineyards in the province of Mendoza, Argentina, in 2013. Both Dino and I were immediately won over by her friendliness and charisma. After the event, we kept in touch and the best thing was to meet again in Krems, her hometown, in 2015. We were with our one and a half year old son, Tahiel, on a 7 months trip through Europe and a stop at her flat in Krems was a much needed break. Elena wasn't there but she told her mum to pick us up at the train station and take us to her flat. Elena's mum is just like Elena, not only in her physical appearance, but also in her smile and good energy!
When we arrived at her flat, we found a beautiful letter and several little presents, including a boat trip on the Danube River and a cuddly toy for our son. The doll is a kangaroo, which Tahiel still has in his room and which, of course, is called Elena. When she arrived, we shared some walks and a lovely family dinner. We are always very grateful to her for everything she helped us with. And we are very happy to keep in touch with her and her family despite the distance.
Congratulations for these 10 years and thank you very much for everything! Stay in touch!
Inna-Pirjetta Lahti of Nordic Bloggers Experience (Helsinki, Finland)
My first memory of Creativelena is from a bar in Leipzig, where you told me all about your ideas and shared your enthusiasm. After this meeting, we've enjoyed many wonderful moments together from various blogtrips and seminars.
In Finland, we have experienced amazing winter travel stories during the Nordic Bloggers Experience. Can't wait to meet you again, dear Elena!
Sarah Lee of LiveShareTravel.com
We are fortunate to have travelled with Elena on numerous occasions. Sometimes they were very creative trips, such as when we learnt cake decorating, painted landscapes and carved wooden sculptures with chainsaws in Burgenland, Austria.
Other times they have been lavishly indulgent trips – savouring every bit of a delectable wine region or finding peaceful corners for spa relaxation. All have been a joy – discovering the staggeringly beautiful poppy fields of the Waldviertel being one of many great memories.
But there is one trip we took with Elena that we will always remember and treasure – taking time out from festive markets to visit with her family and sharing an early Christmas dinner with them. The cultural exchange that evening (we discussed our varied Christmas traditions) and her family's generosity of spirit is something that truly warmed our hearts no matter the chill of the December evening. Thank you Elena and all the Paschingers for welcoming us for a very special family time!
Congratulations on your 10th blog anniversary and may there be many, many more!
Nienke Krook of TheTravelTester.com
The first time I was introduced to creative travel (and to the wonderful Elena) was back in 2013, on my first ever press trip to the Wachau region in Lower Austria. Here, I soaked up the atmosphere of a local festival all around the harvest of the "Marille" (apricot fruit). These incredibly tasty apricots get processed into many different forms: jams, dumplings, strudels, cakes, chutneys, juices and liqueurs to even ice cream and chocolate.
We also stayed in a "Geniesserzimmer", which freely translates to "rooms for connoisseurs". This is an exclusive room in an accommodation showcasing what's unique about the region to make the guests feel truly welcome and even at home for a few days.
So often when we travel, we end up rushing through a country, but I learned that taking the time to learn about local products, people, customs and traditions you discover a whole new side to a place – and yourself.
Thank you Elena for this experience – Happy Anniversary and many more creative travels to come!
Greg Snell of SnellMedia.com
My story with Elena goes back to 2016 and a trip through the Wachau Valley outside Vienna, Austria. I had known Elena for about a year through the blogging community and knew she lived in Krems. The job I had was to photograph tours and unique experiences around Vienna, so naturally I reached out to Elena asking her advice.
We had met a couple of times before but were more acquaintances than friends, still Elena was more than happy to help and offered a ton of valuable information for my research into the gig. Fast forward a couple months and I was off to Vienna.
Now as luck would have it, Elena was home during the time of my visit and not only did she offer to show me around she introduced me to her lovely parents and childhood home, her brother, and her city Krems. We spent time exploring the vineyards and wine spring festival in the Wachau Valley, plus cycling wonderful paths and hikes high into the hills.
It was way more than I could have ever expected and as is likely a theme to this blog post, Elena is such an incredible host. Not to mention she didn't even need to be. I was there for work, and it ended up feeling like a personal vacation!!
The trip was so good that I decided to bring my parents, wife and first child there for an actual vacation a couple years later. None of this would have been the same without Elena offering her local expertise and help. Big thanks to you and big love Creativelena!!
Samantha Barbagallo of TheWanderingWanderluster.com
Elena and I first met in 2015 on a group blogging trip to the Black Forest in Germany with the German Tourist Board. Despite being bitterly cold and knee deep in snow, we managed to kindle a warm friendship!
Later that year, she invited me on a small trip to her home city of Vienna. It was my first time in Vienna and I was so lucky to have the opportunity to explore it not only with a true local but with a friend. During our four sunny days in the beautiful city, we saw many of the top things to see in Vienna and of course some hidden wonders that only a local like Elena would know about, including a wonderful winery called Stift Klosterneuburg just outside of the city. I remember fondly sitting inside the winery, sampling many a glass of their fine wines and listening to dear Elena talk about Vienna and Austria.
Her passion for her city and country as well as sharing her experiences of her past travels was inspiring. I left the trip with a deep love for Vienna (returning multiple times in the years after to further explore!) that I am sure would not be as strong had it not been for Elena's stories and useful knowledge bites.
Seven years and two kids later (each), we have remained friends (albeit long-distance) and I always look forward to meeting with Elena, whether it be in her city, my city of Prague or somewhere else where our careers and blogging trips take us. Her success as an author is inspirational and her kindness is endearing and I look forward to many more years of our friendship adventures!
Ruth Mezzolani of @MyMeilu
I have met Elena thanks to our EuropeTour cultural tourism project some five years ago in the Marche region. We immediately connected through a shared passion for Social Media marketing, as I work for the digital team at Regione Marche. When she came back to Italy in 2018 to study Italian, we met once again in Ancona and I also invited her home, where she managed to speak Italian with us for a day! It was so much fun!
I also shared with her that I was expecting, and we subsequently had both our children around pretty much the same dates. Such a lovely coincidence! It was always fun hanging out with Elena, and we still chat a lot on Social Media. I really hope to meet each other again soon with all the kids!
Congratulations on 10 years Creativelena, and my best wishes to continue your amazing job, inspiring and guiding creative minds and travellers all around the world! Cheers to you Elena! With love from Italy.
THANK YOU SO MUCH for all your kind words! I do hope to meet all of you soon again 🙂