They open up in the night, silently, singing their songs in one big red colour chorus. Alas, their beauty lasts no longer than a day: "Each poppy flower only opens up once in its lifetime, bygone by the end of the following day", Edith says, her voice suddenly sad.
We are here at the southern rim of the Waldviertel, spellbound somewhere between Armschlag and Rappottenstein, unable to take our eyes off the poppy flower fields in front of us.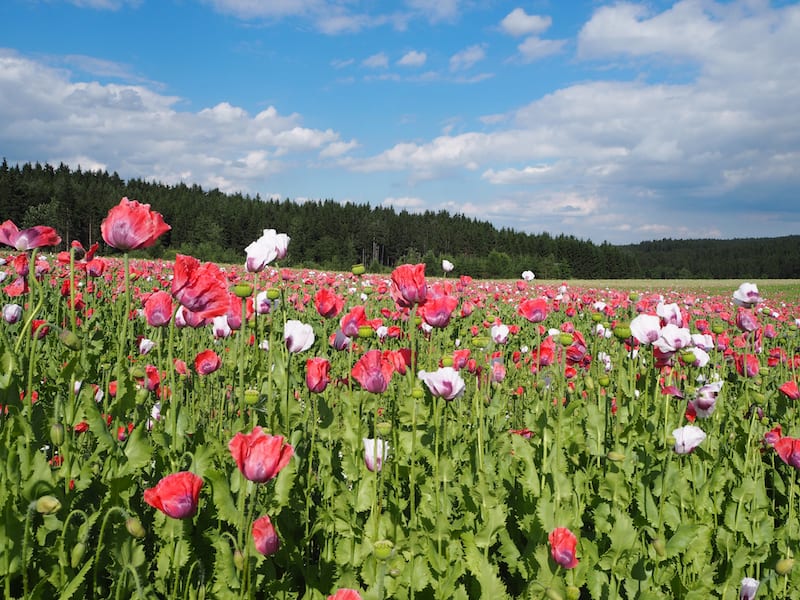 A little magic rustling in the wind. Edith Weiß, who has led us here, smiles. She is the chairwoman of the so-called "poppy village Armschlag", with well over 1.000 poppy flowers for each of the village's 100 inhabitants. For almost 30 years, Armschlag has managed to build a brand name for itself that reads: Poppy inn, Poppy festival, Poppy Dirndl, Poppy ice cream, Poppy pancake, Poppy cheese, Poppy strudel, Poppy soap, Poppy flowers – you name it. All of these (and more) items are on sale in the "poppy barn", located next to the "poppy heavens": An exhibit with more than 2.000 little poppy mills used to grind the poppy during the days of old. Wow. Quite a fascinating little place, the poppy village of Armschlag.
At the poppy inn Neuwiesinger, the culinary epicentre of the poppy village Armschlag, we naturally take to ordering carp fish panfried in poppy bread crumbs, poppy cake & poppy ice cream for lunch. All the while, Edith tells us how poppy saved the world – at least here in Armschlag: "More than 80% of the population are actively involved in the poppy industry …" – "… meaning 80 out of the 100 inhabitants?", I add, calculating with a smile. "Yes, well that's right", she says, equally smiling now. "All of us like to help, really, especially during the time of the annual poppy flower festivals. The locals are so proud that their fame has spread to a degree that the poppy flower blossom is just as well known as the apricot tree blossom in the nearby Wachau valley. But first of all, let's go and explore the poppy heavens and take a ride with the poppy express, shall we?"
My dear travel writer friends Sarah & Terry Lee are fully and truly impressed by what Armschlag has managed to achieve, making Edith and me swell with pride about the clever wit, and perseverance, of some of our local compatriots #inAustria!
Around Armschlag, we recommend you to go and see Rappottenstein castle as well as the World of Whisky distillery J. Haider.
If you've already been musing at the small size / sheer success story of the poppy village in Armschlag, wait till you hear about the Haider family. Three people (!) as well as their team manage a family success story that has now spread far across its borders: Producing first class whisky from locally grown Waldviertel rye. Haider Whisky has now made it to international acclaim and spearheaded the foundation of the First Austrian Whisky Association, raising the profile for several small producers across the country. "Our daughter Jasmin travels a lot, mostly international", her mother Monika smiles with pride while leading us around the family distillery.
"We came here from Vienna, and were lucky that my husband's farm had always had a distillery right for processing rye. Nobody had ever thought that the local soil, climate and water could blend in such a perfect way as to distill this high-class whisky here, and for several years, people laughed at us, mildly speaking." Little by little, Monika tells us all there is to know about the family's very own success story, which is essentially a story of having made a difference for themselves, as well as for the entire country. To that, a toast!
So where to go in order to relax from all the fun fair? Hotel Schwarzalm is the answer. The hotel has recently reopened after some extensive renovation, successfully inviting the very spirit of the Waldviertel in.
The Waldviertel: "Where we are, is up high", is the message proclaimed by the local Waldviertel tourism board. And once more, I find it to be true as we make our way driving far across the land, into the forest, right "up high" into the deep Waldviertel forest district of northern Austria. Right "up here", on a high plateau of up to 1.000 metres above sea level, known for its refreshingly cool nights during those long, hot summer days.
And so it goes, that we all fell in love. At least a little. Falling, letting go, able to relax, revive, regain some fresh forces. Right about now, the fiery red sun sets below the horizon, leaving nothing but a black-edged rim of tall spruce trees behind. This is where my eyes travel to from the balcony at my room, slowly making their way back and over the garden pond below, a part of the new AlmSpa wellness area.
The following morning, all we do is rest, have a (rather late) breakfast, spend hours and hours in the wellness area as well as out in the garden, where the birds chirp and the fresh air tells of nothing but peace, surrounded by mighty warden trees. Right here, it is very much alive and well, the soul, the essence, of the Waldviertel area …
Check out all of our travel photos, featuring those poppy flower fields as well as all the hot spots & Hotel Schwarzalm we visited here:
Disclaimer: We have been invited by the Waldviertel Tourism Board as well as Hotel Schwarzalm on our trip to the Waldviertel. All opinions are my own.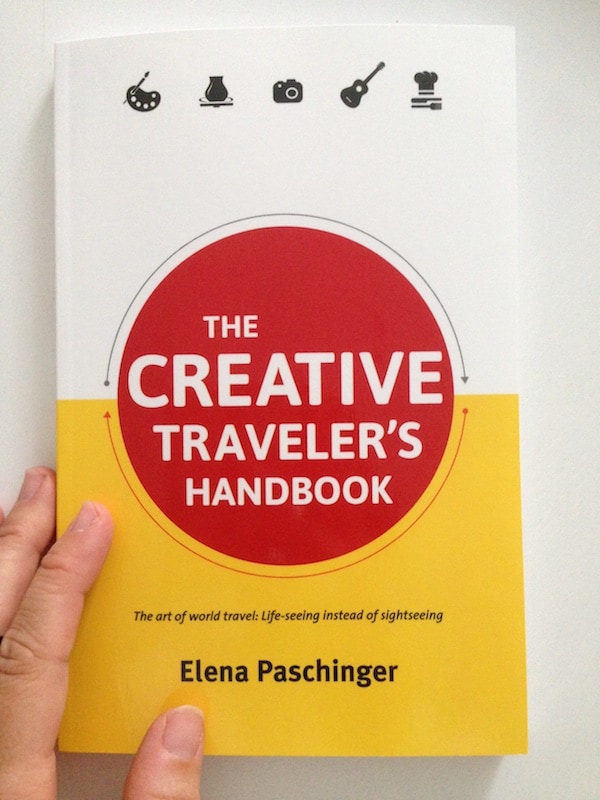 Ready for learning even more about creative travel?
Elena has recently published "The Creative Traveler's Handbook". Chock full of inspiratinal stories, travel tips and advice, it offers everything you need for planning and managing your next creative escape, addressing beginners and experienced travelers alike. Here's how to
get your hands on it
now!