You wouldn't be here if you weren't curious.*
Hi! I'm Elena! Welcome to my travel blog Creativelena.com.
For me, it is all about "life-seeing instead of sightseeing": Join me as I create, eat & live my way around the world. Curious?
*Check out my book, "The Creative Traveler's Handbook", for learning more about what we mean by creative travel. Travelling means the world to me, makes me fit for everday life and sometimes, I trust, also calmer on the inside. Read this blog with a smile, share what you love and remember to check back regularly: After all, when was the last time you did something for the first time?

"Nonsense" in Lower Austria: The "Nonseum" museum in the Weinviertel district
"Nonsense, real nonsense!" What sounds like an insult up here in Herrnbaumgarten in the high north of Lower Austria actually turns out to be … a museum. The so-called "Nonseum" offers true NONSENSE on a high(ly entertaining) level. No joke! Well, yes. The fact that even travel groups from Asia as well as other quirky museum associations from around Europe know about this part of the Lower Austrian Weinviertel district does finally inspire me certain respect, though. After only ten minutes visiting the museum, I cannot help but laugh out loud myself. How creative can you be? The Nonseum museum is so weird & wonderful that it truly merits the one-hour drive here from the capital city of Vienna – a truly outstanding vintage museum "lost" in the far north-east of Austria.
For sleepy "Schlafmützen": Staying at a creative Wine Estate in Lower Austria
All these creative spirits certainly are not limited to one local museum only: The entire village of Herrnbaumgarten is actually called "verruckt" (crazy, displaced) and so are its people, albeit in a very charming way. Some of them we meet, such as Hilde who runs a wine estate plus bed & breakfast called "Zur Schlafmütze". Vines sprawl all over the inner courtyard making for a lovely shaded terrace and hiding the first quirky details from sight, such as the double-edged broomstick. Or the umbrella with a hole inside for the hope of better times. We really like the ingenuity – clever!
Those who prefer a more serious kind of stay are welcome to check out a wine tasting at Family Frank Wine Estate. Here, we try excellent Chardonnay, typical Austrian red wine Zweigelt as well as the classic flagship wine of the Lower Austrian Weinviertel district: A bottle of Grüner Veltliner. Always happy to share in the laughters and comments of the young wine grower Harald Frank, who takes several hours making sure all our questions about growing wine in Lower Austria get answered, this family is a real gem to visit.
Disclaimer: We have been invited by Thomas & Stefanie Egger of Trial'n Happiness in order to get to know "their" Herrnbaumgarten in the Lower Austrian Weinviertel district. All opinions are my own.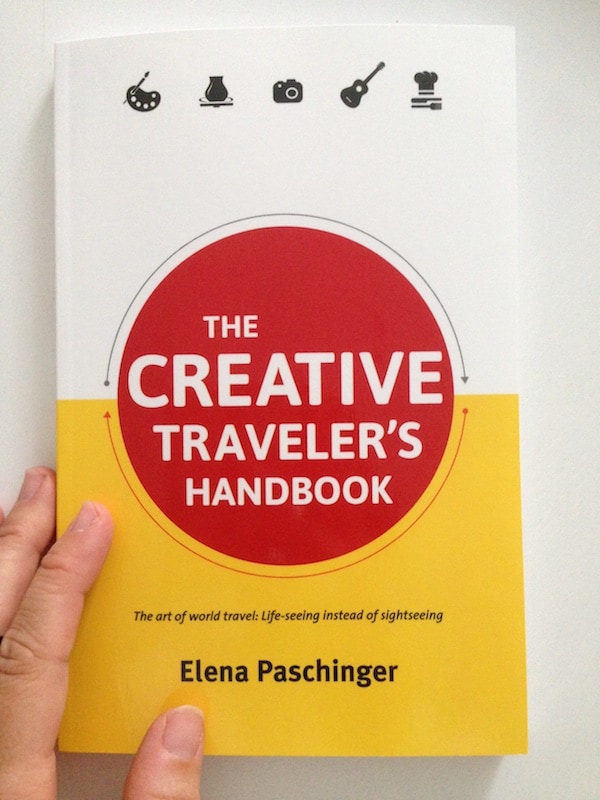 Ready for learning even more about creative travel?
Elena has recently published "The Creative Traveler's Handbook". Chock full of inspiratinal stories, travel tips and advice, it offers everything you need for planning and managing your next creative escape, addressing beginners and experienced travelers alike. Here's how to
get your hands on it
now!
Follow me on my travels: