Why La Bisbal, and not Barcelona? Why Costa Brava for creative travel, you may ask?
"Well, Elena. Did you know that La Bisbal d'Empordà has the highest per capita percentage of artists after Barcelona?!", Anna tells me enthusiastically, and smiles. Anna: She is the most warm-hearted, talented, and creative person you can imagine to meet, and you will want to meet her when you come!
A good hour north of Barcelona, and only a short drive east from Girona, the creative capital of La Bisbal d'Empordà has put forward an initiative called "VisitEmpordaNet". It highlights "the most authentic Empordà", such as making your own ceramics with local artists, meeting traditional cheese makers, tasting and cooking local delights, or riding your own pony through a poppy field ..!
"And this is exactly what we want you to enjoy", Anna keeps telling me in her sweet local voice, talking to me in Catalan all along. "That La Bisbal, and the entire Baix Empordà region, is a country full of artists, most of them ceramic artists, for the excellent quality of the local clay soils found around here."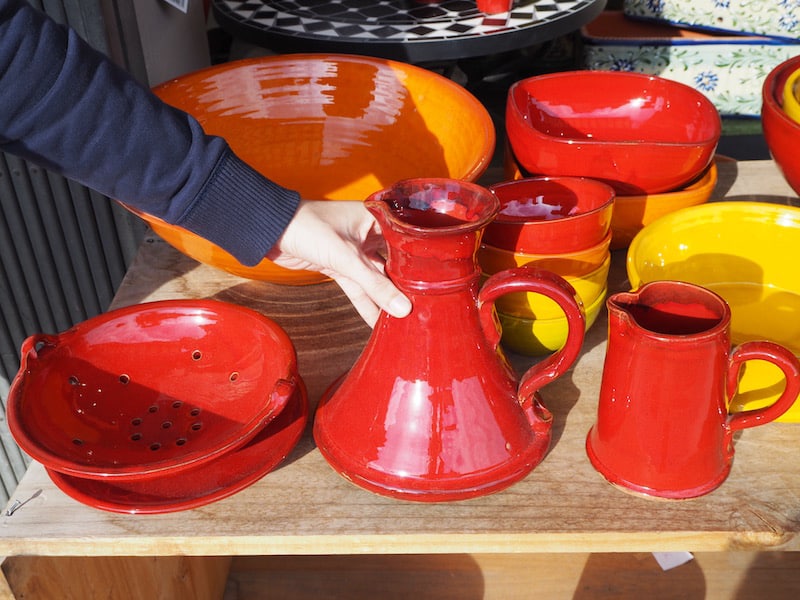 Ceramics – the background.
Traditionally, Baix Empordà clay has been the base of the entire economy in this area nestled between busy Girona city, and the immediate coastline of Costa Brava further to the East. Increasing international competition has led many local artists to specialise in decorative objects, and it is entirely charming to see that the whole of La Bisbal is "covered in terracotta": Pottery, flowers, tiles, and other objects are there to greet you on your way into town.
During my visit, I get to mix and mingle with some of the artists, including Josep Torres (read more about our creative workshop with him here!) as well as Annick Galimont. I take to Annick immediately: A charming, self-confident, French artist-entrepreneur on the verge of opening up shop on the main street of La Bisbal d'Empordà, because "there is no place on Earth I'd rather be, for making my creative ceramic art surrounded by so many other, inspiring artists", she smiles. Her enthusiasm leads me to believe that if I ever were to set up a creative arts company, it had to be right here, too. Have a look at this.
But there is more to #CreativeTravel #inCostaBrava. VisitEmpordaNet promotes La Bisbal d'Empordà not only for ceramic art, but …
… as a true hotspot for creative travel in the area, dedicating an informative website to all activities listed here: http://www.visitempordanet.com/en/creative-tourism-costa-brava.html. You can either contact the artists directly, or go by Anna, who is happy to assist you with whatever workshop or creative experience you want. She knows each and every single artist by heart, and just loves the idea of promoting and sharing authentic, creative travel experiences.
Next up, I am in for bringing the colours, sights & sounds of the Empordà region on the table, joining a "Decorative Art Workshop" with Marta Xuclà Serra, of "Carolina Carolina Creative Decorations".
"Mum, I made my own beach basket today !!"
This one, I had to call my mum immediately after. I mean, how often is it that you get a chance to join a local sewing workshop, allowing you to get ready for going to the beach? All that's left, is going there straight after .. and luckily, the beautiful Costa Brava is never far in La Bisbal d'Empordà.
Check out even more inspiration for creative travel in La Bisbal d'Empordà through my travel video: You will find all of the above mentioned artists, as well as our workshops here:
Even simply walking around La Bisbal d'Empordà, you cannot help but feel the vibe of a creative destination.
Music in the streets, window shop after window shop of pottery art on display, jewellery and fashion artists : Even the local tile art, so typical of the Mediterranean in general, includes nice little hints towards the traditional crafts of the families around here. Anna, please take me back on a walk around town anytime!
I have also written about further accommodation tips for you, as well as delicious foodie places (bars and restaurants) including, but not limited to, La Bisbal d'Empordà. Nicole Biarnes, my German travel writer friend specialised on Catalonia & Costa Brava, has also published the following charming article about La Bisbal: "Kreativ im Empordanet: La Bisbal".
There's more here, too, browsing through my colourful image gallery on Flickr:
Disclaimer: I have been supported on this trip by Costa Brava Tourism Board. All opinions are my own.