Let me share some more about my creative (beer) travel experiences. I'm reading through the offer of the Hubertus Hotel in Freistadt north of Linz, Upper Austria, on how to make your own beer chocolate pralines as a visitor to this area. The offer pairs everything related to confectionery and beer, two culinary topics that go very well together indeed. In less than half an hour (our host Thomas Friesenecker has admittedly already prepared the hot, liquid chocolate mix) we are able to pour our own Mühlviertel chocolate bars and decorate them with dried flowers and fruit. All while tasting beer pralines paired with the typical beer varieties from Freistadt. A very tasteful travel experience!
Braucommune Brewhouse in Freistadt: Relish in their beer & food pairing menu!
Back to beer tasting business then. We really want to know more about the history of brewing beer in Freistadt, and have therefore registered for a visit to the immense local brewery. Helmut Satzinger, who runs the Brauhaus restaurant and beer pub, receives us with a task: One of us is to officially "open the tab" on the day's barrel, at precisely 6.00 p.m.! It falls to me to do so, and look at how good I'm doing ..?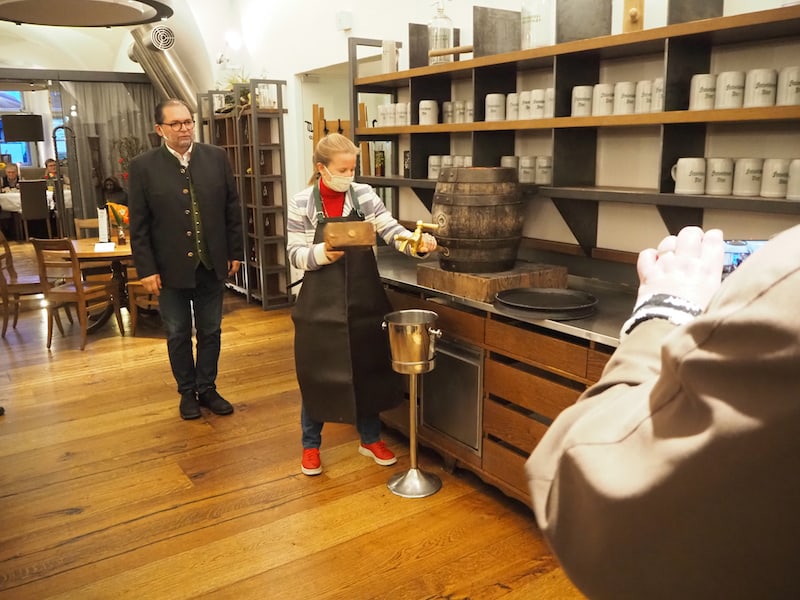 Once we've all had our laugh, Helmut Satzinger takes us over to the enormous brewhouse of the Braucommune Freistadt. The talk is of mashing, clearing, filtering and cooking, as well as about the excellent quality of the Mühlviertel source water, the very basis for the tasty beers produced here. We are about to confirm this with our "beer & food pairing menu". The visit continues with a museum relating the history of brewing beer in Freistadt, ingredients to making great beer, its overall production and marketing. Little by little, the picture grows, and what a wealth of know-how in order to brew beer, that is!
Have a guided tour with a night watchman in Freistadt.
After dinner, we got to do something really special: Join a tour of the medieval brewing town Freistadt with a local guide who is also a night watchman. Rudolf Wizani awaits us fully cloaked, complete with a lantern (real) and a halberd (fake, thank goodness!) by the entrance of the Brauhaus beer pub and restaurant. He also carries a small horn that he blows occasionally.
We join Rudolf Wizani on a tour through the medieval town of Freistadt, learn a lot of interesting facts about the history of the prosperous trading town as well as about the customs of its citizens during former times (hygiene standards were really different from today…!) Often, there's an old song on his lips, and he spices up stories with personal anecdotes. Bit by bit, the medieval Freistadt comes back to life for us. It helps that it's already dark throughout the tour, and that we can get into backyards and passages that are not so well lit, recreating a very medieval experience indeed. Even when it starts getting cold, we are warmed by the jokes and stories of the night watchman. As we say goodbye in front of our hotel, I think twice about the comfort of our modern-day conveniences, such as centrally heated rooms, hot showers, etc. What a day (and night)!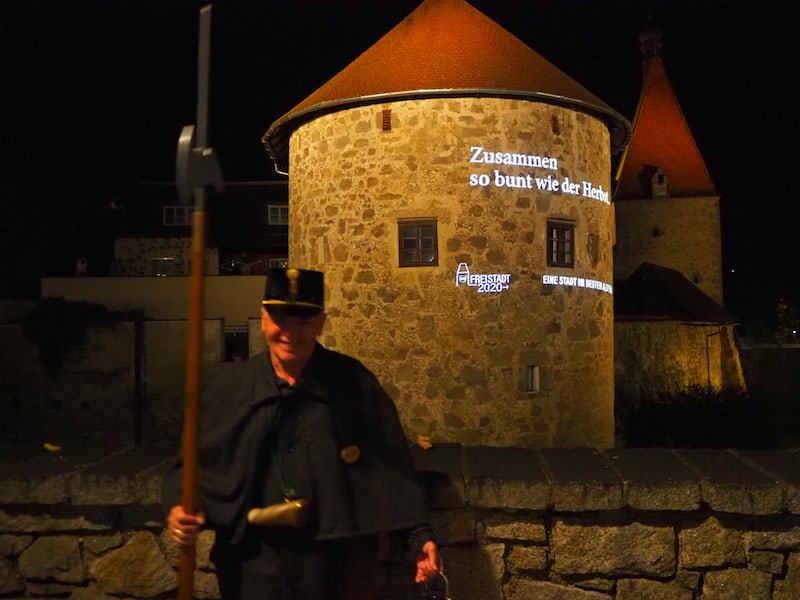 (One) More beer, please: Visiting the Mühlviertel "BeerBuddies".
The day after our "beery" introduction to the region of Mühlviertler Alm Freistadt, we meet a very interesting craft beer duo indeed. Christian Semper and Andreas Weilhartner call themselves "The Beer Buddies". Together, they brew (organic) beers with names such as Mojo Ale, Craftler, Hey, Porter! or Hopf'n Foppa. Once again, the basis is purest source water from the Mühlviertel, regional hops and a special mixture of local brewing barley. Being expert biologists, they knew everything about the processes involved in brewing beer, but had to learn all about the technical side of things. We visit the two charming craft beer producers, who lead us through their world full of wit and charm.
Tip: Check out the "Beer Buddies" web shop and have them deliver their beers straight to your door!
My upcoming two blog posts feature even more Mühlviertel travel content, including visits to four carefully selected, rather inspiring organic farms, talks with local producers, as well as great meals at local pubs and rather excellent country restaurants. All of my Mühlviertel travel pictures are shared through this Flickr gallery (don't look hungry!):
Disclaimer: I have been invited by the Mühlviertler Alm Freistadt travel destination together with Genuss Reisen Österreich. All opinions are my own.