"They do grow on you somehow", says Hubert Leitner with a smile on his lips, nodding towards his cheerfully cackling geese, "but in the end it must be clear to everyone who eats meat that an animal must give its life for it. To me, it is our task to ensure our geese have as beautiful an existence as possible throughout their lives."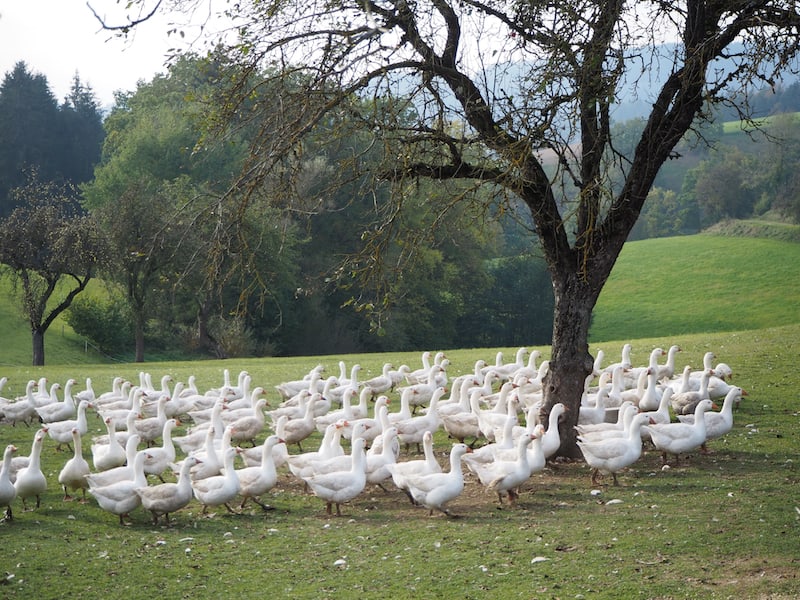 We talk with Hubert Leitner on his farm in Pierbach in the southern Mühlviertel district. Next to the entrance gate, a large board indicates the farm's association with the Austrian label for excellence in agricultural production, "Genuss Region Österreich". With this award, Hubert and his colleagues not only commit themselves to better farming conditions for their geese, but also contribute to the preservation of a unique natural landscape. Adhering to the quality criteria of this label, the following statement about their efforts can be taken literally: "Raising geese in as natural a way as possible contributes to the preservation of the regional cultural landscape". It makes me look at the gently rolling hills of the southern Mühlviertel with different eyes, recognise the work, but also the benefit of maintaining this ancient cultural landscape.
Hubert Leitner tells us all we wish to know about his farm and his geese, about what constitutes ideal grazing conditions, and what kind of challenges he faces. Bit by bit, we raise our awareness for the virtues of organic farming.
Close to Hubert and his geese is another thriving organic farm run by the Schmiedberger family. It sits right in the middle of a protected, natural reserve.
What strikes us first as we enter the farm gate of the Schmiedberger family, is the landmark of the Mühlviertel Nature Park near the village of Rechberg: A huge block of granite that seems to have come to a standstill above another granite stone protruding from the earth. We take a closer look, area even allowed to climb it! Our charming nature park guide and ceramic artist Nikola Jakadofsky fills us in on what makes this so-called "Schwammerlstein" rock at the Schmiedberger farm so special. In fact, peculiar rock formations like these have weathered in pockets over millions of years from the surrounding rock area. As remnants of a primeval mountain range north of the Danube, they continue to rise from the ground as if by magic (very, very slowly of course). What a sight!
The organic farmers Andreas and Renate Schmiedberger probably also make use of this special energy. In their fields around the "Schwammerlstein" rock landmark, they grow a rich and varied assortment of organic food of all kinds. Andreas, for instance, pulls fresh parsnips from the ground in front of us. He presents me with two of them as a gift, they taste delicious and are huge – almost half a kilo together! I'd love to have their farm shop much closer to where I live, so I could always come here shopping. Check this out.
A little further afield, yet still in the southern Mühlviertel district, you may continue to head over to the Pankrazhofer organic fruit farm, whose focus is on everything from juice, to vinegar, to spirits.
It is difficult to narrow down what exactly it is that Eva and Norbert Eder do. You almost have to ask what they don't do. "We even have a small part of our farm dedicated to raising cows, their calf, and wheat fields, although fruit processing keeps us pretty busy already. But for me everything is a cycle. Everything belongs together, processing one (i.e. the fruit) is not possible without the the other (i.e., animals, grain, etc.)." Norbert Eder smiles happily at his chickens and cows as he welcomes us under the pear tree of the family farm for an early morning chat.
His wife Eva, on the other hand side, has dedicated herself almost exclusively to the production of organic fruit vinegar. Following her passion, she joined forces with two other farmers' wives and founded the label "Die Essigmacherinnen" (The Vinegar Ladies). Cider vinegar, apple cider vinegar with honey as well as pear balsamic vinegar are as much a part of the family's product range, as are mustard varieties, juices, sparkling wines, ciders, noble fruit brandies or cereals, grains and seeds (in the form of flour, oil or as whole grains). Wow. Eva happily insists that we try everything. Following them around the farm buildings, I ascertain that there is not a single door that is locked! Everything is open, friendly, peaceful and at the same time full of zest for action. No wonder that so many things thrive here, and tasting our way through the excellent farm produce, we feel much better right away!
Last but not least, head over to the northern part of the Mühlviertel for a visit to the Thauerböck organic farm estate and distillery.
The welcome here is twofold: One part is breathing in the fresh air of the Mühlviertel district, another is allowing your eyes to travel "up above" overlooking the highlands of the organic Mühlviertel farming district. Monika and Mario, the charming young farming duo, welcome us to their orchard, where they grow 85 old fruit tree varieties on a gently falling, southwestern slope. "Old" hereby refers to varieties who have almost fallen into oblivion due to their shape or yield. Monika and Mario love working on their young protégés, making a contribution towards the future of their farm and children: Only in a few years' time will the trees deliver considerable yields for, say, the organic distillery. It is marked by another highlight for visitors to the farm: The so-called "Brandy Bar", featuring the entire farm range of distilled fruit products in a small pavilion bar. Weary hikers who take a break on the Johannesweg trail, which leads right across the family property, can make a stop here. "You can also try something in our tasting room", says Monika with a wink as we explore the peculiar pavilion and brandy bar. A lovely idea indeed!
Talking with Mario and Monika, who share a lot about their philosophy, attitude and way of working, it becomes clear just how important the well-being of all living beings around them is. Old chicken or cattle breeds, such as the "Wildmasthendl" or the "Murbodner Weiderind", which they keep next to their whisky pigs, remind us that there has to be more than just buying cheap meat. We nod in agreement over shared terms, such as: More mindfulness, more sustainability (over generations), more consideration and care for each other. I can't wait to return one day with my husband and my little son Liam, and share the Thauerböck organic farm story with them.
My last blog post told you a little more about beer and chocolate tastings in Mühlviertel. Next up is a post about all things gourmet and great to eat in Mühlviertel. All of my Mühlviertel travel pictures are shared through this Flickr gallery (don't look hungry!):
Disclaimer: I have been invited by the Mühlviertler Alm Freistadt travel destination together with Genuss Reisen Österreich. All opinions are my own.