You wouldn't be here if you weren't curious.*
Hi! I'm Elena! Welcome to my travel blog Creativelena.com.
For me, it is all about "life-seeing instead of sightseeing": Join me as I create, eat & live my way around the world. Curious?
*Check out my book, "The Creative Traveler's Handbook", for learning more about what we mean by creative travel. Travelling means the world to me, makes me fit for everday life and sometimes, I trust, also calmer on the inside. Read this blog with a smile, share what you love and remember to check back regularly: After all, when was the last time you did something for the first time?
"Para Elena, con mucho cariño!! Nunca dejes de soñar!! Mucho éxito con tu libro! Besos y abrazos!! Aldana, Dino y Tahiel. Buenos Aires, diciembre 2014."
"For Elena, with lots of love!! Never stop dreaming!! All the best for your book! Kisses and hugs!! Aldana, Dino y Tahiel. Buenos Aires, December 2014."
My idea of a stopover on this CreativElenaRTW round the world trip of mine is as follows: Enjoying a nice walk in a city that I am already familiar with from a previous visit. Feeling the sun on my skin & music in my ears. As well as … watching feelings of bliss & delight rise through me upon my visit of dear fellow travel bloggers Aldana & Dino, of "Magia En El Camino" – "Magic on the Way", who hand me their first ever written travel book! The story behind the charming couple, who I was lucky enough to meet during my visit of the 2013 Mendoza Wine Festival, is as inspiring as it is unique. About five years ago, they both embarked on a "round the world trip without a return flight" starting their travel blog Magia En El Camino and pooling together the creative photography & writing skills of Aldana with Dino's talent as a magician. This resourceful websites has many eye-opening stories and beautiful travel visions to tell, counting among Argentina's top travel blogs to date! Right now, Aldana & Dino have just published their first travel book while "all the while" raising their one-year-old son bearing the beautiful name of Tahiel. I am deeply impressed by the joyful, heart-warming nature of this delightful travel family, including of course cute little Tahiel: "Truth is, we are raising three children altogether", Aldana laughs. "Our dear Tahiel … The book, Magia Es Viajar, … And our travel blog Magia En El Camino."
Wow. Buenos Aires & the story of the travel book "Magia Es Viajar" written by Argentinian authors Aldana & Dino really impress me. Looking for some travel tips? The first & foremost is this: "Never stop dreaming."
Sientan, sueñen y vayan en búsqueda de la magia en el camino., is one of the many thoughts & recommendations of the travel book Magia Es Viajar. "Feel, dream & go searching for the magic on the way." This motto is what I have truly taken to heart concerning my city visit of Buenos Aires. More creative travel tips, such as learning how to cook Argentinian Empanadas, enjoying a Tango lesson or visiting "La Boca" are what I have already published here. This time, let me tell you more about finding "magic along the way", just as Aldana & Dino have chosen to express it in their book … the magic of a simple, yet delightful city walk in Buenos Aires.
"We are happy that our book found its way into your hands upon this visit of Buenos Aires, dear Elena! What a lovely sign of 'Magic on the Way' – Magia en el Camino!"
It is not in vain that Buenos Aires, with all the inspiration it holds, counts among the UNESCO Creative Cities of this world. My thoughts wander off thinking creative travel, until I finally meet Aldana & Dino in their lovely home here in Buenos Aires. In the style of an international #BloggerGreet, they are happy to welcome me to their reality: Everyday life made up of book boxes (check out this link for more information about "Magia Es Viajar"!), baby toys & the sweetest little son that young parents can wish for … a whole chapter is what Aldana & Dino have already dedicated to Tahiel, starting a new section on their blog "El Viajerito" on the occasion of Tahiel's first birthday. Just. Beautiful.!
"The blog alone is a lot of work – incredible really, how we managed to have a baby and written and published a book all together", Aldana & Dino laugh at me, reflecting about their last year as a young family. They both travel a lot, giving interviews, book presentations, magic shows & more. Perhaps even more important: They live their life dream. 2015 has them travel to Europe for a few months (see you in "good old Austria"!), with sweet little Tahiel tagging along and already perfectly integrated: "We love him to bits", Aldana muses, Aldana who despite all the excitement remains calm and centered. "And this is what he shows", I tell her, delighted with all the cute little sonrisas of this young man. After all, love and harmony are what counts – and lots of it carries forward in the children of Aldana & Dino: Tahiel. Their travel blog. And finally, their book "MAGIA ES VIAJAR"! 😀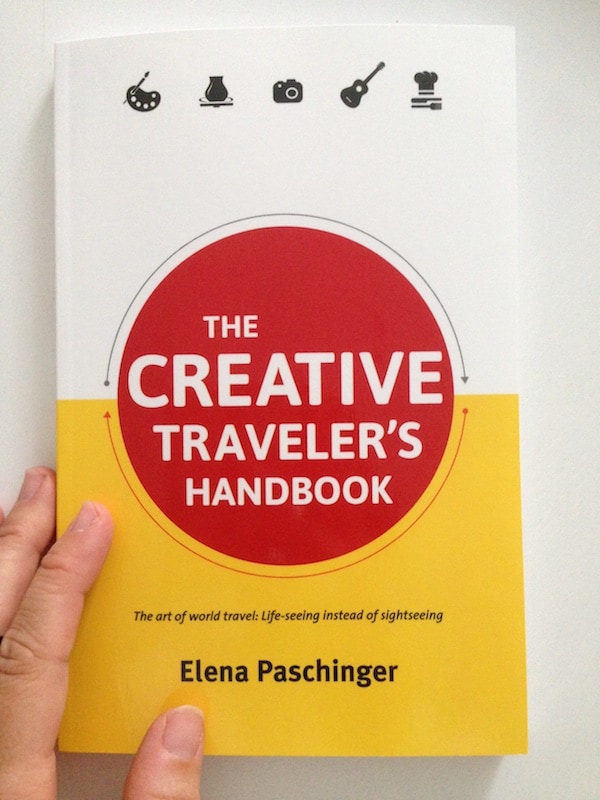 Ready for learning even more about creative travel?
Elena has recently published "The Creative Traveler's Handbook". Chock full of inspiratinal stories, travel tips and advice, it offers everything you need for planning and managing your next creative escape, addressing beginners and experienced travelers alike. Here's how to
get your hands on it
now!