You wouldn't be here if you weren't curious.*
Hi! I'm Elena! Welcome to my travel blog Creativelena.com.
For me, it is all about "life-seeing instead of sightseeing": Join me as I create, eat & live my way around the world. Curious?
*Check out my book, "The Creative Traveler's Handbook", for learning more about what we mean by creative travel. Travelling means the world to me, makes me fit for everday life and sometimes, I trust, also calmer on the inside. Read this blog with a smile, share what you love and remember to check back regularly: After all, when was the last time you did something for the first time?

Dancing the Tango in Buenos Aires …
Well. I guess this is what you've been waiting for you. At least that's what we hope. After all the "pain" we've been through 😀 Markus and I are now proud to show our first and very official Tango Dancing Video that we recorded during a private Tango Tour through the so-called "Milongas" (Tango bars) of Buenos Aires.
"Sometimes it's better if a couple DON'T know each other in the Tango", our tango expert Mariana tells us because: "couple issues may arise and .. you know." She has to know … as for now, have a look at us!
As for everything else that Buenos Aires has in stall for us that day, please read on.
"Cualquier Verdura" & "Street Art Graffiti"
After our great first activities such as a Greeter Tour in Buenos Aires, the "alternative" visit of La Boca, the evening restaurant of the Evita Perón museum or the cooking class with Teresita La Bella, we would like to share two more insider tips with you. If you are in San Telmo, make sure you visit the shop Cualquier Verdura that is offering everything from old Tango discs, to modern bags, to bathroom accessories. What you can find here is simply: Everything. Violeta, the charming owner, has more than 1000 different items in stock in this charming "casa-tienda" (house shop) of hers in San Telmo, close to our really cool Art Factory Hostel. Always worth the visit!
In line with the modern graffiti & wall painting decoration at our hostel, we join a so-called Street Art Graffiti Tour run by Graffitimundo on the same day. Graffitimundo works on highlighting the art of graffiti artists in Buenos Aires, assists with fundraising campaigns & PR whose one goal is to open up a world of fascinating urban artwork to visitors like us. Or would you have thought this wall close to Palermo Soho?
Also, have a look at this video of Street Art in Buenos Aires if you are interested: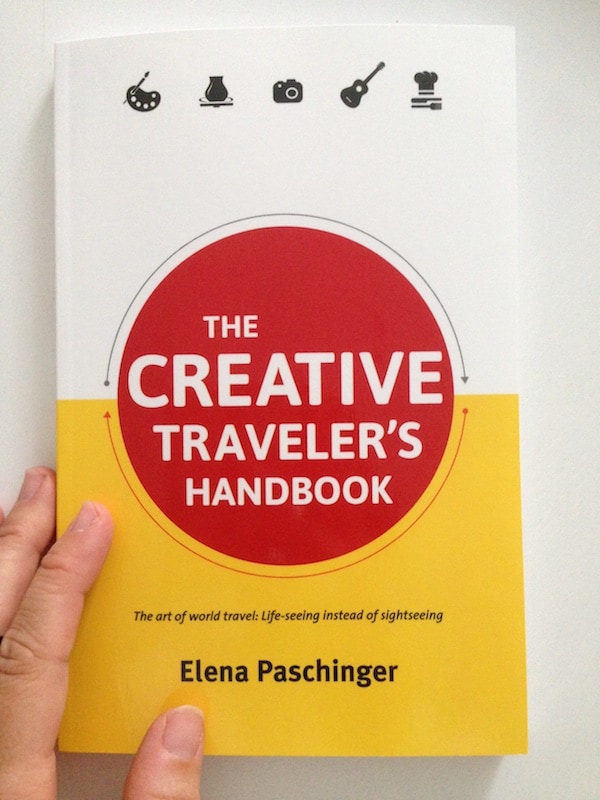 Ready for learning even more about creative travel?
Elena has recently published "The Creative Traveler's Handbook". Chock full of inspiratinal stories, travel tips and advice, it offers everything you need for planning and managing your next creative escape, addressing beginners and experienced travelers alike. Here's how to
get your hands on it
now!
Follow me on my travels: