You wouldn't be here if you weren't curious.*
Hi! I'm Elena! Welcome to my travel blog Creativelena.com.
For me, it is all about "life-seeing instead of sightseeing": Join me as I create, eat & live my way around the world. Curious?
*Check out my book, "The Creative Traveler's Handbook", for learning more about what we mean by creative travel. Travelling means the world to me, makes me fit for everday life and sometimes, I trust, also calmer on the inside. Read this blog with a smile, share what you love and remember to check back regularly: After all, when was the last time you did something for the first time?
… Austria at its very best. Really! If like me you are lucky enough to catch a glimpse of how wonderful your own country may be in the eyes of foreigners, you really are tempted to wear that proud, happy smile of yours day and night. Austria = island of the blessed?! If you ask happy and enthusiastic travel journalist Terry Lee, of www.LiveShareTravel.com, Austria is indeed meant to rule the world – at least his and the one of the Brits. "Oh, I LOVE Austria", is what I keep hear him saying throughout the trips we take together. Terry's eyes then start to shine, his tribute to Austria knows no end and a soft blanket of sadness wraps itself around our group of international travel writers when he says: "I wish we could stay longer. I wish I could live in Austria! It is absolutely beautiful."
I think Terry is right. At least after having this look at our last trip from Vienna to Salzburg …
Christmas markets in Vienna: From Spittelberg via Museumsquartier to Maria-Theresien square …
… we only have to walk a few minutes: Ideal therefore in order to get a feel for the pre-Christmas buzz in the Austrian capital city. Terry Lee & his wife Sarah, Katrina Stovold as well as Máximo Perez and I start our walk from trendy & comfy 25 Hours Hotel Vienna, reaching Spittelberg Christmas market in less than ten minutes. Here, the inner city of Vienna makes for a peaceful little haven: I really enjoy the small city flair, the beautiful historic cobblestone lanes right here in Spittelberg. Only a stone's throw away, yet entirely different in atmosphere and appearance, is Museumsquartier Vienna on your way to the Christmas market at Maria-Theresien square: It is here where modern light installations mix with cool outdoor bars and hot drinks to attract a crowd of young people and visitors like us. Between the two magnificent art and natural history museum buildings, we finally end our Xmas walk in Vienna not without tasting lots of Glühwein, berry punch, Brezen and Austrian sausage "Wurst", of course. 😉
"Why is Sankt Wolfgang known as the 'Advent town of Austria'?", Sarah Lee keeps asking on our way from Schallaburg Christmas market in Lower Austria to Sankt Wolfgang in Salzburg.
I smile while telling her the best and most logical answer I can come up with (how could I, as our "tour guide", after all admit that I have never even been to THE "Advent town of Austria"? Gosh! 😉 ): "Because Sankt Wolfgang is just about one of the most iconic, pretty and beautiful spots of Austria …!" (and if they proclaim an entire "Advent town" here in Salzburg, it must be really special right!).
And this, dear readers, is exactly what it was like. Wow. Tall and strong black horses, pulling up a wonderful sleigh right in front of our eyes. All those cute little market stalls, each of them extremely well tended, with aromas & offers mixing to create "a better world" – a beautiful, traditional Christmas world, at least for the moment. The smell of roasted chestnuts. Happy people laughing with us. Bratapfel Punsch. Mountain & lake views to die for (or get green with envy, anyway). Very, very pretty indeed. And not over the top, either: The Advent town Sankt Wolfgang does manage to walk the line between authenticity and commercialisation in a very elegant way. Now take this look at it. Don't you, too, feel a longing to come here and dive right in … ?
Thank you so much, Terry & Sarah Lee, Katrina Stovold & Máximo Perez for the happy travel moments on our magic winter trip here in Austria! Check out Máximo's travel videos, Katrina's travel insights as well as Terry & Sarah Lee's "pearls of Austrian travel wisdom" here:
WE LOVE YOU! 😉 See you next time in good old Austria.!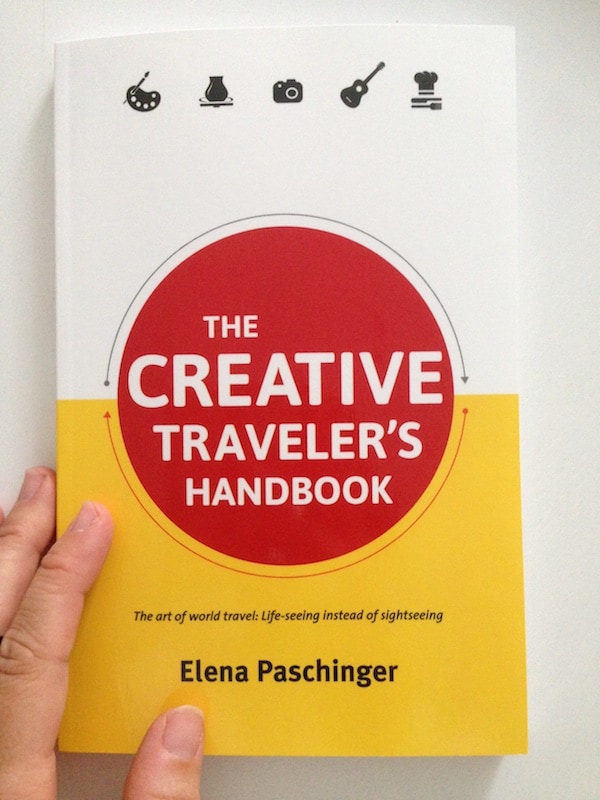 Ready for learning even more about creative travel?
Elena has recently published "The Creative Traveler's Handbook". Chock full of inspiratinal stories, travel tips and advice, it offers everything you need for planning and managing your next creative escape, addressing beginners and experienced travelers alike. Here's how to
get your hands on it
now!