"At first glance, I am tempted to say that I prefer the landscape of Southern Styria and the Styrian Volcano country to this one here", I hear my travelling friend Katja say next to me in the car. The Styrian Schilcherland in the southwest of the city of Graz is indeed somewhat flatter than the steep vineyards of Southern Styria, or the powerful and highly visible rock collection of the Styrian Riegersburg. And yet, the region southwest of Graz should not be underestimated. After all, we have to admit that we have arrived here totally spoilt. For the past three days, Monika, Petar, Katja and I have done nothing else but listening to the amazing and inspiring stories of the Styrian people, who have served us good wine, cheese, ham or chocolate all the way through. Madness! Some five pounds of weight gain later, and brimming with the stories of Styria, we finally arrive to "wind down from all our adventures" in the West Styrian town of Stainz.
"Enjoy your time and take some rest. I look forward to seeing you later over dinner", Peter Steinwidder, of Hotel Stainzerhof, smiles at us and understands. His job: Hosting people, naturally and "from the heart"!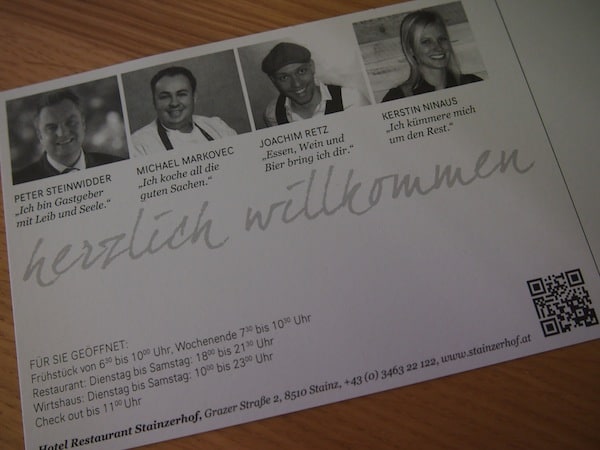 Gernot Becwar and the oil mill Herbersdorf: A true love triangle. Award-winning pumpkin seed oil & racy Schilcher wine match up here in a pretty liaison, Gernot Becwar included.
He is quite a cheeky character, Mr Becwar. Very eloquent, clever and observant, too. He just loves to tell jokes. Most of all in the absence of his wife, who as it turns out skilfully knows how to "match him in battle", though.! About pumpkin seeds as well as the famous Blue Wildbacher Rosé, commonly called "Schilcher wine", Gernot Becwar really does know a great deal. "Schilcher comes from the Styrian dialect expression 'schüllan', meaning to shimmer, because the wine has this particular colour of the grapes of the Blue Wildbacher Rosé variety." Interesting! In fact, I previously only knew the popular term "Schilcher", but have never heard of the very grape variety itself, this wine with its unusual bright red color and its high proportion of acid and sugar levels.
For 42 years, Gernot Becwar has served as the local mayor, casually telling me this at the end of our visit to "his oil mill". "We have been integrating the oil mill into our operation, at times when the workers were afraid of losing their jobs and the workshop. Back then, they told me, Gernot, you have to do something, otherwise we will all become unemployed here. And within a very short time, we have taken over everything and rebuilt it here on the farm premises." Even today, you can notice a sense of pride in Gernot Becwar, talking about this past step requiring courage and foresight. And all the more talking about his award-winning and truly excellent pumpkin seed oil. Those of you, who like us opt for a tasting in the Western Styrian oil mill Herbersdorf, will soon notice: Pumpkin seed oil is not the same as pumpkin seed oil! The nutty flavour of this creamy and incredibly healthy oil pressed from Styrian pumpkin seeds (0% cholesterol, 60 % oil content in each core!) dipped and served in white bread, is just heavenly. "Mmmmh!", is the only sound we are able to produce when we look at each other with pleasant surprise, tasting and chewing. Gernot Becwar continues to speak about modern pumpkin seed oil processing, the work on the field, the production of the "Black Gold of Styria", then as now, the harvest and production of the Schilcher wine, eponymous for the entire region in which we find ourselves: the Western Styrian Schilcherland. He even offers us to taste his own Schilcher wine in his private wine cellar, while his wife prepares some delicious scrambled eggs cooked in pumpkin seed oil and served right out of the pan. Again, we are here to try (more) food – what else is there to do in delightful Styria? : D It really is a …
Gourmet Travel Trip in Styria through & through!
Fancy even more "virtual & visual" impressions of the Styrian Volcano district, the wine district of Southern Styria or the Schilcherland wine district in Western Styria? My Flickr Photo Gallery takes you with me on a journey … :
Disclaimer: We have been invited by Hotel Restaurant Stainzerhof in order to travel in Western Styria. All opinions are my own.