You wouldn't be here if you weren't curious.*
Hi! I'm Elena! Welcome to my travel blog Creativelena.com.
For me, it is all about "life-seeing instead of sightseeing": Join me as I create, eat & live my way around the world. Curious?
*Check out my book, "The Creative Traveler's Handbook", for learning more about what we mean by creative travel. Travelling means the world to me, makes me fit for everday life and sometimes, I trust, also calmer on the inside. Read this blog with a smile, share what you love and remember to check back regularly: After all, when was the last time you did something for the first time?
Imagine this: You are on a trip, and one cultural highlight, one great music event, one exciting city tour is chasing the other … Will you sit back, trying to catch your breath and relax? Well, keep trying. Once the travel destination Germany unleashes its treasure chest of mighty UNESCO World Heritage Sites, you can only sit back and do one thing: Marvel at them. Feel the excitement rising, the travel bug consuming you. Wow. Here is all the splendour, variety & liveliness of World Heritage in Germany.
And once words do even fail me as a happy travel writer, it is time for a travel video. Because no one is able to present such amazing places as Schloss Augustusburg palace, the historic city of Regensburg or the industrial heritage "Zeche Zollverein" as the locals themselves: Christiane Winkler, Isabell Käser, Martina Tendick, to name but a few. I have met all of them (and more) against the backdrop of picturesque postcard summer weather, travelling alongside different World Heritage Sites from Regensburg to Cologne and catching their emotions and feelings of welcome.
Looking for travel inspiration, then? Look no further. Check out my World Heritage video here!
Regensburg, LIMES, Romantic Rhine Valley, Trier, Brühl, Cologne & Essen: World Heritage as a major reason for travelling
Let's take … the so-called "Zeche Zollverein". Could I imagine what it was going to be like travelling here? Not really. However, I guess this was exactly why it had such a strong effect on me. Delightful Rococo & Baroque palaces, such as the one in Augustusburg in Brühl near Cologne, do feel somehow more "familiar"; the guided Roman city tour I enjoyed in the city of Trier really brought on some time travel moments back into the past of "Augusta Treverorum" and its 80.000 inhabitants in 300 AD. Generally speaking, from what I could gather on this trip, is that all World Heritage Sites in Germany can pride themselves on great local storytelling: At each and every stop, I am met with professional guides and storytellers who are really able to work the magic. Laughing, entertaining, taking me onboard a journey towards the great cultural achievements of humankind and its rich heritage. I love to step into the Cologne Cathedral after an odd twenty years "back in the (childhood) days". In the "Romantic Rhine valley", we take a gondola across the vineyards, E-Bikes along the river where we enjoy Riesling ice cream and listen to songs of the Loreley. The Römerkastell Saalburg dresses me like a Roman lady, and inside the Historic Wurstkuchl Sausage Tavern in Regensburg, we can only think of one thing … "6 on cabbage for lunch"! 😀
(It is a joke, in German. Do not laugh: "6 on cabbage" is actually quite funny, referring to six fried sausages being served to you on a bed of cabbage.)
Thank you so much, dear team of the Germany Travel Destination, for the impeccable organisation of this trip featuring World Heritage in Germany. All opinions are my own.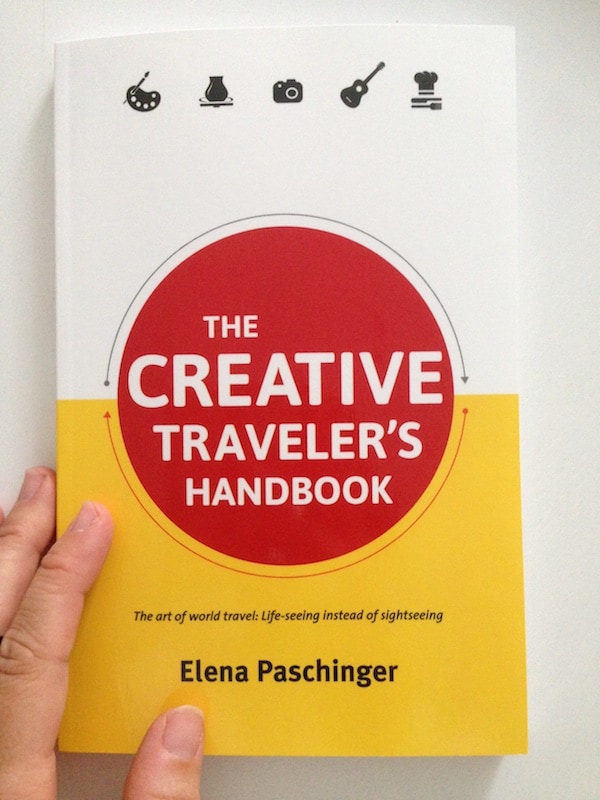 Ready for learning even more about creative travel?
Elena has recently published "The Creative Traveler's Handbook". Chock full of inspiratinal stories, travel tips and advice, it offers everything you need for planning and managing your next creative escape, addressing beginners and experienced travelers alike. Here's how to
get your hands on it
now!