You wouldn't be here if you weren't curious.*
Hi! I'm Elena! Welcome to my travel blog Creativelena.com.
For me, it is all about "life-seeing instead of sightseeing": Join me as I create, eat & live my way around the world. Curious?
*Check out my book, "The Creative Traveler's Handbook", for learning more about what we mean by creative travel. Travelling means the world to me, makes me fit for everday life and sometimes, I trust, also calmer on the inside. Read this blog with a smile, share what you love and remember to check back regularly: After all, when was the last time you did something for the first time?
Take your favourite playlist. Add a bit of sunlight. Put on your best smile. And way you go …
Little did I know how life-changing my trip through the Canadian Rockies would be. And I say "life-changing" quite a bit, as I tend to meet people with the same heart & openness pretty much everywhere I go on this beautiful Planet Earth! The Rocky Mountains, and especially Banff however, have left a truly deep impression on me.
I cannot take my eyes off the stark colour contrast of snow-capped mountain peaks sustained by broad sweeps of evergreen conifers, blazing flames of bright orange birch trees and dotted with some of the most intense, turquoise-coloured lakes I have ever seen in my whole life. How could we ever fail to warm to the poetry of life, and nature, in a place as pristine and beautiful as this one?
So let me tell you where all this magic lies rooted in. Most people, just like myself, start the drive through the Rockies in either one of the national park towns of Jasper or Banff. From each end, it is about a 300 kilometres' drive, taking anywhere between four to five hours (fewer stops in potentially averse weather conditions, reducing visibility at popular viewpoints) to up to seven hours or more (that's me basking in beautiful sunlight driving mode and stopping much more often to take videos, time & photographs!). Be prepared to take at least a day for the entire trip then: That way, you can stop as much as you like, do your little hikes off the main road, and still go relatively unhurried. Pressure is not something you want to feel in a place of such mighty serenity after all.
The above map shows you where Banff & Jasper National Parks are located at, connected by the famous Park Highway 93. It also measures out their relative closeness to Alberta's capital city, Edmonton to the North, as well as Banff's southern gateway city Calgary, about one and a half hour's drive from Banff only.
Road trip through the Rockies: Here is how to do "the most beautiful 300 kilometres on Earth" in style!
To actually get to starting your epic road trip adventure, consider not just flying into Jasper, Banff or Calgary, but start off with something quite different …
How lucky can one girl get?
How much happiness can you actually take?
How deep does the appreciation for the spectacular natural surroundings around you run?
By the time the actual weather had cleared to make my drive back up north from Banff to Jasper a sweet & sunny one, I felt a shadow of a cloud crossing my inner horizons. Banff, and especially its local community of such warm-hearted, welcoming people, had really grown on me. Leaving all of a sudden didn't feel right any more. And yet I had to. This time round. But guess what: "I'll be back", in the famous words of one of my Austrian countrymen. I definitely will. Sooner rather than later, looking at the mighty colour change of fall, with autumn being one of the best travel times for a trip through the Rocky Mountains. The air is still warm, the colours on display are mind-bogglingly beautiful, the tourist numbers have dropped from the sheer masses of summer's travel frenzy.
My smile has reached you. It is reciprocated in the mountain's echo. The all-encompassing wisdom that binds us all. To it, we bow our heads in awe and let our minds, hearts & spirits fill with peace.
PS. I have also produced a travel video that highlights some of my travel adventures in Western Canada, all the way from Vancouver to the vast open plains east of the Rocky Mountains. A fascinating, funky take on what has truly been a life-changing journey. Enjoy with sound & smile 🙂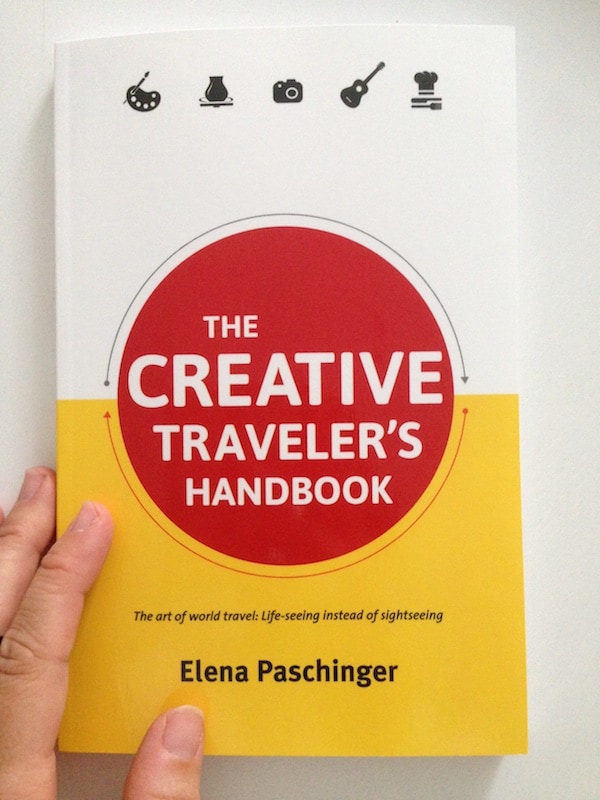 Ready for learning even more about creative travel?
Elena has recently published "The Creative Traveler's Handbook". Chock full of inspiratinal stories, travel tips and advice, it offers everything you need for planning and managing your next creative escape, addressing beginners and experienced travelers alike. Here's how to
get your hands on it
now!