You wouldn't be here if you weren't curious.*
Hi! I'm Elena! Welcome to my travel blog Creativelena.com.
For me, it is all about "life-seeing instead of sightseeing": Join me as I create, eat & live my way around the world. Curious?
*Check out my book, "The Creative Traveler's Handbook", for learning more about what we mean by creative travel. Travelling means the world to me, makes me fit for everday life and sometimes, I trust, also calmer on the inside. Read this blog with a smile, share what you love and remember to check back regularly: After all, when was the last time you did something for the first time?
Rugby match. Car sales. Kayak trip. My new home around the idyllic small town of Motueka, at the gateway to New Zealand's famous Abel Tasman National Park, is pretty paradisiac. I have made it to the city of Auckland and survived my first adventure of crossing the North Island to the south. Having finally "arrived" here on the South Island, however, the "inner excitement" is far from subsiding.
At this very moment, I am reading a book called "The Adventure Traveler's Handbook" written by Nellie Huang. In it, this young woman talks about brave and courageous moments on her travels, encouraging readers like me to follow suit: "Ultimately, adventure is a state of mind more than anything else. It is about believing in yourself and having the faith to achieve something you want." How very true. It brings me back to what I felt during those first few weeks living in New Zealand. Thank you Nellie!
And so the story of my lifetime adventure goes. I have to learn how to drive on the left hand side! And ah, have I actually ever been kayaking before … ?
"Push the boundaries you never thought you had …" – or what was this adventure thing again? Well. The power of positive thinking, I guess. And after all, you are never alone down under in New Zealand. The degree of helpfulness among the Kiwis is purely astounding, literally everyone goes to (sometimes great) lengths to help you out, i.e. Couchsurfing invitations, open doors & hearts, finding it "natural to help you out", etc. No matter what it was, buying a car, planning my next trip or simply an invitation for dinner: I could always count on the support of people around me, even though some of them might hardly know me (yet). Beautiful – and refreshing as a human quality among the Kiwis in New Zealand.
You see, it was the same with Denise & Crispin Raymond of Creative Tourism New Zealand. Being one of the sweetest and most charming couples I have ever met, they emigrated from Europe to New Zealand more than ten years ago and founded, thanks to their interest, know-how and contacts, "Creative Tourism New Zealand". To invite me to come and stay with them, support them in their work and treat me as part of the family, is quite something in its own right. But to continue to push me and help me settle on an international career and travel path that I still pursue today, is really amazing. I still look back in awe, while I am sure Denise & Crispin would only smile, shrug sweetly and say, "Why, of course, this is just what you do."
The Abel Tasman National Park as well as Golden Bay, both top destination targets in New Zealand, are right in front of my new doorstep. What more could I desire?
Nothing, really.
Crispin has baptised my car "NiftyEllie" owing to the NE 5920 license plate. I think this a very good name, cruising down the road like a pro on the left hand side after only a few days. (It does certainly help that there is not much traffic on the islands after all!). My new car is almost as old as me back then – a fact that utterly fascinates me, being the "spoilt Central European I am" ;), growing up to shiny new cars and having only seen very old ones on a trip to Cuba. However, all goes well: Back to third gear across the hill, I make my way to Abel Tasman National Park and into Takaka, the "secret hotspot" of Golden Bay. All the wonderful people I am to meet there much later in the year, is the focus of yet another story in this series. For now, let me recommend Golden Bay as my very own, personal highlight for your next adventure journey to New Zealand! Check this out.
Large fern trees basking us in an interplay of shade and light, with a place called Pupu Springs offering one of the country's finest drinking water sources, and the mesmerising play of light on Papatuanuku's skin, or "Mother Earth" as the Maori like to call their homeland. The story of creation around Papatuanuku ("Earth Mother") & Rangi ("Sky Father") is as moving as it is unique. I shall tell you more about it later on along the way. After all, this series of travel articles offers a lot more space for inspiring storytelling … ! Stay there and stay tuned, dear readers. 😀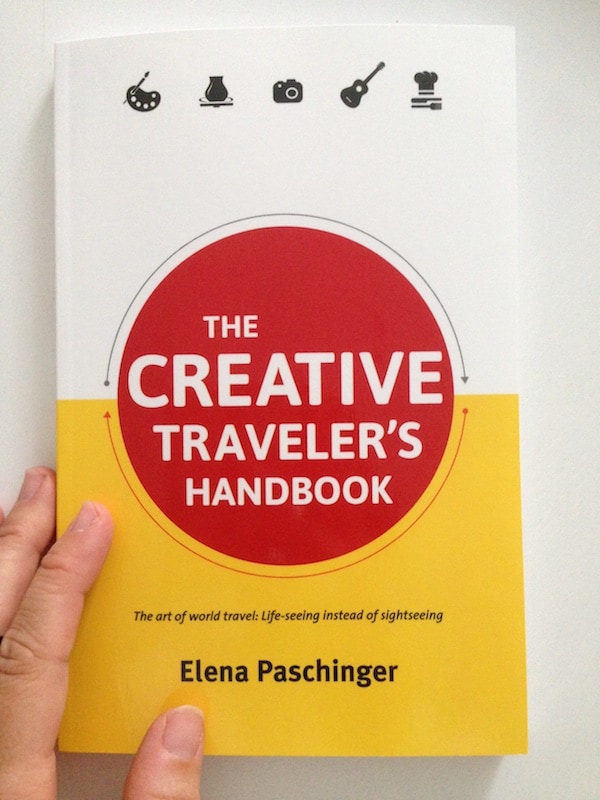 Ready for learning even more about creative travel?
Elena has recently published "The Creative Traveler's Handbook". Chock full of inspiratinal stories, travel tips and advice, it offers everything you need for planning and managing your next creative escape, addressing beginners and experienced travelers alike. Here's how to
get your hands on it
now!