You wouldn't be here if you weren't curious.*
Hi! I'm Elena! Welcome to my travel blog Creativelena.com.
For me, it is all about "life-seeing instead of sightseeing": Join me as I create, eat & live my way around the world. Curious?
*Check out my book, "The Creative Traveler's Handbook", for learning more about what we mean by creative travel. Travelling means the world to me, makes me fit for everday life and sometimes, I trust, also calmer on the inside. Read this blog with a smile, share what you love and remember to check back regularly: After all, when was the last time you did something for the first time?
Hot, hotter, the hottest. Once again, the heatwave hits us at almost 40°C! If like me you are about to boil over, consider taking a cool break. Many are the options – I suggest Baden near Vienna. Why? Because you can combine culture, "Kaiserschmarren" & cool summer activities all in one visit.
The city of Baden, just a stone's throw away from the capital city of Vienna, breathes the cool air of the nearby Vienna Forests. The emperor himself already knew to appreciate this: Now, it is our turn.
The city of Baden is alive with the spirit of its imperial heyday. Mighty estates and villas are dotted around town, and we feel no less impressed by the historic atmosphere of our own accommodation, Hotel Schloss Weikersdorf. The former castle offers a view of the local rose garden, called "Badener Rosarium" counting more than 30.000 (!) individual roses! Fortunately for us, the mighty stone walls of the castle keep the air nice and cool, while all rooms and spa areas have been kept deliberately modern – a perfect combination if you ask me. Check this out.
Right from Hotel Schloss Weikersdorf, we are led on a refreshing hike of a kind: Local guide Günther knows the way to stay in the shade!
The large expanse of the Vienna Forests truly succeeds in working as a natural air con, lowering the temperature a pleasant few degrees. Our guide Günther has deliberately chosen a shady forest path, still offering us perfect views of the surrounding palace landscape of Baden as well as Vienna and Hungary. If after an hour or two, you feel the urgent need for a beer or light summer wine, check out the local "Hauswiese" tavern for a true example of Lower Austrian countryside charm.
Baden itself has a lot to offer, of course. Listen for the traces of Mozart & Beethoven, who loved to compose world-class music in Baden; or even the old tales about the Romans & emperors taking you back many centuries. Traces of its eventful history spanning several millennia are what make Baden unique. You can easily call it one of the most beautiful cities of Austria (and that's me saying, living in one of the most beautiful cities myself – Krems by the Danube river! 😉 ).
And did you know that the "Imperial Baking Shop" of Baden loves to host visitors to an open-air "Kaiserschmarren" cooking demo? Despite the heat, watching the Kaiserschmarren master do his foodie thing is clearly worth you while …
Last but not least, do not miss a visit to Baden Casino: "Cuisino", clubbings & more are waiting for you!
In my last blog post, I have already shared with you the magic of the annual white party taking place in the city of Baden, called #BadenInWeiss. The Baden Casino is always worth your visit, especially where a combination called "Dinner & Casino" including the light summer cuisine of the restaurant Cuisino is concerned.
Check out more colourful travel tips & inspiring photography or videos about Baden here:
Disclaimer: We have been invited by Casino Urlaub as well as the city of Baden for an experience of #BadenInWeiss. All opinions are my own.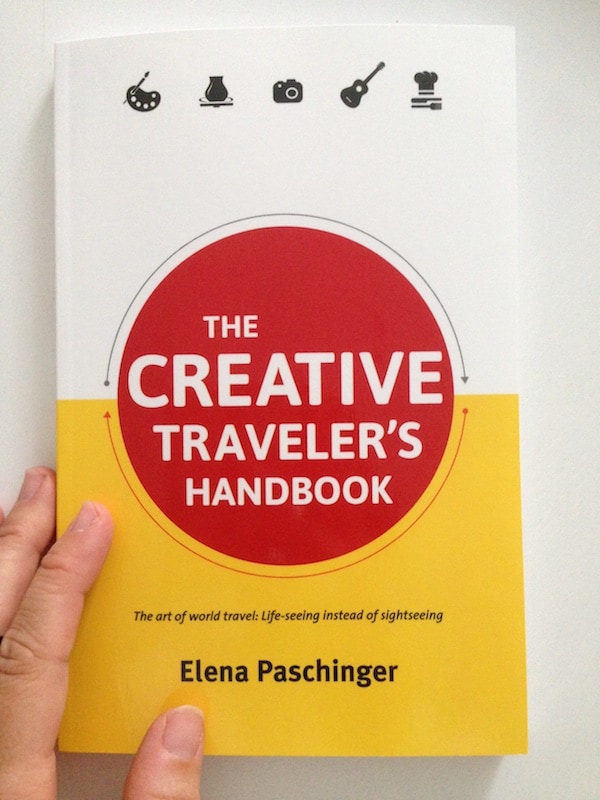 Ready for learning even more about creative travel?
Elena has recently published "The Creative Traveler's Handbook". Chock full of inspiratinal stories, travel tips and advice, it offers everything you need for planning and managing your next creative escape, addressing beginners and experienced travelers alike. Here's how to
get your hands on it
now!