"You are already off skiing? Is there enough snow already?" Yes, it's still pre-season here in the Austrian mountains, but my friends and I have decided to take a chance and followed an invitation to join a team of bloggers at the Hochkönig mountain ski resort, about an hour south of the city of Salzburg. "Kuschelhütten and Erlebnisbauernhof – comfy huts and a fun-filled farm" are waiting for us up here in the Salzburg mountains. I am really curious what this means! Two years ago, I have already been here skiing, impressed by the mighty Hochkönig mountain massif towering like a king's crown over the small villages at its feet.
This time, however, the welcome is even more special. "You are the first guests in our new mountain huts", Andrea Deutinger is happy to say, showing us around the farm including some 100+ animals …
… "we don't actually know how many there are exactly", Jakob her husband admits, smiling. "Unfortunately, every now and then, the fox is able to catch some of our hens. Really clever, I can tell you. But most of the times, I win", he concludes triumphantly. Apart from cleverness, three lovely sons and a good sense of humour, the Deutinger family has a lot more to offer: A lot of love (and eye) for detail, for instance. From the very beginning, we are simply blown away by the charm of our individually designed, inviting mountain huts. Ours, by the way, is called "Schmuckstück" – Jewel. Of the Alps, and probably all mountain huts contained therein.
Skiing at the Hochkönig starts with looking for traces. Of snow, that is. Down in the valley, the hillsides are still green, but up at the mountain tops …
… the slopes are white, devoid of people and simply beckoning us to carve down in long, beautiful slopes. Mountains full of snow. The air crisp and clear. The sky a heavenly blue, our face warming up in the winter sun. Up here, at some 2.000 metres above sea level, we have hit the jackpot: No waiting times queuing in front of lifts. Virtually no one but us. Sunshine every day. What else could you possibly wish for? "Well, we still have to go for a typical 'Jagatee' don't you think?", our friend Romeo reminds us after a few fun-filled hours of carving down the slopes. He is right, of course – as the Austrian tradition almost "forces" you to rest, eat and drink at all times.
… then is the time to retreat to our mountain hut, welcoming us well-heated and with the fireplace crackling. Lovely. Only some five minutes drive from the valley station of the mountain cable car in Mühlbach am Hochkönig, the Pronebengut farm of the Deutinger family can easily be reached, located on a sunny hillside above the main valley road.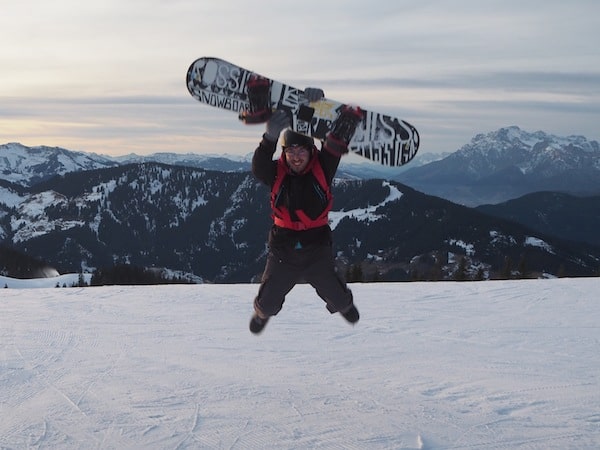 Happy skiing! Next time, let me tell you even more fancy (foodie) travel tips around the Hochkönig area, and some more details about the Pronebengut farm where we are staying. Really worth your while here, and so cosy you can easily take a day off from skiing as well.
PS: My friends Kathi & Romeo, writing on their Sommertage Reiseblog, have also made a great video about our stay. Check it all out on: http://www.sommertage.com.