You wouldn't be here if you weren't curious.*
Hi! I'm Elena! Welcome to my travel blog Creativelena.com.
For me, it is all about "life-seeing instead of sightseeing": Join me as I create, eat & live my way around the world. Curious?
*Check out my book, "The Creative Traveler's Handbook", for learning more about what we mean by creative travel. Travelling means the world to me, makes me fit for everday life and sometimes, I trust, also calmer on the inside. Read this blog with a smile, share what you love and remember to check back regularly: After all, when was the last time you did something for the first time?
Each and every year, I am amazed at the openness of the monasteries & abbeys in Austria. "Kremsmünster accommodates the oldest public school in Austria", says Father Daniel, and smiles. "It was opened in 1546, almost 800 years after the foundation of the monastery in 777!" Fascinated, Angelika Mandler and I have been listening to him for about an hour now – and completely forgotten about the time. The monastery walls, with their hundreds of years of cultural history, have a lot to offer. In any case, more than we can see in just one afternoon.
And, wait: A vegan restaurant and a wine cellar in a monastery?!
"You have a whole selection of different vegan menus?", I exclaim in surprise as we sit together having dinner with Father Klaus at the abbey restaurant of Saint Florian. "I mean, this is really something, you know!", I add. Father Klaus is visibly proud and delighted. The combination of a vegan restaurant, overnight stays in the monastery as well as a visit to the (world) famous Bruckner organ is totally unique, I believe. Both abbeys, St. Florian as well as Kremsmünster, do not lack real attractions to discover.
The museums, the abbey churches as well as the libraries of both abbeys around Linz invite you to come and marvel at the collected knowledge of centuries of European history.
As an "old bookworm", my heart always rejoices in such time-honored library rooms like we can see at the abbeys of Kremsmünster and Saint Florian. Amazement, fascination, curiosity, admiration, and respect for the thousands of people (and books) boil up inside of me, books which hold centuries of knowledge as a unique reflection of European cultural history. The Abbey of Kremsmünster alone welcomes 20.000 visitors each year, which besides its library houses the famous "Tassilo Cup" dating back to the year 700. On special occasions, it is brought out of its glass paneling: How does it feel, I wonder, to drink from a 1300-year-old pitcher?
Unique to Saint Florian: An experience of the world-famous Bruckner organ at close quarters – above, below, and behind the scenes!
My friend Angelika especially, was very moved at being offered the chance to play the mighty organ of the world-famous composer Anton Bruckner, and then to look behind the scenes of the same, 7.380 (!) pipe-strong instrument. It became even more special when Father Klaus Sonnleitner offered to take us down to the last resting place of Anton Bruckner, whose tomb lies directly below the beloved and perfected organ he played during his lifetime. Check this out.
Unique to Kremsmünster: Natural (garden) treasures.
Until 15 October 2017 still, you can spend a whole day or a whole weekend in Kremsmünster following the so-called "Dreiklang der Gärten": The abbey park as well as the surrounding town gardens invite you to linger and discover their treasures. Angelika and I muse about learning yet another superlative: The fig house of Kremsmünster Abbey is the oldest greenhouse in Europe! Do also make sure you climb the nearby Sternwarte (possible as part of a guided tour): The view from the top of the building as well as the scientific collection inside will inspire you!
My dear colleague & friend Angelika has also published the following blog posts & photographs about her visit:
Disclaimer: We have been invited on this trip to the abbeys of Saint Florian & Kremsmünster. All opinions are my own.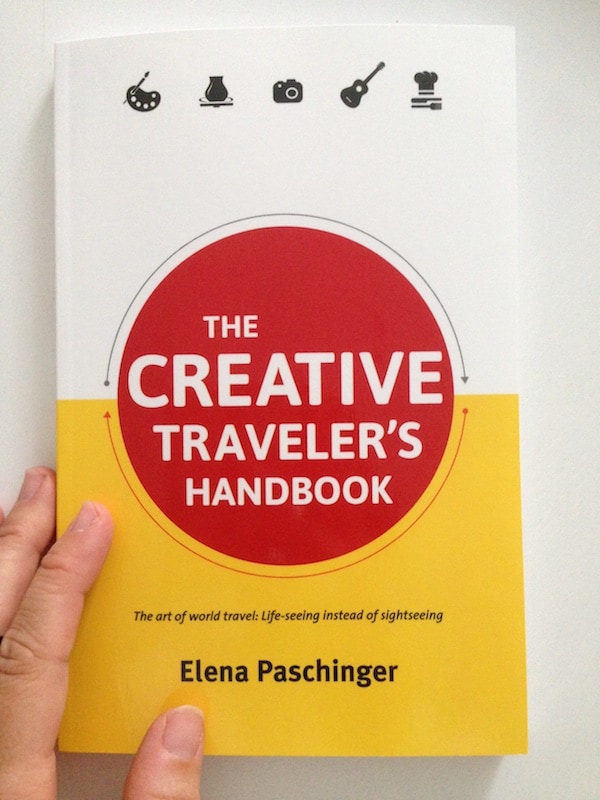 Ready for learning even more about creative travel?
Elena has recently published "The Creative Traveler's Handbook". Chock full of inspiratinal stories, travel tips and advice, it offers everything you need for planning and managing your next creative escape, addressing beginners and experienced travelers alike. Here's how to
get your hands on it
now!