You wouldn't be here if you weren't curious.*
Hi! I'm Elena! Welcome to my travel blog Creativelena.com.
For me, it is all about "life-seeing instead of sightseeing": Join me as I create, eat & live my way around the world. Curious?
*Check out my book, "The Creative Traveler's Handbook", for learning more about what we mean by creative travel. Travelling means the world to me, makes me fit for everday life and sometimes, I trust, also calmer on the inside. Read this blog with a smile, share what you love and remember to check back regularly: After all, when was the last time you did something for the first time?
Today, I had the most amazing travel day in South America. Oh wait, have I actually said that before? Like at the Mendoza Wine Festival? During my hike in Torres del Paine National Park? Or when dancing the Tango in Buenos Aires with my lovely man … ? 🙂
The Atacama desert in Chile is one of the driest places on Earth, and undeniably also one of the most attractive. Every second door in San Pedro de Atacama, its "tourism epicentre", is actually a hostel, a tour company or a corner store catering to visitors. From serious trekkers as in "Atacama Crossing" to laid-back tour groups, the choice of options to explore the area is simply overwhelming.
Very lucky was I therefore to go by the recommendation of my two world travelling buddies Anne-Laure & Julien, who recommended me to explore the area of San Pedro de Atacama with Cosmo Andino. This tour company is different from its dozens of competitors in that it literally offers "quality time in the Atacama", including better meals, better service, smaller tour groups and itineraries that avoid the mass tourism trails. Right up my alley – always avoiding the crowds as good as I can. Let's go, then 🙂 !
Heading up high: Exploring the "Lagunas Altiplánicas"
From our beautiful morning seeing the flamingos and enjoying a lavish "brunch" breakfast outside the nature reserve (thank you, Carlos & David!), we then climbed more than a 1.000 metres up to the "Altiplano" highlands where underwater streams feed spectacular mountain lagoons. Out of this world! Make sure you come here one day – it's really worth it.
On the website of Cosmo Andino, it reads: "Full day up in the Cordillera de los Andes – far from civilization, close to the heavens. We take you places not mentioned in the guide books: no other people out there, just you and us. Our special CosmoAndino treat!"
This is really true, as on our second stop during this trip, there is literally nobody but us (a tour group of 10 people).
Hungry for more stunning, "out-of-this-world" photography? Check out my Flickr photo gallery:
Disclaimer: I have been invited by Cosmo Andino on this trip to experience Atacama Desert and the Altiplano Lagoons. All opinions are my own.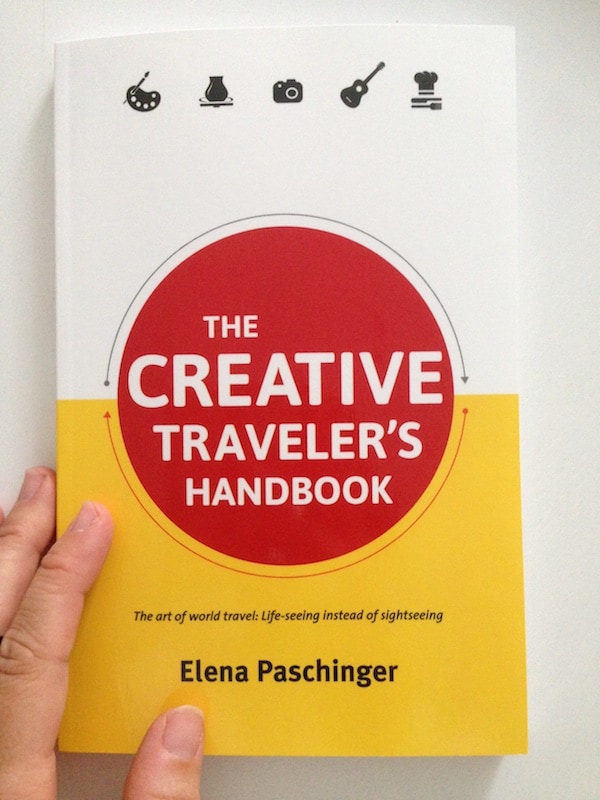 Ready for learning even more about creative travel?
Elena has recently published "The Creative Traveler's Handbook". Chock full of inspiratinal stories, travel tips and advice, it offers everything you need for planning and managing your next creative escape, addressing beginners and experienced travelers alike. Here's how to
get your hands on it
now!