You wouldn't be here if you weren't curious.*
Hi! I'm Elena! Welcome to my travel blog Creativelena.com.
For me, it is all about "life-seeing instead of sightseeing": Join me as I create, eat & live my way around the world. Curious?
*Check out my book, "The Creative Traveler's Handbook", for learning more about what we mean by creative travel. Travelling means the world to me, makes me fit for everday life and sometimes, I trust, also calmer on the inside. Read this blog with a smile, share what you love and remember to check back regularly: After all, when was the last time you did something for the first time?

Perito Moreno Glacier in El Calafate
"Eating Calafate berries means you are going to come back." That's what Argentinians like to tell me. Well, I hope so! In any case, I have not come to the small town of El Calafate in order to taste its bittersweet origins, but to marvel at one of the most incredible natural monuments of our planet Earth: The Perito Moreno Glacier in the south-east of the enormous "Glacier Park" Parque Nacional Los Glaciares. Its dimensions of more than five kilometres across and up to 70 metres tall make it the largest and most impressive glacier I have ever seen in my whole life: Each year, its millions of tons of ice advance over a metre (that's a lot 😉 ) only to calve into Lago Argentino as if pulling off a spectacle just for its visitors. WOW!
A Cool Speed-Dating !
I cannot sleep, I am too excited – despite just having completed a three-day-hike in Torres del Paine. Too much have I been told already about the wonders and mysteries of this glacier who against all odds is said to even grow – as much as its flow of visitors. Since I do not have even 24 hours for a glimpse of the glacier and its town (being invited to travel to Mendoza Wine Festival only four days later – "it's a hard life" 😀 ), I afford personal taxi driver Carlos who besides driving me to and from the glacier also doubles as my guide for the day. He tells me all I need to know about the area, sharing my philosophy of enjoying "the simple things in life". A beautiful travel experience!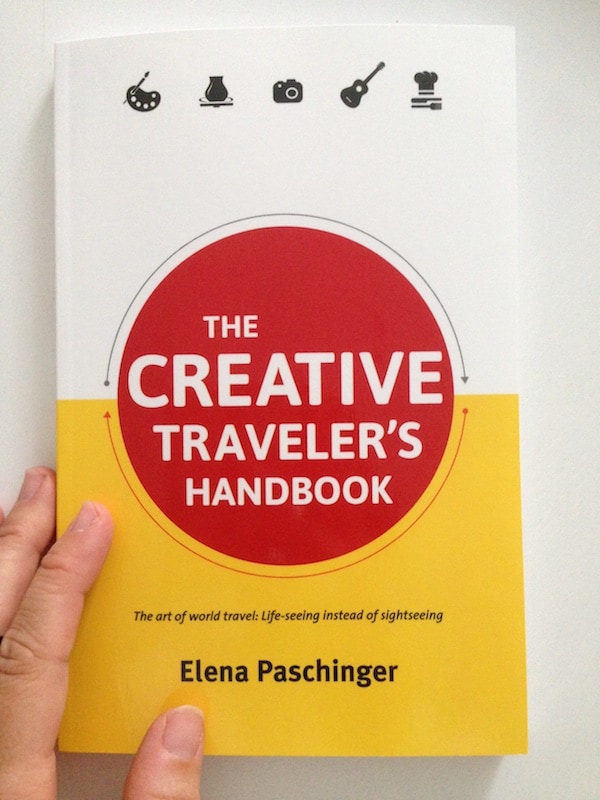 Ready for learning even more about creative travel?
Elena has recently published "The Creative Traveler's Handbook". Chock full of inspiratinal stories, travel tips and advice, it offers everything you need for planning and managing your next creative escape, addressing beginners and experienced travelers alike. Here's how to
get your hands on it
now!
Follow me on my travels: