The Alentejo region is Portugal's largest country district and immediately serves a host of more superlatives: Richest in culture. A most beautiful landscape. Huge, simply huuuge in food. Humblest in people. And authentic beyond imagination. "Everyone is just so friendly here": What echoes as a ripple throughout our group of international travel writers, who we have come to explore the Alentejo ahead of this year's World Food Tourism Summit #WFTS15 in Lisbon, is amplified each time by the mirth & warmth of the Alentejo people.
"People and their stories are our greatest asset here in the Alentejo. Today, close to 40% of all visitors come from abroad in order to relate to the unique serving of food, culture & storytelling here." Says Ruben Obadia, himself one of the greatest storytellers of all!
Ruben, if not travelling in Asia or managing a series of well-reputated travel & architecture magazines, simply loves to show & share 'his' Alentejo with us. "You will find everything in Alentejo but noisy nightclubs and fast food restaurants. People here are really down to earth, in the most literal way of the word possible. Luxury travel in the Alentejo defies the 'glitz & glamour' notion found elsewhere. Let me show you what we mean by that. Aaaah, bom dia caro amigo …!"
And off he is, introducing us to yet another one of the local personae that we are about to meet here in the Alentejo.
Rather than going through each place one by one, let me "feed them to you slowly", with all the passion & care we have received in slow-travelling through them. Let us start with the happiest topics of all:
Food. As in: Restaurant Visits & Local Producers not to be missed when travelling in the Alentejo.
First of all, you must go to a place called "Arte & Sal – Casa de Peixe" near the city of Sines on the Atlantic Sea Coast. I usually refrain from phrases like "You must!", but Carlos Barros and his team are worth the emphasis and recommendation. "The fish you are eating has still swum in the sea this morning", a fact he prides himself on for maintaining consistent quality levels across all of the food being served here.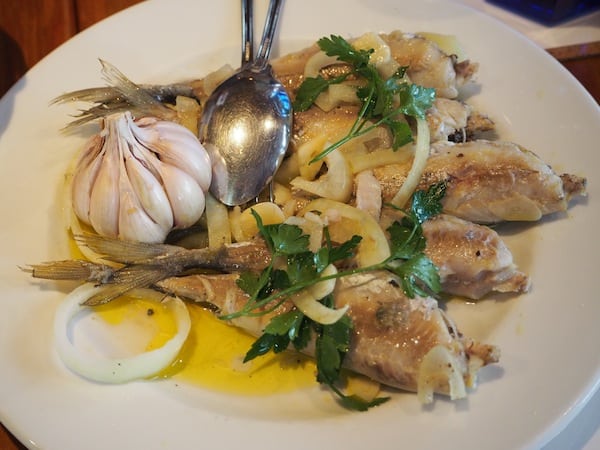 Then, there are "Casa do Porco Preto" in the city of Barrancos and "Horta da Moura" near Monsaraz. Brace yourself …
… for some of the greatest superlatives of all kind: Eating fresh (!) olives from a nearly 3.000 year-old olive tree (well and alive!) and allowing melt-in-your-mouth ham to vow you just cannot exist as a vegetarian … here in the Alentejo district at least.
For sure, all the cheese, bread & olives we tried were delicious as well. But oh, that ham … and perhaps even more importantly so: The story behind both local producers of fresh Alentejo delicacies. Come take this picture walk with me …
How about heading over to a really good wine estate now? Herdade do Monte Novo e Figueirinha as well as Cartuxa both provide excellent tasting opportunities.
Filipe & José speak several languages between them, have won many (international) tasting awards for their wines & olive oils and run a successful "Quinta", or "Herdade" wine & farm estate near the city of Beja. All of them are reasons to appear proud, yet what I find here is essentially, the "spirit of the land": Filipe talking to us openly, nonchalantly, with his several months-old daughter bouncing on his arm. José stressing how much he still wanted to learn, talking to me in really good German, about the wine & olive oil production on his farm plucking fresh lemons for us from a nearby tree.
And Ana? Her enthusiasm on introducing us to the "Eugénio de Almeida Foundation" that Cartuxa Wine Estate just outside the city of Evora belongs to is almost indescribable. So much heart & infotainment there on this rainy Wednesday morning that it leaves me speechless, having worked as a wine tourism guide myself during my (wine) tourism studies. I love it, and recommend you both places to go: Not only for the excellent quality of the local produce. But even more so for the heartfelt storytelling & warm welcoming that the Alentejo people know so well to provide.
Let's talk accommodation options now. After all this wine & food tasting, surely you feel a little tired..? We certainly were: Luckily, the Alentejo has many answers as to where you can lay your head.
During our #winelover #foodlover travel days in the Alentejo, we have been hosted by two top establishments called Pousada de São Francisco in the city of Beja as well as the rather luxurious Alentejo Marmóris Hotel & Spa. Both places provided a good insight into the local culture & history of the Alentejo, what with the latter featuring the story of local marble trade with countries such as Italy or even the Arab states! The Marmóris Hotel & Spa itself is almost completely made up of marble and located in the historic town of Vila Viçosa, the former residence of the Portuguese kings.
Pousada de São Francisco, on the other hand, is a former convent turned luxury style travel accommodation, featuring unique architecture and – naturally – great food.
Last but not least, I am tempted to say "just go for the ride". Feel the magic. Take in a deep breath. Allow the local rhythm to slow you down. And marvel, forever marvel, at those pretty little 'aldeias' & wide open spaces of the Alentejo.
"Water has changed everything", is a phrase we often here around the local towns of Barrancos & Monsaraz. It is here where the river Guadiana has been turned into one of the greatest reservoir lakes of Europe, called "Alqueva lake", covering a surface of almost 200 square kilometres. "There are people that live here who have forever had to fight lengthy periods of drought. Now, they are moved to see their land in a new light: Green, that is." Indeed, looking out and over from pretty little Monsaraz, the land of gently undulating hills and spurs in this part of the Alentejo does look very green. And so do the hills around Barrancos (it is still early spring though, mind you), what with all their cork trees lining the roads in a pleasing landscape feature. Have a look out here.
If you need even more persuasion to travel in the Alentejo, refer to a "succulent selection" of my #winelover #foodlover photography here in this Flickr photo album:
More about the Alentejo can also be found looking at my fellow foodlover's travel blogs:
Enjoy! "Boa appetite", dear readers. 😀
Disclaimer: I have been invited by Turismo do Alentejo on this #Winelover #Foodlover trip around Alentejo. All opinions are my own.