It is Thursday, the 20th of October 2016. City sounds of busy Montréal pass me by, as I sit by the window of my room at night. Exactly eight weeks into travelling in Canada, I realize I have a good two weeks left before I fly back home to Europe. Nervously, my fingers type across the keyboard: A decision is about to be made. In my mind, I can hear them voices: "You might as well go all the way East, Elena .. The Maritimes are beautiful! The people there are easily the friendliest in Canada. Québec city … Saint John's .. Oh, go to Saint John's, if you can. It's BEAU-TI-FUL."
Hm. Did I tell you that any kind of decision-making is really hard for a Libra-type star sign like myself, always on the lookout for perfect balance & harmony? (A futile quest, I know). Montréal, the Maritimes, Saint John's … Then, one more click: "Thank you for your booking! Here is your flight confirmation for going to Calgary."
Calgary ?!? Yes. Calgary. Alberta. The Rocky Mountains.
"Eventually, all the cool people go West …" 🙂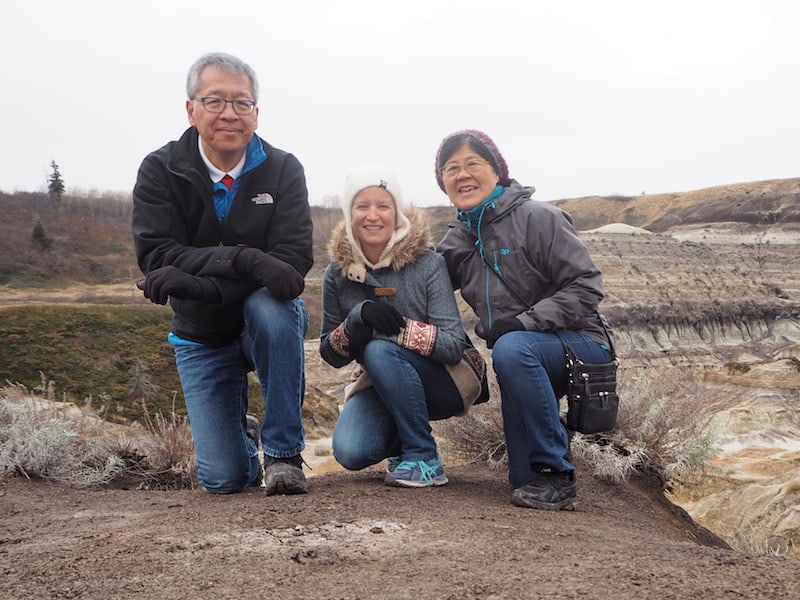 "Hi Elena, How lovely to hear from you. You have amazing energy to cross the country again! It speaks to the allure of our Rocky Mountains. Gord and I would love to catch up with you. If you need a place to stay, we'd like you to consider staying with us. Also, let us know if you need a ride from the airport. Looking forward to seeing you again! Warm regards, Linda and Gord."
In those final stages of my journey across Canada, I have come to realise that I have fallen in love. Not with Canada, the travel destination – which would be easy enough. For all I know, I have fallen in love with something far greater (and possibly life-changing): Canada, the people. Canada, the village (referring to the original meaning of the name "Canada" in the native language of the First Nation people). My village. My people. The soul of a nation.
Thus, instead of going "all the way East", I have now booked another flight "back out West". From Montréal to Calgary. Giving in to the "allure of the Rocky Mountains", as my dear friend Linda expresses it so well in her above email message to me. I have met both Linda and her husband Gord during a delicious #KensingtonKrawl Food Tour with Savour Toronto, and immediately took to their warm-hearted, downright honest, and very sweet human nature. Knowing they were genuine in welcoming me to their home "any time", I simply went with the flow, picking a destination in Canada I knew I could unwind a little for the remainder of my trip. A place I could relax from stacking up experience after experience, going 5000+ kilometres across the North American continent in just under two months. Writing, working, blogging and tweeting about it. Engaging, communicating, and sharing constantly. Sometimes, even the most inspired travel writers need a bit of a holiday. A beautiful retreat. A place to hide from the busy world out there, if but for a while.
So. Calgary, then. "While you are here, we would also like to take you out to Drumheller … And to see the dinosaurs, of course!"
The ten-year-old girl in me smiles. "I am excited for you to go to Drumheller", my friend Adam tells me on the phone. I beam, giddy with excitement now. As the sun sets upon the Rocky Mountains in the distance, my eyes glisten with delight. Before I know it, I have come HOME, again, to a myriad of family dinners, pumpkin carvings (it's Halloween, after all!), and even more sweet little surprises. Check this out.
Drumheller up next, then. "We do bones here." You couldn't find a more apt description for the sense of place out east here near Calgary, taking after the words from a local lady at Drumheller art gallery.
"My father has been a geologist, my son is a geologist. In the summer, I go washing out whatever fossils I can find in the local river bed, the type of small things that archaeologists tell us are of no use to them, because they are not found 'in situ'." Merry laughter joins this lady's words at every turn of a sentence, and she adds to my glimpse into an area of a kind: The giant fossil deposits that lie hidden in the vast limestone layers of the landscape around us. "Tyrannosaurus Rex was found in Alberta! I mean, that's something, isn't it." I can't help but join in the happy banter, a mix of pride about Drumheller's present and future as one of Canada's most important dinosaur fossil digging sites after unstable oil, gas & coal industries have all but sent the province into a constant wave of economic turmoil. "100.000 jobs have been lost in the entire province over the past couple of years", Gord adds by way of explanation in a rather grave tone of voice. I just love discussing matters of life, dinosaurs & the universe with him and Linda, as we make our way around places such as Drumheller, the Royal Tyrrell Museum, and Horseshoe Canyon. More special family time at home in my Canada. Check this out.
Last but not least, more of those sweet little surprises lie waiting. I haven't exactly told my dear friends in Banff I was due back around their neck of the woods, but rather deliberately, left it a surprise until almost the last minute … Haven't told anyone else further west either, but for a lady named Tara Gaucher, who I met at Montréal's GoMedia conference earlier in the month and who happens to work at the prestigious Fairmont Banff Springs Hotel. She promptly gets me admission into their Willow Stream Healing Mineral Pools Spa, and so does a lady named Louise Healey get me into the town's prestigious Banff Mountain Film & Book Festival … All rather last minute. All rather easy and natural at the same time, as the nature of Canadian people beckons both professionally and personally. A nature that never ceases to surprise and overwhelm me with its kindness, grace and love for the likes of us travellers, hearts exploding each and every time at the beautiful receiving end.
<3
Back to #myBanff, then …
Have a look at my entire gallery of travel photos from Calgary & around here:
I have also produced a travel video that highlights some of my travel adventures in Western Canada, all the way from Vancouver to the vast open plains east of the Rocky Mountains. A fascinating, funky take on what has truly been a life-changing journey. Enjoy with sound & smile 🙂