"Seven weeks old!" – "My oh my, what a cute little boy …" – "Look mum, there's a baby …!"
Many times, we've heard similar comments upon our first journey with our baby Liam. Yes, he's been the youngest guest up here at the Heidi-Hotel Falkertsee, an Austrian hotel specialised in holidays for kids and babies, part of the "Kinder Hotel" group in Carinthia, Southern Austria. The "Nockberge Biosphere Reserve", a particularly pretty alpine scenery, is where we've landed ourselves in – perfect trial grounds for our first ever holiday with Liam.
Before telling you more about the area, the hotel and further activities in the close surroundings, let me start by elaborating on ten good reasons for travelling with a particularly young child. Looking back, it's actually much easier than you (and we, at first) might think. No, the altitude (almost 2.000 metres above sea level) didn't do Liam any harm. No, we didn't forget to bring anything essential. No, he had no trouble sleeping (perhaps due to the many new impressions?). Quite the opposite. Fresh air, lots of rest, and a beautiful new rhythm did him (and his parents) very well.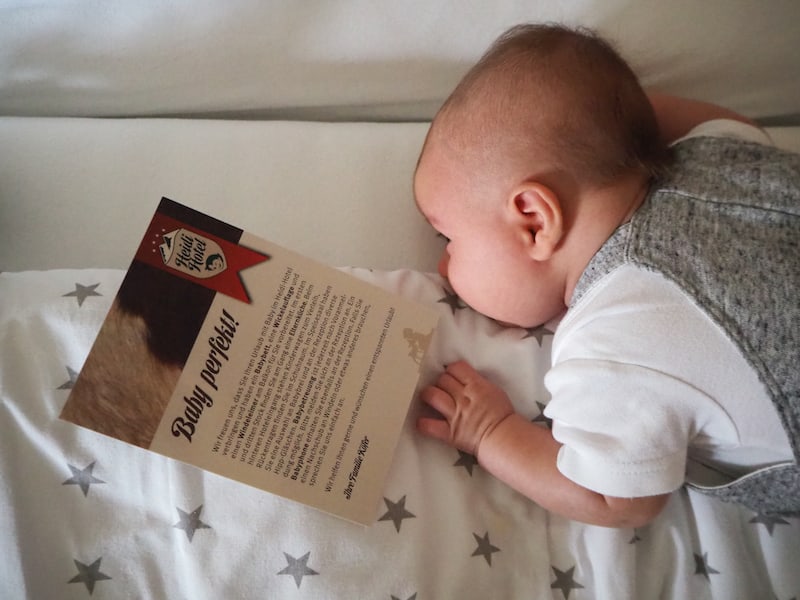 First reason of all: The "packaging".
Travelling with such a young baby might seem daunting at first, and truth be told, we did take much too much with us (check out my rather elaborate packing list here). Instead of dozens of cloths, towels, blankets, bodies or else for our baby boy, much fewer items would have been enough. And thinking of "What do I pack for Liam?!" made me, on the other hand, forget quite a few things for myself (such as my hiking shoes, for instance, and a couple of warmer clothes and layers).
Second reason: Everything is "already there".
Every summer, the Kinderhotel Heidi-Hotel organises a special baby week for young parents during the off-season. Special emphasis is placed on baby equipment, such as providing a baby kitchen, a changing mat inside the room, crib, strollers / prams for rent, baby bouncers in the restaurant and much more – a great help for us on a first trip with a baby. Also, arriving without our own pram meant considerably more space while packing!
Third reason: Full board. Cake buffet. Room service …
… and just sooo many helping hands everywhere. It's great to see just how much time becomes available when nothing else needs cooking, preparing or shopping. In times of breastfeeding (Liam doesn't get any other meals just yet) this is especially true for me as mum: Like in the land of milk and honey, I only need to sit down at the table several times a day and expect wonderful, home-cooked meals and great buffet selections for breakfast, lunch and dinner.
Fourth reason: (Quality) time for Mum.
An hour at the massage. Early morning yoga (Liam fed and given to daddy before). Taking a break on the balcony while the two of them cuddle. The great mountain scenery. Letting my thoughts wander. Thinking about nothing and not "having to do" anything. With our little baby (and my wonderful husband) all of it was, and is, possible.
Fifth reason: (Quality) time for Dad.
For my husband Georg, the holiday with our baby son meant one thing above all: A much-needed time out from everyday life at the office, as well as finding a relaxed atmosphere with both of us as a new family. He just loved carrying Liam across the meadows and along Falkertsee lake. Add to this, the exchange with other fathers, as well as the effect of nature: "The view across the green mountains is like a colour therapy", he smiles, making me think of just how I felt during my last pilgrimage: From time to time, it's truly worth it getting out and about, and why not with baby in tow.
Sixth reason: (Quality) time as a new Family.
From the very beginning, we loved sharing our experiences with other families in a relaxed environment. Especially during mealtimes in the restaurant, literally everyone sits in the same boat. It doesn't matter if someone is crying somewhere, or whether there's breastfeeding: Any inhibitions go, which makes it very pleasant for us to grow into this new situation as a family of three. A situation that is, after all, only a few weeks old.
Seventh reason: (Quality) time as a couple.
While baby is sleeping (and he sleeps a lot in the beginning – at least ours does 😉 ) we enjoy having the energy for great couple conversations again. More often than not, we simply do not have the energy for much talking besides what needs talking about from day to day. So this is a great way to relax and break free from the routine of our new family situation.
Eighth reason: Trying something new for the first time.
Well. Not what you might think of now! I'm referring to new offers for us as family, such as a baby carrying consultation with Isabella Nyvelt from "Trageberatung Zillertal", a baby massage offered for us or the possibility of baby swimming with Liam inside the hotel's shallow baby pool. Many new moments of happiness with our little sunshine.
Ninth reason: Starting early (to share wanderlust).
What's the best way to tell Liam that he's a "travel baby"?! Well, taking him with us of course. Many earlier day trips and now this holiday in a likely familiar environment have shown us: Our baby is truly at ease with himself and the world around him. It's nice to be able to convey this joy and openness for the world to you so early, my dear baby boy!
Tenth reason: Taking a look at the "way ahead".
It goes so fast. Any time spent with your child. From week to week, Liam grows and changes, learns new things, is able to "do more", and literally becomes more open, curious, and motorically mature. Although we love him as he is right now, we can also hardly wait to do more with him. Discover the bike park, for instance. Feed the local marmots. Climb up the climbing wall. Try the Flying Fox. Dive into the ball pool in the children's room. Ride the ponies. And much, much more … our resolution is to come back with im in just a few years' time!
Check out more photographs of our trip with baby Liam, as well as my InstaStories here: https://www.instagram.com/creativelena.
Check out my travel video too:
Disclaimer: We have been supported on this trip by the Heidi-Hotel as well as the Austrian Eco Label. All opinions are my own.