"The first, the very first, Austrian Travel.Blogger.Slam … Held at the ReiseSalon in the Vienna Hofburg Palace!" Christina, my friend & head of the organizing committee of the travel trade show ReiseSalon, is over the moon with delight – and anticipation. What is it going to be like, this "slam of a kind", asking bloggers away from their computers and mobile devices and onto a real stage? A lot of work in the lead-up to the event, especially for the travel bloggers themselves who have chosen to participate in the bloggerslam.at. The topic? #Reiseglück, meaning "travel luck" or "happiness in travel".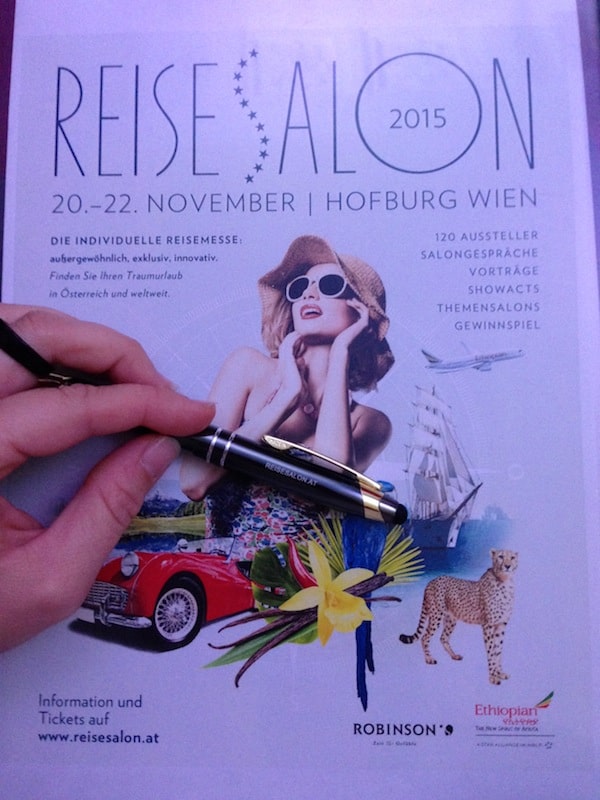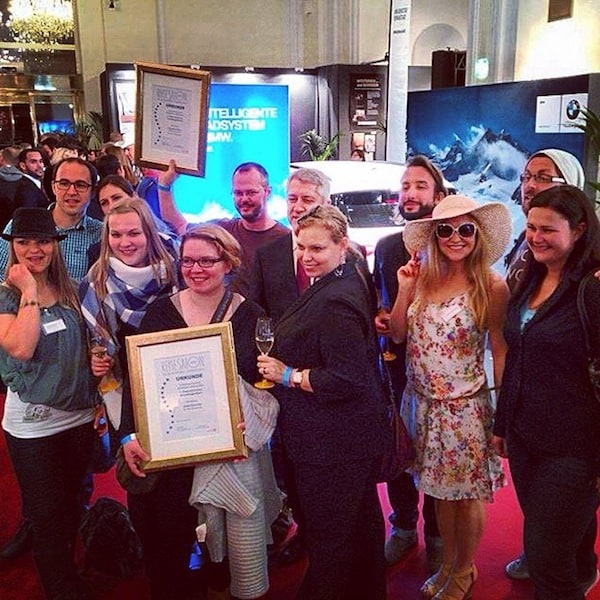 I just love the creative freedom all participating bloggers have put into expressing their very own, individual #Reiseglück. Have a look at why they truly deserve to be asked on stage.
The brave bloggers participating in the First Austrian Travel Blogger Slam are:
I can only bow, and applaud, to such a burst of creativity, ideas, and hard work in the lead up to the event. What an energy there on stage! And all of this knowing each participant only had five minutes to convince the jury as well as the audience: The main prize, a flight to Africa with Ethiopian Airlines, of course being a strong pull as well … I wonder where Jürgen and Melanie are off to? Well, I guess we will read all about it on Lifetravellerz.com next year. Once more, I am deeply moved knowing such talented bloggers with a true knack for (live) storytelling in our network and as my friends.
However, it wasn't all laughter and fun either. On Sunday, we staged a thoughtful "Reading Around the World", hosted by more of my fellow Austrian travel bloggers. Speaking here where once Sissi & Franz had spoken …
… is one of a kind, really. Already during past events here at the Hofburg Palace, I was given the honour to speak up about the (digital) future of travel journalism as well as the hype around the online booking platforms from the point of view of the travel blogging industry. This year, I am glad we have stepped up to having our own event, "Fünf Reiseblogger lesen um die Welt" dedicated solely to us and our faithful readers and audience. In line with the motto of the entire travel trade show to ask bloggers on stage, I have "read around the world" together with Gudrun Krinzinger, Angelika Mandler-Saul, Albert Karsai as well as Romeo Felsenreich and Katharina Werni. Contributing with a funny travel tale from Buenos Aires and Ushuaia, one of the most beautiful ends of the world. "Happiness in travel", #Reiseglück there you go … Where are you off to next? 🙂
And if you are still wanting to dream away with all this #Reiseglück happiness in travel, I am now taking you there … Kleinwalsertal, one of my most favourite alpine destinations in Austria! Check this out.
Disclaimer: The first Austrian Travel Blogger Slam as part of the ReiseSalon 2015 is powered by Europäische Reiseversicherung. Thank you to our partners Ethiopian Airlines, AccorHotels, ÖBB and Szigeti for their great support.