What comes to your mind when you see the hashtag #EuropeTour ? Social Media tells me that more often than not, people get back to us thinking that our European project for the sustainable development of cultural tourism in rural areas is more like a travel agency. Funded by the EU's Erasmus+ programme, our aim is, however, to first and foremost encourage quality tourism development, an aim that once again drives our most recent project meeting in #DestinazioneMarche, the gently rolling hills behind the coastline of Ancona, in north-eastern Italy.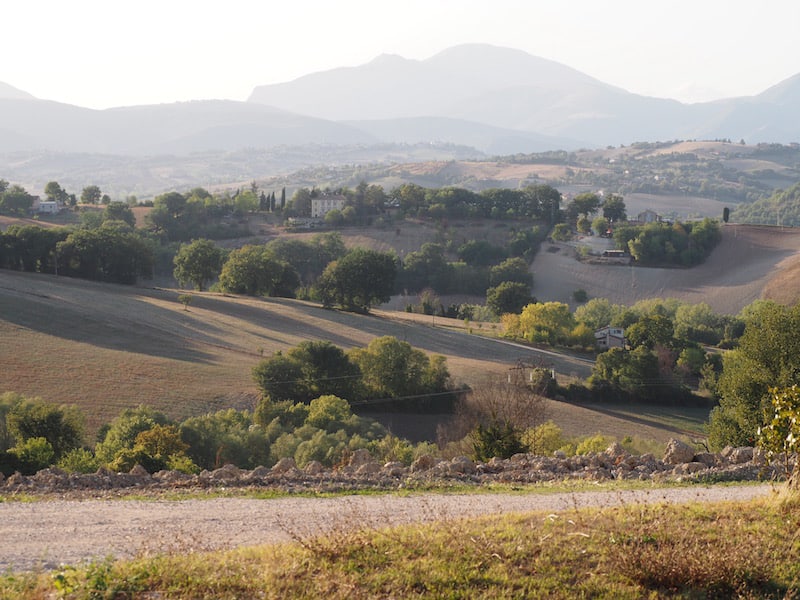 After our last meeting in the Cantabrian "Picos de Europa" mountain region in Spain, my European colleagues and I gather again in order to develop guidelines for important topics in business development, such as destination management & digital communication strategies. Check out our website for more about the how and why we keep meeting in such beautiful places as Marche region: http://www.europetour.tips.
#DestinazioneMarche : A true hotspot of European cultural history – and innovation.
All of us are truly impressed by what the local people of Marche region have achieved over time. Among many other things, they have "invented" a certain type of olive oil that has even won a patent from the European Patent Office: Francesca Petrini's website will tell you more about it.
Borgo Lanciano welcomes us as the small, typical country village that has now been renovated to make for a luxury resort, hosting weddings, company events and leisure clients of all kind. You can find it a good hour's drive from the coast of Ancona, a quiet retreat before the rising mountains to the west as well as a great base for visits of the surrounding area, for instance to Fabriano: Did you know that Fabriano is home to the oldest (and likely the most fraud-resistant?) paper & watermark museum of Europe? Their beginnings date back even to the 13th century. Check this out.
Next up is our visit to Giorgio Poeta, whose take on innovation in cultural history goes like this: He is the world's one & only honey producer who matures his acacia honey in Barrique wine style – #BeeUnique.
What a story! Then of course, Giorgio Poeta is a "true poet", right! The humble, good-natured, young entrepreneur, who is the same age as me, openly talks about his life and shares his philosophy with us: "I love my bees", he says, what with honeycomb & bee dance tattoos all over his forearms, "and continuously strive for the best balance in respecting nature and the needs of my bees. The idea to mature honey in Barrique, like you would a good old wine, came naturally to me", he smiles, his voice filled with warmth. His most famous honey, "Il Carato", is being sourced by some of the world's best restaurants, and you can constantly see Giorgio Poeta out & about at trade show events, restaurants, and other innovative producers of all kinds. My personal recommendation for you is this: If you travel in #DestinazioneMarche, you can not afford to miss a sweet visit at Giorgio Poeta's!
Last but not least, it's all about getting hands-on. Because what would a visit to Italy be, without doing a proper cooking class of Italian Pasta ..?
All hosted by the "Palazzo Gentili" in the city of San Severino, where we tried to, erm, make an "easy type of linguine". Easy only to those who've been doing it for years though: It's not as easy as it seems to knead the perfect pasta, then spread it out thinly before cutting the dough. But never mind, it would not have been half the fun if we had all been experts already. And tasty it was, now that's for sure!
Check out more pictures from our study visit to Marche region here:
And you: When will we see you next in Marche?