The backcountry of any popular travel destination, such as Costa Brava, northern Catalonia in this case, is where the real magic happens. Countless creative travel experiences have led me to believe so. Or did you know you can become "a medieval travel writer" in the Pyrenees? Make your own organic paper to suit, in the popular lakeside town of Banyoles? Dance with Giants and paint with glass, all in one day if you wish …?
Now if that's not magic, I don't know what is. And the people, fairy-tale like smiles on their faces, certainly add to all of it.
Navata. Nowhere near well-known, this tiny little town is tucked away on the outskirts of "Dalí's town Figueres", a hotspot for arts & culture I have already shared with you here. Driving for about fifteen minutes from downtown Figueres, you will reach the "magical world of Ventura & Hosta", themselves builders of giant cardboard figures called "Els Gegants" or "Capsgrossos". I love meeting Neus & David, who proudly share their passion of made-to-measure giants, saints, or other fantastic figures with me. During my visit, I even get to dance with a dark-skinned giant, something I have never deemed possible or even imagined in my whole life!
Ripoll, about an hour's drive west of Navata, and further into the Pyrenees, is home to an attraction of a kind: The ancient Scriptorium & Ethnographic Museum of Ripoll.
It is from charming Maria, in the course of a private tour through the museum as well as our subsequent calligraphy workshop, that I learn just why this museum is so special: "Its collections about pastoral life in the Pyrenees were gathered when these very traditions were still alive, many of the artefacts you can see around here donated from people dear to the museum. In the writing workshops at our Scriptorium, we want to give you a chance to experience the art of ancient book writing yourself", she tells me with a wink.
Now what about not only a "medieval writer's workshop", but crafting the actual paper to put your pen down on it ..?
This, too, is possible #inPyrenees. Told you it's all about magic! And to complete my experience with the "Paper Tailors of Banyoles" (Els Sastres Paperes: Check out their fantastic English homepage!), they even gift me with a bunch of paper sheets full of small seeds, out of which mint leaves are said to grow! Love it. Check this out.
Near Olot then, the provincial capital of La Garrotxa, I strike up a lasting friendship with the sweet, sweet artist couple Ariadna Guasch & Jordi Traveria …
… both known to me for their passion of sharing, be it life stories, ideas for networking, local area development, travel and tourism, as well as, of course, the fine glass art they are known for. They run regular courses for groups from two to eight people, and I am fascinated by what we are able to achieve in just a short time!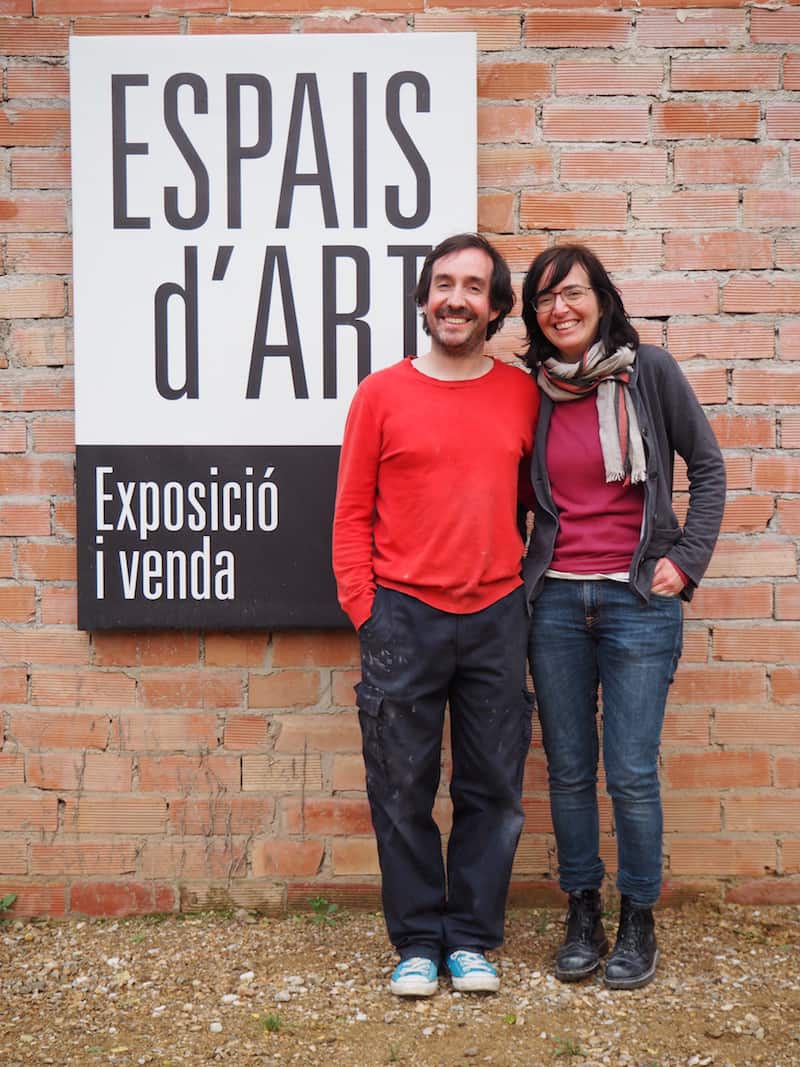 Even way after my creative workshop with them, we meet again for drinks in the town of Olot, what with Ariadna & Jordi even making a point of hand-delivering my own piece of fine glass art to Girona a few days later!
Now I have met many talented, welcoming, and utterly charming artists #inCostaBrava and #inPyrenees, but none of them have touched my heart quite as Ariadna and Jordi have. Thank you, Social Media, for allowing us to keep the connection going, and to arrange for our next meeting upon my return (I have to return to, and point out the very charming, luxurious countryside accommodation Masia El Puig for that … Trust me, you won't be disappointed!).
Want to know even more about the process involved in making your own souvenir like this? All of the above workshops & experiences are also featured in my latest travel video edit about Costa Brava & Pyrenees, explaining more about my creative travel adventures and the wonderful, wonderful people I've met:
Enjoy with sound : The song "Camins" I have chosen to go with the video, performed by local band Sopa de Cabra, will make every Catalan cry with emotion, I am told ..! 😀
There's more here, too, browsing through my colourful image gallery on Flickr:
See you soon #inPyrenees!
Disclaimer: I have been supported on this trip by Costa Brava Tourism Board. All opinions are my own.