You wouldn't be here if you weren't curious.*
Hi! I'm Elena! Welcome to my travel blog Creativelena.com.
For me, it is all about "life-seeing instead of sightseeing": Join me as I create, eat & live my way around the world. Curious?
*Check out my book, "The Creative Traveler's Handbook", for learning more about what we mean by creative travel. Travelling means the world to me, makes me fit for everday life and sometimes, I trust, also calmer on the inside. Read this blog with a smile, share what you love and remember to check back regularly: After all, when was the last time you did something for the first time?
Dear Ursula … I am writing this to you from a night train from Padua to Vienna, unable to stop myself from thinking of you. This is a journey I would never have liked to imagine, let alone undertake. My jeans & pullover are tossed into one corner, another one occupied by myself and the other two filled by a voluptuous lady from Hungary and her black boyfriend. It is 1.30 in the morning and rather warm in our little sleeping cabin here, I hope to be able to get some rest. A travel adventure through and through. And yet one I would have never liked to tell.
I have just come from Venetia, Abano Terme near the city of Padua. A beautiful place, full of history and Italian warmth. We have been travelling on our E-bikes, discovering the "waterways of Venetia". I gladly agreed to the invitation on this international press trip, despite (or because of?) the fact I was the only blogger in the group. You would have liked this, Ursula: "We love bloggers. Let's do this!", is what I can still hear you say, full of energy and your usual enthusiasm. "Burgenland blog trips here we go!" Today too, two of your travel blogging friends are going back to Burgenland, my dear friend Gudrun and I. Back to you, dear Ursula. To be there with you in the end, despite our utter sadness and disbelief. Never shall we forget you.
In memoriam Ursula Waba: Travel Blogger "Toursula" discovering Burgenland and the whole world!
I have met you, dear Ursula, for the very first time in my life on 28 September 2012 in Neusiedl am See, at the Mole West café in northern Burgenland. It was "love at first sight". We knew right then and there that we would get along really well, besides working together. 2013 was our year, the breakthrough year of us as travel bloggers "Creativelena" & "Toursula". It is thanks to you that the Burgenland is able to look back on a series of successful image video productions, including innovative blog trips such as the "Burgenland Winter Safari", many a Surfworldcup discoveries, creative & culinary highlights in Southern Burgenland, winesome adventures in Central Burgenland as well as "Gans Burgenland". I remember you were so proud when "Harry's liabste Hütten" TV-show went live on the ORF Austrian National Broadcast Station, including a presentation of you and your "Toursula-T-Shirt" reporting more than 600 website hits within just a day! You loved the photo app Instagram and more than tripled the number of Facebook Fans for the Burgenland Fanpage in your time at the Burgenland tourism board. But not only this, dear Ursula. Above all, you were always full of energy at our meetings, always ready for a laugh Ursula. Ursi! "I am so happy you came!" This was on your 30th birthday Ursula, December 21st, 2013. Finally, I was able to meet your mum, an early and loyal fan of my Creativelena travel page on Facebook: "Gaby Nemeth likes this". Your mum, you always mentioned, was your hero, she was just "so cool". I loved talking to her and your granny, who also talked a lot about travelling. You have left us now, much too early, in May 2014. Just as we were about to deepen our friendship even further, as we wanted to settle for a chit-chat at your "beach" in Burgenland, at the Saint Martin's Therme & Spa near your hometown, talking about all matters of life, love and (travel) blogging. Just as we always did. Together with your entire family, I am now standing here, bereft of any more words to say. A star in our happy travel blogging community has departed. "It cannot be", I am thinking trying to hold back the tears. Where are you, dear Ursula? Where have you gone? Your talent. Your energy, it simply cannot disappear overnight. How can it be?
Thanks to us, you will live on. We love you, all of us. We are thinking of you and will always be there with you. With all my love and the saddest emotions that have ever guided me to write a "travel article" here,
Yours forever,
Elena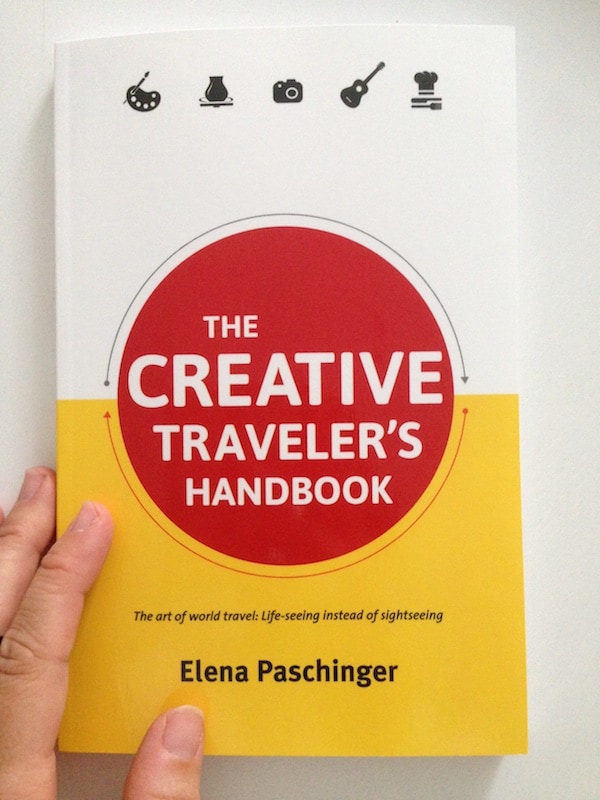 Ready for learning even more about creative travel?
Elena has recently published "The Creative Traveler's Handbook". Chock full of inspiratinal stories, travel tips and advice, it offers everything you need for planning and managing your next creative escape, addressing beginners and experienced travelers alike. Here's how to
get your hands on it
now!