Since about a year, I've turned into "a city girl" from Vienna. As much as I cherish all the advantages of my urban lifestyle, I do miss "my countryside", i.e. the place I grew up in. Miss taking deep breaths of fresh air, roaming forests and fields, taking a walk without traffic or cars. Let me introduce you, therefore, to a truly peaceful slice of heaven in Austria, a spot where I, too, could reconnect with nature.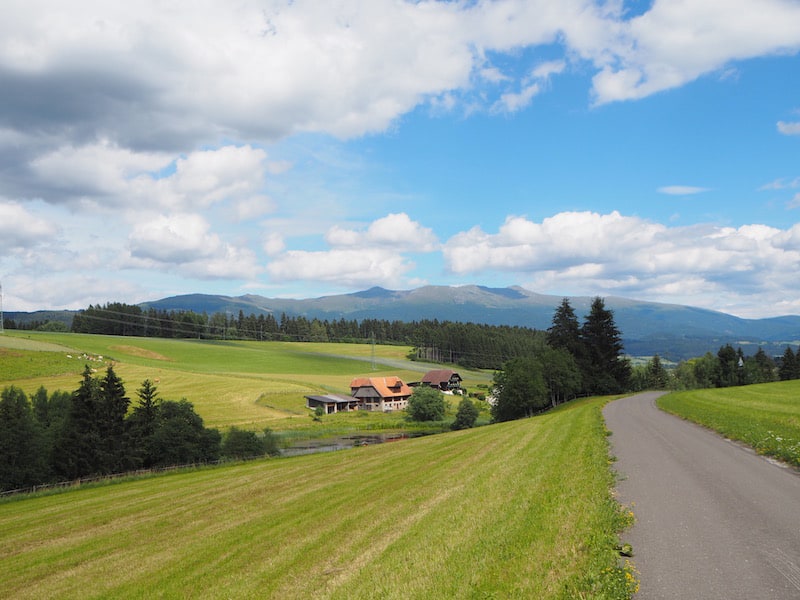 Hotel Lambrechterhof, located right inside the nature park Zirbitzkogel-Grebenzen in the south of Styria, puts ecological living right at the core of its food, wellness & mobility concepts.
Aaaah! What a treat, lying on top of a water bed after a relaxing neck & shoulder massage, and being spoiled to a hay package for your skin from the fields you just walked in! I love how the hotel pairs innovative (wellness) technology with simple, down-to-earth natural solutions. If you, like me, drive out here from the big city, you can relax almost in an instant, with no desire to leave again soon.
Talking about food: Head chef Erich Pucher, a rather famous yet utterly charming Austrian chef with no claim to stardom, loves taking us "by the hand" and having us meet his local producers!
For a good two hours, Erich drives us around the area in the hotel's e-car, meeting local people such as Peter Wallner, who makes schnapps, spirits, liqueur and more from mountain herbs. It's wonderful to shake hands with those who later care for your physical wellbeing in the form of food and drinks, all locally sourced, clean and fresh. Check this out.
Then, of course, it's time to enjoy the nature park itself, called "Zirbitzkogel-Grebenzen" (top if you can pronounce that); famous for its alpine moor landscape.
The so-called Dürnberger Moor is located in a Natura 2000 nature reserve, giving home to a protected piece of Earth that was formed as a remnant of the last period of European glaciation. As we climb out of our e-car, we are met by larger-than-life sized footprints, dating back to mammals and reptiles of previous Earth ages. Fascinating. If pressed for time, do make sure to visit at least the "Moorturm", a lookout tower not even an hour's walk from the nature park's parking lot (you can get more information from the reception at Hotel Lambrechterhof). And thinking about it: Why not rent one of the hotel's lovely e-bikes for the day ..? All sustainable, all green & clean, that's what a typical holiday here looks like.
My last travel tip for you is for Saint Lambrecht's Abbey, only about 300 metres from the hotel in the village with the same name, Saint Lambrecht (we already came to stay here two years ago!). The mighty abbey with its palace-like buildings, its spacious herbal garden as well as one of the largest, Gothic hall churches, is truly worth being explored!

Disclaimer: We have been invited by Hotel Lambrechterhof supported by the Austrian Eco Label to travel to the nature park Zirbitzkogel-Grebenzen. All opinions are my own.