You wouldn't be here if you weren't curious.*
Hi! I'm Elena! Welcome to my travel blog Creativelena.com.
For me, it is all about "life-seeing instead of sightseeing": Join me as I create, eat & live my way around the world. Curious?
*Check out my book, "The Creative Traveler's Handbook", for learning more about what we mean by creative travel. Travelling means the world to me, makes me fit for everday life and sometimes, I trust, also calmer on the inside. Read this blog with a smile, share what you love and remember to check back regularly: After all, when was the last time you did something for the first time?
"Charge your batteries here" could have been taken from an advertisement slogan, had I not really felt this way up here: The Waldviertel forest district in Lower Austria, close to the northern border with the Czech Republic, is especially worth seeing at this time of year. With the Indian summer in full swing, the golden coloured leaves, the beautiful nature & warming rays of sunlight have more than animated us to travel here on this weekend in September. In German we say, "let your souls hang out among the tree tops", or something like that. 😉 Well, it is actually possible to do so from one of the many modern lookout towers, offering a view over the entire forest & hiking district of the upper Waldviertel area.
Places such as "Blockheide Gmünd" or the swamplands of Schrems beckon us for a (nature) visit – mystical, special, all the ponds, rivers & forests often shrouded in mist and lending the area its special charm. The Waldviertel district, we learn, is full of hidden treasures ..
Hiking in the high north of Austria really means taking a distance from everyday life …
… even if "everyday life", as in my case, is only one and a half hours away by car in the city of Krems an der Donau. The northern Waldviertel is worlds apart, its rhythm determined mostly by nature – people, we feel, are simply guests here in this pristine surroundings that can be explored in a myriad of options, including hiking, trekking, (motor) cycling or on horseback. We finally opt for three of the area's most magnificent hiking trails, including the city of Litschau and its Herrensee lake walk, the "Blockheide Gmünd" nature granite park featuring huge rocky boulders as well as the wetlands around Schrems – there is even a small pool where you can cross part of the wetlands bare feet. Cool!
A mighty "ladder to heaven" set right in the wetlands around Schrems as well as typical northern hospitality at the "hemp villlage" Reingers: The Waldviertel does not cease to surprise you.
I told you: A lot of hidden – or indeed obvious? – treasures are offered here in the Waldviertel. Who would have thought that we were greeted so warmly at the hemp village Reingers ("No, we are not stoned here and no, we are not about consuming drugs either", our guide laughs) – after all, the season has already come to an end two weeks ago. "During the summer months, between June and September, we had more than 2.000 people visit us", she carries on to tell us with pride. "The hemp village grows in popularity." Hemp, of course, being only used for tea, natural fibre insulation, etc. Of course!
Just before, the clear blue sky has beckoned us to walk the wetland trail in Schrems, including a visit to the "famous ladder to heaven". The name unveils a mighty wood and steel structure including dozens of step "leading to heaven": Once you reach the top above the trees, it is really what you feel like overlooking the entire northern Waldviertel district. Powerful places to connect with nature, …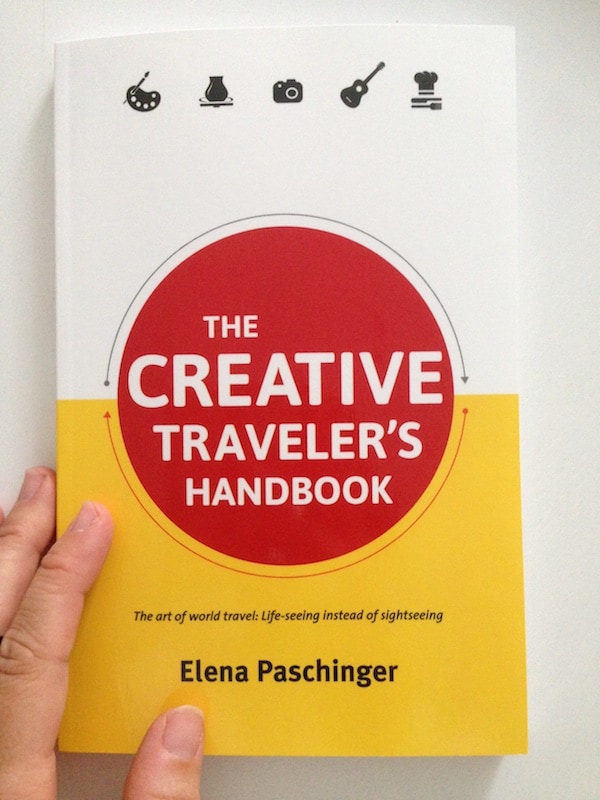 Ready for learning even more about creative travel?
Elena has recently published "The Creative Traveler's Handbook". Chock full of inspiratinal stories, travel tips and advice, it offers everything you need for planning and managing your next creative escape, addressing beginners and experienced travelers alike. Here's how to
get your hands on it
now!