Capri. My first association is a drink. No kidding! As kids, we loved having our "Capri Sun" juice, which tasted good and carried images of palm trees, a friendly sun, as well as the sea. Just about the time to swap those old, kitschy images though, for some real sense of the island of Capri. And what a swap it turned out to be.
Mighty soaring cliffs, towering up to 600 metres above crystal-clear, turquoise sea waters. Dresses in window shops, advertised at well over € 6.000. Beautiful people, fine linen, and nature …
… straight out of a photographer's handbook. Capri, you beauty. Do make a point of getting there one day.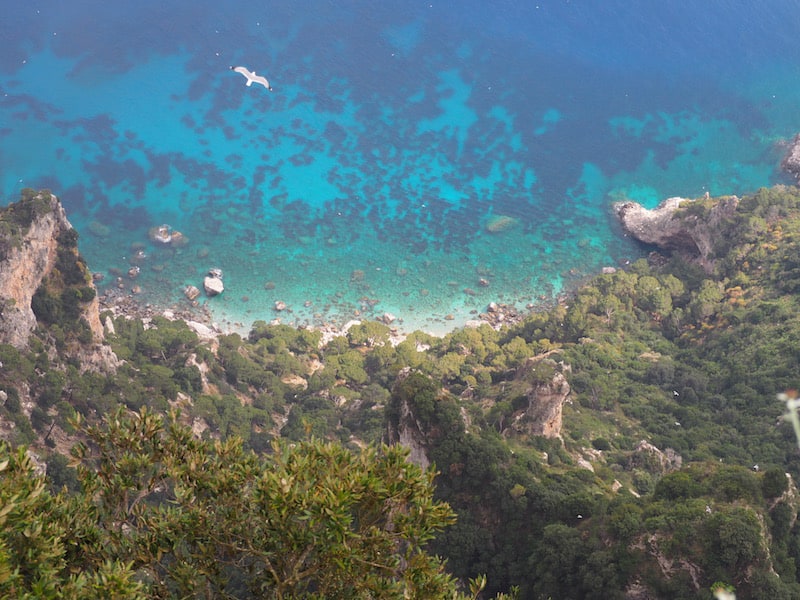 Even the Roman Emperor Tiberius, back in his days of 27 – 37 AD, is quoted to have lived in and governed his empire from Capri – he must have known why. Well within sight of the world-famous Amalfi Coast, it takes only 20 minutes to reach Capri from Sorrento by speed boat. Still today, you find a quiet elite here, who likes to go (luxury) shopping, smiling patiently at the "common tourist folk", whose fashion mistakes are somewhat tolerated for the money they bring to Southern Italy. And this brings me to the first reason you should plan a visit to Capri in the Gulf of Naples, which is:
1. Shopping.
Capri is, if not world-famous, then at least very well known for its fine linen textiles, fabricated on the island or close-by. Southern Italy, with its mild temperatures and apparently eternal sunshine, is the best place to wear them, emphasising free-flowing female curves and lean male bodies. Or so they say …
2. Taking the local "Funiculare" to new heights.
Believe it or not: Capri offers one of Europe's last, shaky one-person-chair lifts (!), as I have not seen them around since the late eighties! This lift is just about the only option you have for reaching the island's summit in less than ten minutes, located right in the centre of the small town of Anacapri. Once you reach the top, a small boardwalk will lead you past incredible vantage points overlooking the Gulf of Naples.
3. Tasting the best lemon ice cream in the world (or Italy. Or Capri ..).
There is something about lemons here. Virtually all the painstakingly built agricultural terraces along the Amalfi Coast are cultivated by lemon trees, some of which carry enormous fruit! It is neither the olive trees, nor the viticulture that's predominantly here: The climate, as well as the soil, seem to favour lemon trees. This leads, of course, straight to a lemon ice cream tasting, which I find tastes even better with Limoncello grappa poured over it. Check this out.
4. Get lost in the small streets of Capri & Anacapri.
Do plan some hours for hanging around the small towns of Capri & Anacapri: If you, like us, spend the entire day on the island, you will be well rewarded for taking turns away from the masses of people. Even on a popular day, such as Easter Sunday, which reveals local festivities of their own.
5. Seeing the Gulf of Naples from a special perspective.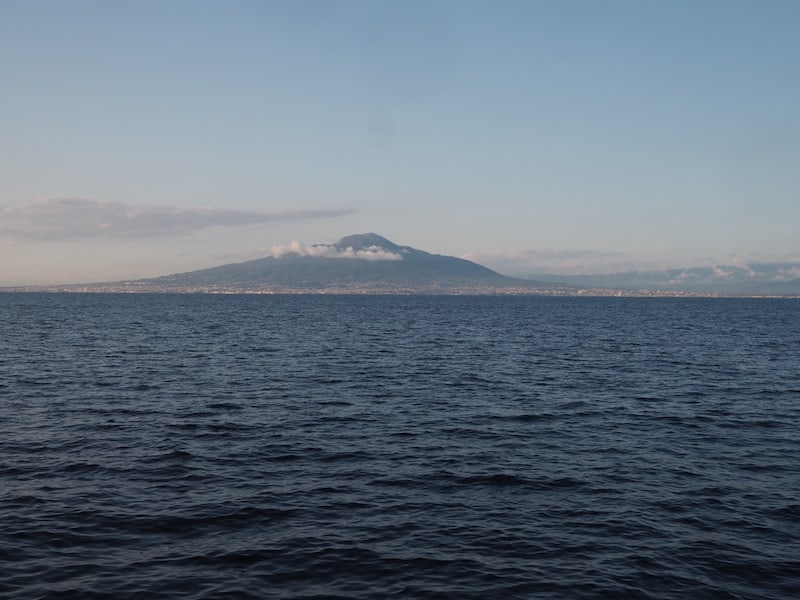 Travelling to Capri, you do get fantastic views across the sea and land around Naples, Sorrento, as well as the Amalfi Coast thrown in. And then, there is the mighty Vesuv: This volcano will just leave you spellbound, located right there among three million people (!) and known for both its fertile lands as well as its destructive force … Next up, I will tell you more about our visit to Pompeii as well as the volcano itself. Fascinating.
Check out my photo album if you wish to be even more tempted for booking your next trip south: