You wouldn't be here if you weren't curious.*
Hi! I'm Elena! Welcome to my travel blog Creativelena.com.
For me, it is all about "life-seeing instead of sightseeing": Join me as I create, eat & live my way around the world. Curious?
*Check out my book, "The Creative Traveler's Handbook", for learning more about what we mean by creative travel. Travelling means the world to me, makes me fit for everday life and sometimes, I trust, also calmer on the inside. Read this blog with a smile, share what you love and remember to check back regularly: After all, when was the last time you did something for the first time?
The city of Lisbon, situated at the mouth of the river Tejo into the Atlantic Sea, benefits from an incredibly mild, sunny climate. Ever since I became "half Portuguese" myself thanks to being fluent in Portuguese and having many friends here in this country, I am drawn back to the magic of lovely Lisboa. Let me tell you, therefore, why travelling right in the off-season (mid-November) is really beneficial to you, your purse and the spirit in town.
1. The price-quality ratio of Lisbon is fantastic: Especially now, you really get to benefit from the low off season price level.
Portuguese people know how to spoil you any time, all the time. The fact that this needs not be overly expensive, as is the case in many large or capital cities, is proven by our take on the restaurants and accommodation in town, such as the quiet, cosy "The Poets Hostel Lisbon".
2. Now is the time to really sink into the feeling of "Saudade", as the rhythm in town does slow down. At least a little!
Portuguese people know how to turn emotions into business. They even made a deal with the Weather God, painting beautiful sunsets over a magnificent Tejo river in town at very mild temperatures indeed. Take to the water for a real feeling of "Saudade" …
3. Visiting Lisbon highlights completely stress-free – away from mass tourism.
The elevator, connecting the old town of Lisbon right up from the Rua Augusta to Chiado, is well over 100 years old and has been a technical sensation at the time it was opened. Today, visitors afford long queues for just one ride in its magnificent cabin – that is, unless you come in November where we find no queues at all.
4. Enjoying culinary highlights right off the insider tips from the locals.
The following discoveries, too, are due to the warm welcome we received by my dear friends in town. One of the oldest streets in Lisbon is home to Café Gambrinus and right next to places that serve excellent (and typical) "Ginja" & "Eduardino" sweet liquor drinks. Check this out.
5. Meeting friends, spinning new ideas in the warm Lisbon air.
Ahead of my speech at the Second European Congress of Brazilian Bloggers in the city of Porto I enjoy sharing my recently published book, "The Creative Traveler's Handbook" with my friends in town. No wonder new ideas are born out of those fruitful, happy talks, bathed in the mild autumn temperatures of a city that has clearly won my heart … Oh, Portugal. You just have to come back here, time after time.
Wanting to know even more? I have already published many articles about my beloved Portugal on this travel blog here. Check them out! Até já em Portugal. 🙂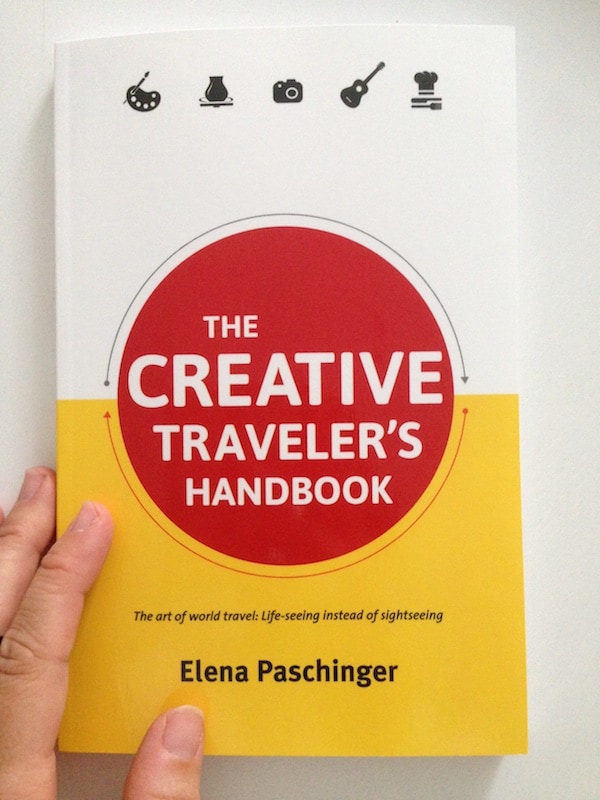 Ready for learning even more about creative travel?
Elena has recently published "The Creative Traveler's Handbook". Chock full of inspiratinal stories, travel tips and advice, it offers everything you need for planning and managing your next creative escape, addressing beginners and experienced travelers alike. Here's how to
get your hands on it
now!