You wouldn't be here if you weren't curious.*
Hi! I'm Elena! Welcome to my travel blog Creativelena.com.
For me, it is all about "life-seeing instead of sightseeing": Join me as I create, eat & live my way around the world. Curious?
*Check out my book, "The Creative Traveler's Handbook", for learning more about what we mean by creative travel. Travelling means the world to me, makes me fit for everday life and sometimes, I trust, also calmer on the inside. Read this blog with a smile, share what you love and remember to check back regularly: After all, when was the last time you did something for the first time?
Wellington. Happy, windy Wellington! Back in the Kiwi capital city, I would have done my Icebreaker Merino sportswear shopping, enjoyed my walk around Wellington Waterfront & flirted with the lovely guy at my YHA Youth Hostel reception. So what's next on an easy, two-day stay around town you might ask?
🙂
Zest Capital Tastes Tour. "We'll wander in and out of small food places and meet people whose passion for food drives their business." Yesss!
Can't have a #foodie traveller too far away from sourcing out one of those lovely food tours offered all over the world, can you!? After exploring major cities around the globe on a "taste bud visit", including Lisbon, London, New York & Miami, I literally thought to myself: Why not ask around town for a similar offer here in Wellington? Sure the Kiwi coffee capital city would have thought of something along those lines?
Meet Heather Clinton, our "Wellingtonista" foodie guide & food blogger who is THE expert on all things "foodie gems of wellie".!
Wellie … Foodie … Ellie … I am most certainly in the right place here! Add the odd Kiwi accent to the local foodie lingo, and laughter is guaranteed throughout the day! Besides all the fun, our food tour guide Heather really knowns her way around Wellington's food lover district and is happy to share the small food places' success stories with us. Let me take you on a juicy food walk around Wellington then!
At Mojo Coffee Central, don't miss their Iconic Flat White. And have a go at their home-made Kalouria (Greek wine biscuit)!
This is the first of a total of five food stops on this tour called "Capital Tastes Tour" with Zest Food Tours. Besides offering this particular half-day food tour, the company also runs full-day wine & food tours into nearby Martinborough wine district, as well as further food tours in Auckland & Dunedin. "We developed some ten years ago in response to visitors looking for more than just an ordinary shopping & 'walking-around-town' experience", Heather explains, with the obvious benefit being that you go to places you would not normally find on your own, and less in the same time as during the tour. I smile, being reminded of Porto & Taste Porto Food Tours, a city & a company that has truly triggered my whole interest & expertise in food tour companies worldwide. Check this out.
… there is more food to come. As with all those food tours I have taken around the world, my general advice is threefold: Do not eat (much) beforehand. Do bring your camera (you will want to photograph all the #foodporn in front of you!). Do try everything offered to you !!! Really. The locals know best. And they will have you sample the best among the best, and most exotic – green-lipped mussels, tamarillo chutney, Kiwi blue cheese, you name it. Go for it, is my advice at all times! 😀
Moore Wilson Fresh, is where "both foodies and chefs alike love to shop", Heather mentions. Fruit, veggies, seafood, bakery, cheeses: I just love the tasting platter Zest Food Tours has put together for us!
Zest Capital Tastes Tour finishes with a visit to Wellington Chocolate Factory & even more sweet tooth delights at Floriditas Café & Restaurant on Wellington's iconic Cuba Street.
A big part of the charm of food tours such as this one is that in most places, we are welcomed by local people with a real passion: Coffee, gelato, or chocolate, as in this case! Rochelle Harrison has set up a chocolate tasting in what once used to be a Wellington shoe factory and is now producing refined artesan chocolate creations "using basically two ingredients: High-quality cocoa beans and sugar". No milk means my preferred choice, the coconut milk chocolate, is actually the best vegan chocolate I have ever tasted in my whole life!
Lovely. I am so full by now. There is more, however, to conclude our visit at Floriditas Café & Restaurant, where Heather is happy to hand out some Zest Food Tours Vouchers to us. "Enjoy them around town", she smiles. "They are valid for up to one year, and you are welcome to pass them on and share them with your friends & family!"
Enjoy the entire foodie Flickr Photo Gallery of Zest Food Tours & my visit to Wellington here: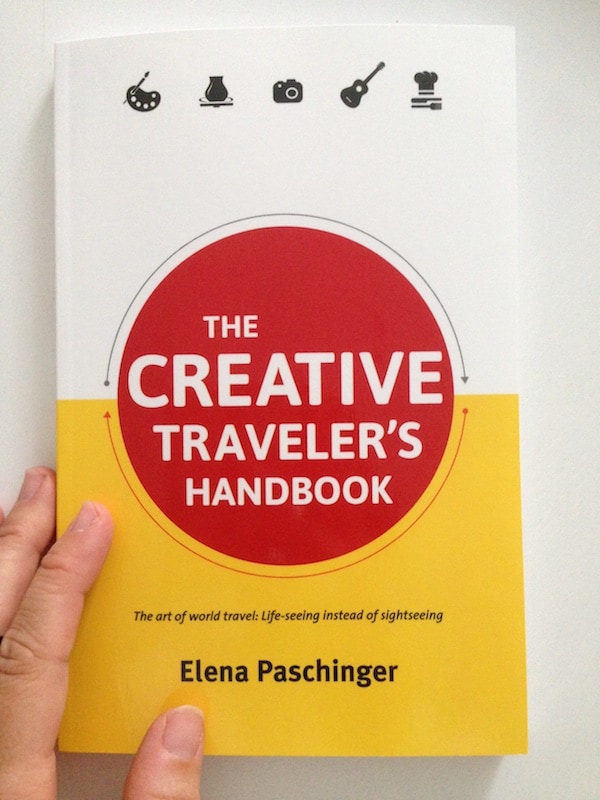 Ready for learning even more about creative travel?
Elena has recently published "The Creative Traveler's Handbook". Chock full of inspiratinal stories, travel tips and advice, it offers everything you need for planning and managing your next creative escape, addressing beginners and experienced travelers alike. Here's how to
get your hands on it
now!