You wouldn't be here if you weren't curious.*
Hi! I'm Elena! Welcome to my travel blog Creativelena.com.
For me, it is all about "life-seeing instead of sightseeing": Join me as I create, eat & live my way around the world. Curious?
*Check out my book, "The Creative Traveler's Handbook", for learning more about what we mean by creative travel. Travelling means the world to me, makes me fit for everday life and sometimes, I trust, also calmer on the inside. Read this blog with a smile, share what you love and remember to check back regularly: After all, when was the last time you did something for the first time?
Do you know the best thing about an E-Bike? They allow you to cycle up the (wine-terraced) hills while still being able to enjoy the surrounding wine landscape. I arrive at the top of the hill south of the city of Heilbronn without breaking a sweat – a nice feeling alright. Ok, the sportiest among you might say, "riding E-Bikes it is not really cycling after all" – but this time, I choose not to care, really. E-Bikes are just grand. And if you know where to go in the red wine county of Germany and find its best wine taverns, or "Besenwirtschaften", then it is all good anyway. This time, we check out the "Weinstube Krohmer Zur Bütte", a typical "Besen" wine pub in Württemberg: Maultaschen, Kessel meat & Weissherbst wine here we go!
Our E-Bike trail leads us round about 40 kilometres in a big loop south of the city of Heilbronn. Collectively known as the "RadSüden" cycling destination in Southern Germany, many new (wine) cycling trails have been established here highlighting the area's cultural, culinary and natural beauties. We cycle alongside rivers, villages, wine-terraced hills and open meadows from Heilbronn to Schozachtal, Beilstein, Neckarwestheim and back again to Weinsberg and our Rappenhof Hotel. Beautiful … check it out.
Cycling & wine tasting: Stopping to see Rolf Willy, Müller's "Weinstube" & wine estate Bauer. In the Heilbronn district, you cannot help but fall for wine!
I really must say this: "falling for the wine". If I think of all the warm-hearted hospitality here in the red wine district of Germany, I am tempted to say: Wine simply is good for the people. Honestly, I swear ! Nowhere else on this planet have I met "grumpy people" when visiting the wine regions – all of them, no matter whether in South Africa, New Zealand or Argentina, share one commonality: Happiness. Pleasure in life. Laugh and celebration. True wine lovers. Which is what gets us to our host Rolf Willy in Germany, who takes time and pleasure to guide us through his Privatkellerei Wine Estate Willy. We even get to stay for more than three hours before moving on to another wine estate & apartments run by the Müller family. Ricarda Müller, the lady of the house, has an eye (or two) for detail and furnished her apartments as well as the "Weinstube" restaurant with love. I really recommend you stay for more than just the one night. The food is delicious, as is our last stop at a typical "Besen" wine tavern here in Baden-Württemberg: All of our (rather substantial) meals are worthy of taking another trip with the E-Bikes the following day. Even if you still think that this is no "real" sport: In order to burn calories in the wine-terraced hills here, it is sports enough. 😉
Do you want to hear more about the Heilbronn wine district in Southern Germany? Enjoy the wine autumn season, your meals & visit to this area … I am getting hungry again!
Disclaimer: Thank you so much to Heilbronner Land and especially Tanja Seegelke for the excellent support and advice on this wine trip to Southern Germany. All opinions are my own.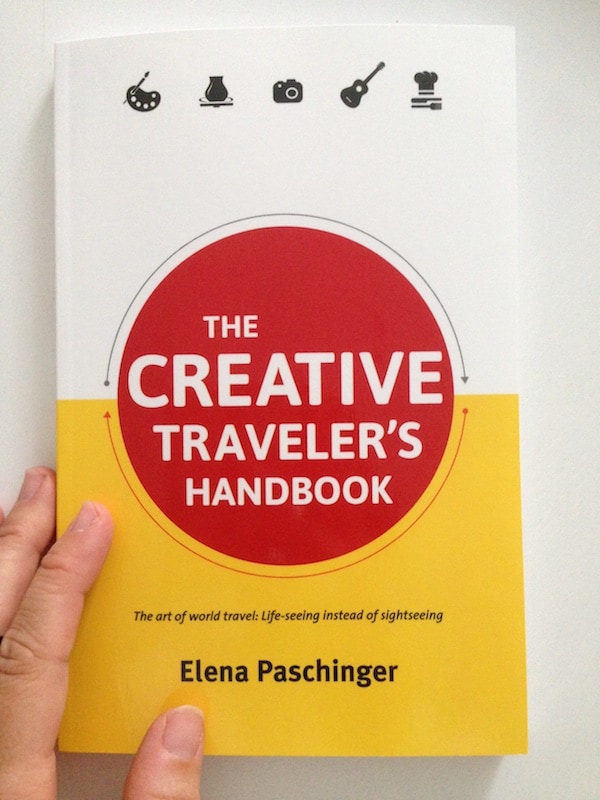 Ready for learning even more about creative travel?
Elena has recently published "The Creative Traveler's Handbook". Chock full of inspiratinal stories, travel tips and advice, it offers everything you need for planning and managing your next creative escape, addressing beginners and experienced travelers alike. Here's how to
get your hands on it
now!