You wouldn't be here if you weren't curious.*
Hi! I'm Elena! Welcome to my travel blog Creativelena.com.
For me, it is all about "life-seeing instead of sightseeing": Join me as I create, eat & live my way around the world. Curious?
*Check out my book, "The Creative Traveler's Handbook", for learning more about what we mean by creative travel. Travelling means the world to me, makes me fit for everday life and sometimes, I trust, also calmer on the inside. Read this blog with a smile, share what you love and remember to check back regularly: After all, when was the last time you did something for the first time?

Hot off the press: "The Creative Tourism Toolkit" and my talk about "Digitalisation in Tourism Management".
"Great, Elena, how can I get this book?" – "Sounds very exciting. What exactly did you work out here?" I am presently gathering first feedback on having announced the publication of the "Creative Tourism Toolkit", a guide for small and medium-sized tourism destinations and companies that want to make creative travel their motto. What the toolkit, developed by an entire team of international experts in the field, reveals is that little changes in business development, co-operation with local partners and other, similar organisations can already make a huge difference. I am pleased to have worked on such an important issues for the international "community-based tourism" community. Here is how you, too, can (quickly and easily) get hold of a (digital) edition of this toolkit handbook.
The "Creative Tourism Toolkit", which has been released in both English and Thai in a joint publication by the public organization DASTA together with the international "Creative Tourism Network", can be downloaded free of charge here: http://perfectlink.co.th/download/.
It includes a short section written by myself (as well as a hint to further knowledge contained in my book, "The Creative Traveler's Handbook"! 🙂
Very cool indeed to be taking this publication right off to my next-level presentation, talking for two days in front of tourism high schools at the HLF Krems in Lower Austria.
On 28 and 29 January 2019, a series of workshops about "digitalisation in tourism" have been held at the HLF Krems. Together with my colleagues from the Lower Austrian Tourism Board, Falk Tours and Reise Bunt, I have been able to inspire students in their final high school year (18 – 19 years old) talking about topics such as digital marketing, social media know-how, blogger relations & the "influencer spheres" … Very exciting for me, too, to hear how the young ones of today – our future network partners – think about these topics! What struck me above all was the great interest in "how to be self-employed, and successful, in the digital age": how does that work, "how much can you earn there" (and how do you go about it), "how can you really link travelling to making an income from it"?
Always the same questions. I love the give my answers in inspiring talks and interviews like this.
You can find out more about this rather innovative workshop on the school's homepage: https://www.hlfkrems.ac.at/hlf-absolventinnen-fit-fuer-die-digitale-transformation/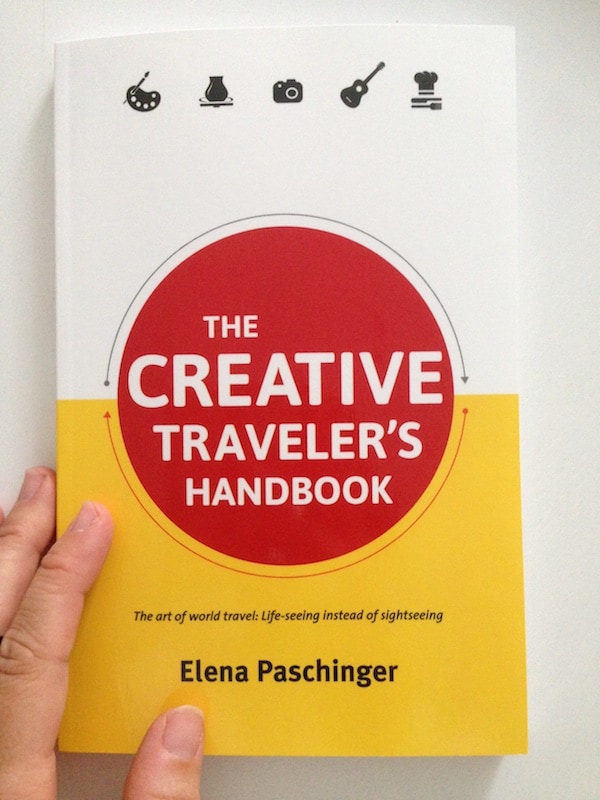 Ready for learning even more about creative travel?
Elena has recently published "The Creative Traveler's Handbook". Chock full of inspiratinal stories, travel tips and advice, it offers everything you need for planning and managing your next creative escape, addressing beginners and experienced travelers alike. Here's how to
get your hands on it
now!
Follow me on my travels: