Speaking five languages fluently and travelling the world for more than five weeks now, what makes you still think (and talk) in your own mother tongue?
"Waaas? Das darf jetzt aber nicht wahr sein … Warum ist es plötzlich illegal, dass wir in Brasilien landen?!?" The answer is: Emotions. Words that speak the language of childhood, the language of your own comfort zone that is there when everything else falls away. Taking a confused look around our American Airlines plane that we have just boarded a second time after a fuel gauge mishap, I find myself centre stage to a whole lot of wildly gesticulating and shouting group of passengers – in Portuguese, that is. Our destination is, or shall I say was, Curitiba – Porto Alegre in the south of Brazil. And what seemed to me like a happy community of passengers who I started nice little chit-chats with thanks to my speaking Portuguese, has now become a detached, swearing sound cloud of loud fury. Such is the nature of me starting my trip from Miami to Brazil: A series of mistakes in the booking system of American Airlines have caused a situation that every passenger abhors: Hours of delay. Having to change airplanes. Twice. And then – flight cancellation. Because of being delayed for so many hours, we are told that "it has become illegal to land in Curitiba during the night." Illegal!
"Jetzt wird's lustig", I again find myself saying out loud, but no one replies. After all, I might very well be the only Austrian, if not European on this flight amongst what I deem to be only Americans & Brazilians.
Out by the gate, we are left with the following words: "Ladies and Gentlemen, your flight has been cancelled, please seek alternative routes to your destinations and contact the rebooking desk at …" I am not even listening now. The voice blares gate numbers, baggage collection details and further information over the top of our heads, but now, I am unable to react, let alone think. The Brazilians around me have raised their voices to an angry fury of accusations and cries, demanding further explanations, some filming with their cell phones – "shitstorm for American Airlines", it occurs to me – while I start shaking, sinking & leaning down against the wall, asking myself, "so what are we going to do now? They can't just leave us sitting here, can they …?"
Horrifying. Right? "So what do you do in such a situation?", I imagine my dear friends, family & people asking me in a future round the world trip presentation. The answer is as easy as it is obvious: STAY TOGETHER.
Back to my early words about comfort, and origin. After falling back into your native tongue, there is a second "human nature thing" that immediately kicks in: We will stay together. We will not leave you alone. We will go there as a group. Vamos juntos … Vamos todos. Vamos Elena … Pronto, vem conosco. I cannot even express how thankful I am. Thankful for all the peace and comfort that being able to speak several languages fluently has always brought upon me while travelling. I am sure I would have started to cry otherwise, left alone, anxious, because of not being able to talk and communicate, because of everyone just being busy with themselves, and especially the airline – as a solo traveller, this really is where the fun part ends, I guess. Because the airline staff too is clearly at a loss, especially at the rebooking desk we are all headed to. Memories of a similar situation a few years ago in Madrid start coming back at me … But this time, everything is different. Because I am with the most beautiful, warm-hearted people you could wish for in this kind of situation, whose language I have already felt a connection with during my travels Portugal: My love for Portuguese and my natural communication with "my Brazilians" lets me see everything, and everyone, in a different light. Sonia. Valeria. Gabriela. Kathleen. Ivan … And last but not least, my "rebooking guardian angel" in Brazil itself, Igor de Oliveira at the connection desk of São Paulo who does his very, very best at keeping me calm. Mas você fala muito bem português … e com o sotaque bem português … é portuguesa? Não?! Então como é que fala assim? Tem namorado certo?
We laugh a lot – and this is what saves me. Everyone here just wraps me up, together we take care, and not let go of each other. Even, or especially after 36 hours of adventure travelling to Brazil, when all of us feel dead-tired and close to both physical and mental exhaustion. Each one in our small group has an eye on each other, on our luggage, on the news about our flights, as it is. And finally, it is time to remind ourselves that we are heading south, into summer, out into new horizons: "Creative travel in Porto Alegre, now that sounds really interesting … Tell me more Elena!" Words such as legal, beleza or bacana are what I keep storing in my memory, already starting to adapt my Portuguese to accommodate the onslaught of lovely Brazilian dialects around me. Mas Elena, é impressionante como você fala …
Languages are like keys – they open doors. To people's hearts, to your own feeling of happiness & comfort. But let me tell you, there are moments too when you just feel like giving up. And this is when the angels come into play …
Another situation on this crazy ride of mine. It is the "next day in the morning", all of us having been up for more than 30 hours, either flying or hanging around different airports. Various time zones, constant air conditioning and fatigue have really worn us down. This is the least moment that you would like to hear, "We could not find a confirmed reservation for your connecting flight from São Paulo to Porto Alegre … Please contact the American Airlines desk on the second floor …" The connecting flight that leaves in 50 minutes because we have a) been delayed on our rebooked flight to São Paulo – again, b) have to wait ages for collecting our luggage – again, and c) are missing a reservation to carry on in Brazil. I recall: It is hardly a day's worth that I am back to speaking Portuguese after travelling across the United States. Six months ago, I would not even have known how to say "Obrigada" – Thank you in Portuguese. I have all but started to learn the language in the last few months, perhaps spending 10 days talking Portuguese in Portugal during my last trip there. And here I am, faced with a situation of having to negotiate under circumstances like these. Sometimes, you just have to hit the ground running.
I think I will put the ability to single-handedly organise several round-the-world-trips and speak many languages fluently all the time on my CV. … Sometimes, I do have to admit though that you have just had enough. That, too, needs to be said. At this point, caught out in the airport of São Paulo, without further help or reservation, forced to start explaining everything over and over again to different staff in (Brazilian?) Portuguese, having barely slept and undergone many troubles in recent "flight mares", there comes a moment when you simply want to give up and burst into tears. A moment where you do not care for any Portuguese, Brazilian, whatever it is you have ended up speaking, any more. It was then that I looked up. And saw Valeria. And Gabriela.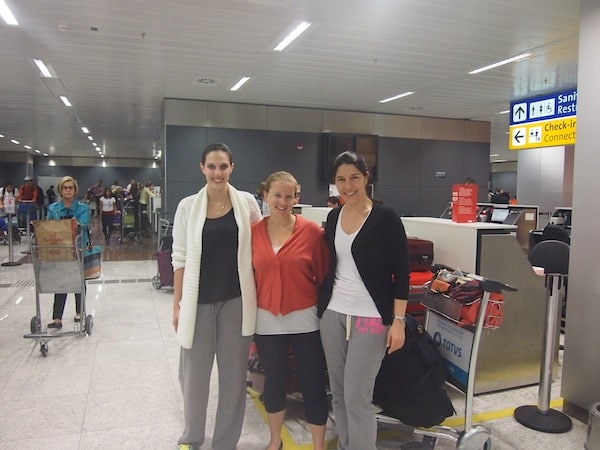 Both of them, tired & worn-out, are smiling back at me. They immediately sense how I feel, start talking to me, give me myself back. There it is again, the light-hearted feeling of human warmth. Finally, at last, my dear guardian angel Igor de Oliveira has made the impossible come true – a valid connection for my flight to Porto Alegre from São Paulo!
So it is, then. Porto Alegre, I am coming! Another stop on the way, this time with a voucher for having lunch here in São Paulo at a restaurant with the name of – would you believe it – Viena! This is when I know that everything else will be fine. Little by little, I start feeling my forces return. There is always a way. It might lead you astray, sometimes – travelling to unexpected destinations like São Paulo, finding new and unexpected friendships along the way, but ultimately growing stronger from the experiences and situations mastered. And this, my dear readers, is I believe the feeling we have to take as a lesson from such stories. Also, to become "angels" ourselves and stay aware – looking out for ourselves, for others, and never allowing ourselves to give up ahead of the time given to us.