Dear Angelika! Today, we would like to know more about your work as a "digital influencer". How important are community & networking for you, and where will the way still lead you both personally as well as in business?
We are curious to know more! Thank you for taking part and answering my interview. Here we go 🙂
How do you personally explain your "digital influencer" status through www.wiederunterwegs.com ? What is necessary to succeed, according to your belief?
I don't really like this term, I must say – it sounds quite "forced", too business-like for me. And I believe it will disappear again, eventually. The only thing that counts is to be a high quality content producer, with videos, photos and texts that serve to inspire and to inform. I don't really see myself as wanting to "influence" anyone, but rather to inspire.
What has been your most successful project through "WiederUnterwegs"? How do you measure and evaluate that success?
My travel blog has been around for almost four years now. Since about a year I can say that I am happy with the way things are going. I can feel the support of my peers and travel industry partners, and receive less and less emails from clients who want me to work for free ("Because we let you try our hotel", etc.).
Success means having partners who treat you with respect and who have already taken the time and effort to deal with my work beforehand. Most recently, I have been travelling in Slovenia as well as with different car companies on road trip projects. I was free in choosing my own style, and have also seen my work shared a lot by the companies themselves.
What is more, is the success coming from our #7Ways2Travel project: Seven Austrian travel bloggers have started to work together in order to organise travel media campaigns for national and international clients. It is a lot of work, but also very rewarding.
Why do you (still) attend travel trade shows, networking events, conferences, etc.? What are some of the most important criteria here?
I only join travel trade shows because they allow me to meet & network with my travel peers. They are a perfect opportunity to personally introduce myself, and to follow up from any previous communication via email. I avoid phone calls, and would rather settle for a combination of personal introduction and follow up via email.
Networking & education are key when it comes to attending travel blogger conferences: They should focus on the facts, and not be "just another travel blogger event" with little room for, or depth of information. I really like the practical issues presented by leading partners from the industry there.
It's been several years now since you've become a trusted travel publisher in Austria as well as the German-speaking markets. Where will your spheres of influence still lead you? What are some business opportunities you would like to develop further?
Already at this stage, I feel that WiederUnterwegs.com is a professional, digital travel partner within the tourism industry. Let's face it: Online reviews are key. And I believe this is exactly why travel blogs succeed over embellished PR: They are honest, real, and with face-to-face interaction.
I really hope that more and more clients and hotels will realise this over time, gradually losing the "fear of bloggers". Even if we have to "tell it how it is": That reading lights or bedside tables are missing. That their staff has been unfriendly. Whatever it is, I believe there is always an opportunity to learn & to cooperate here.
Furthermore, I'd like to focus even more on content creation for third-party business websites: In this way, I am able to make better use of the content I have already created and further enhance my digital status quo.
What is your single biggest tip for those wishing to work with you?
Do your homework, and research beforehand. Do not expect others to work for you for free! Staying at a hotel and following suggestions from a pre-arranged programme are the tools necessary to create content. It is the same like everywhere: Get your word out, compare, negotiate, keep it real and work on your expectations.
How do you go about researching your next trip? Do you yourself value the opinion of other travel influencers, or do you prefer being surprised over planning ahead ..?
Three to four weeks per year, I spend some time travelling exactly my way: Hiking up rivers with my dog, going for a swim, camping. All other days in the year are blocked for research trips, press trips, and individual travel commissions. I love to take inspiration from other travel writers, agencies or press conferences.
What is your single biggest inspiration in travel? And in writing (sharing, filming, etc.)?
Nature, as well as my dog, always serve as an inspiration for me, either in writing or photography. I would love to do more videos, too! But I only have two arms and a very lively, very active canine companion!
What do you always carry with you on your trip?
Backpack, Smartphone, additional camera, writing utensils, sunglasses, sunhat & scarf, as well as dog stuff – just in case …
How do you (really) relax? Allow us a glimpse into your busy everyday life …!
This may easily be the most difficult question in this interview, perhaps the most difficult in my life … It is really hard for me to relax. And ever since I've turned my home into a home office space, it has become even harder to do so. Daily reading may be what comes closest to true relaxation (and preferably, topics that have little or nothing to do with travel: History, literature, etc.).
I also love to "just sit in front of the camper van" – without my smartphone, but with my husband (preferably, him without the smartphone, too), as well as my dog. Travelling without work is very relaxing, too.
Last but not least : Give us three reasons we should immediately check out your blog for! What is "WiederUnterwegs" all about? What do readers most comment on? What are you particularly proud of?
I tell it like it is, never mind what others may think. Sometimes, I believe I am too honest with my work – more honest than my clients might expect. What I love about my blog, is that I am able to work on my own interests, thoughts and ideas, connect my reading with my travel writing and come up with my own conclusions as I do so.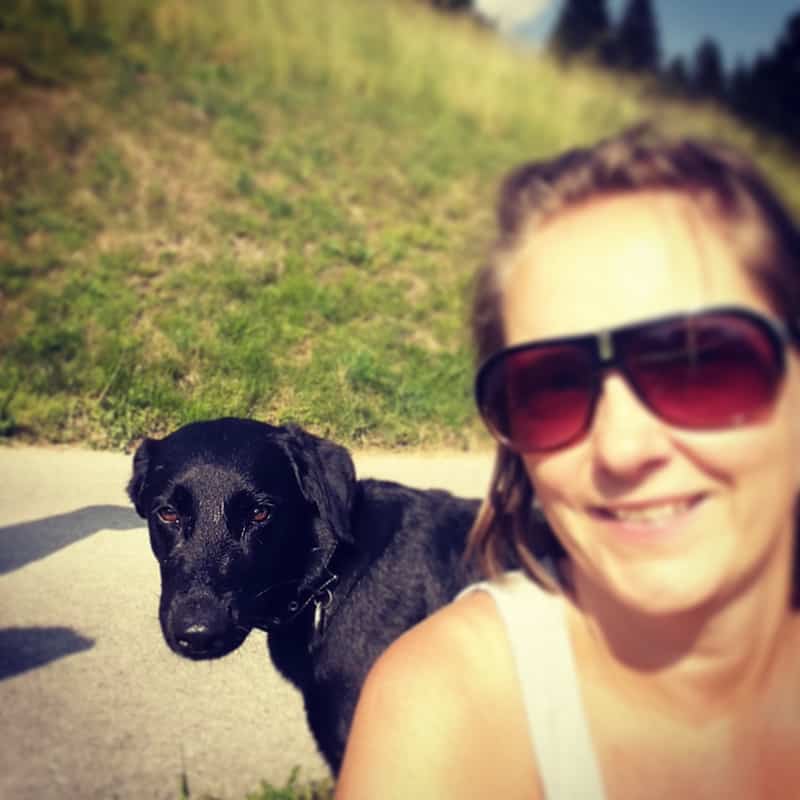 Thank you so much, dear Angelika, for this interview!