2016 is, and has been, a year of changes and life development. Thinking back on all those special moments, such as celebrating my book, sharing it with the many many people I've met, listening to their countless wise words and recalling all those meaningful conversations the world over, I cannot help but …
… feel forever grateful. About my life, the love in it, and now, about celebrating the peace of Christmas.
Feeling forever grateful for everything that has been. Feeling forever grateful for everything that is, and for all that has yet to come. Feeling grateful also for the many wondrous and breathtaking events, which have left me both speechless and overflowing with emotion. Being with the right people, wise people, whose actions speak louder than their words: Your presence is a true blessing to my life (you know who you are).
Week upon week, I make sure I share those stories on my travel blog; today, as it is Christmas, I want to share some of the rather special ones that have stood out from living an extraordinary life in 2016. A kind of personal Thank you in ten different stories.
My book.
Is this how it feels being a mum? 🙂 As if it was my first child, my book, "The Creative Traveler's Handbook", fills me with an indescribable sense of pride, gratitude, and joy. Ever more so, as word spreads around and "my children are really reaching out everywhere on the planet": From all over the world, photographs, messages & feedback are sent to me via Social Media (the most beautiful #StoriesOfMyReaders!), including places such as Vietnam, Japan, Brazil, Sweden, Madeira, Iceland, Portugal, South Africa, Canada, Nepal, New Zealand – you name it. All the time, people tell me: "Elena, thank you for telling us that. Your book has truly inspired me .. It is beautifully written. …"
Only a few days ago, I have received a message from one of my readers here in Austria, without even knowing her before. She simply found my book, read it, and cared to reach out in the following, heartfelt way:
"Hallo Elena! Hier ist mein 'review' für The Creative Traveler's Handbook – in Englisch, da ich grad so drinnen war. Wirklich super Buch!
I started to notice your book through Social Media – I follow a lot of travel bloggers – and then at one point, while looking for books to buy online, I remembered your book and looked into it. I was really interested how you would define creative travel. I like to travel solo and love to read up on travel blogs and also travel literature. My dream would be to also be a travel blogger, but writing is not something I have been that passionate about, so I'm not sure if I'm good at it. I not necessarily like to be creative all the time, but just how you described your passion in such a positive and motivating way was really great! One could really grasp your excitement. Sometimes solo travelling becomes creative travelling, and to see those parallels, is something that really interests me. I really liked the section 'Go with the Flow', and of course all the 'Stories'. The thing I could relate to the most is perfectly put within this quote: 'To put it in a nutshell, the values and belief systems of an entire people have the power to actively shape your own perception and experience – that is, if you allow it to become part of yourself in this in this interactive travel experience that we call 'creative travel.'
So all in all, the positive energy and vibe I got from the book just made me want to jump into the next travel experience and really take part in it, either creative or not, solo or in a group. Thanks for this motivating book!
Liebe Grüße aus dem schönen Nord-Burgenland! Tina."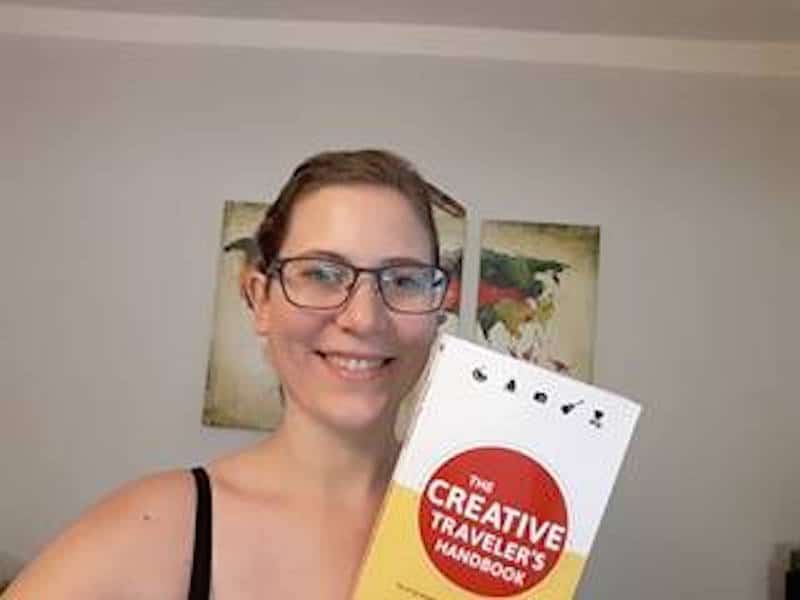 My first (travel) prize draw … a trip to Portugal !!!
"Impossible .. me?!", I remember the incredulous look on my face as they draw my business card at the ITB travel trade show in Berlin, ".. I am already so much of an ambassador for Portugal ..!" Overcome with the sheer happiness of the moment, I receive my prize and decide to invite my mum along on this trip. Four nights & days in the beautiful design hotel Casa das Penhas Douradas, around the highest mountains of Portugal in Serra da Estrela, including a rental car for the road trips during the day. Plus of course, the connection to my friends in Lisbon & Porto, who I get to see again, too. Finally, my mum is able to listen to me speak Portuguese … "so when are you finally learning Italian?!", is all she can say to the rather unusual pronunciation in her ears, waiting for the "more beautiful language choice" instead. Oh mum! Sweet family days under the Portuguese sun, that's for sure!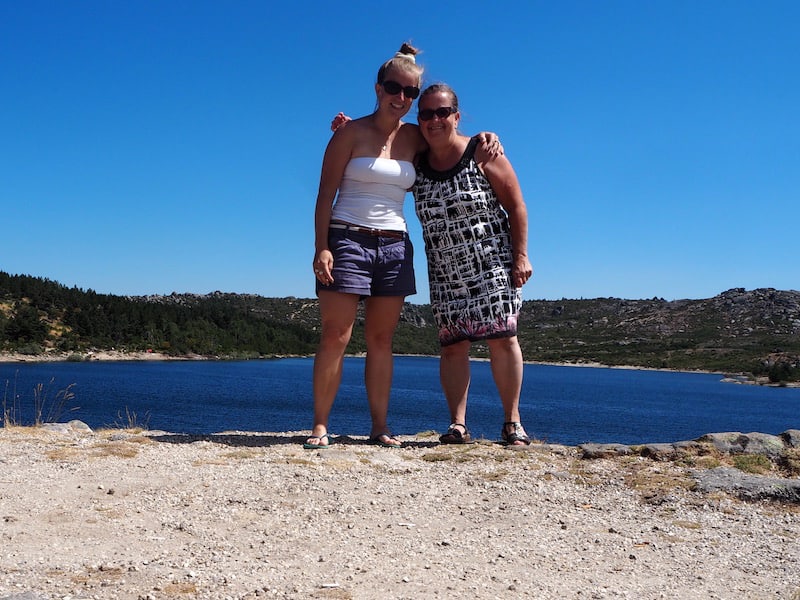 My big & beautiful travel blog, finally relaunched.
My, oh my … not sure if I'd ever do something like that again. Or will I?! Relaunching my own website Creativelena.com after almost four years of existence, has taken me and my programmer much longer than anticipated – a good six months, to be honest. All those hours of creative planning, work on the photographs, submitting new texts and more … "Elena, you no longer have a small website you know ..!" Well, yes. I am just shy of 1.000 blog posts now. Wowzer! Time to relax, really. A little. And let the happy pride, and deep gratitude, sink in once more.
My first ever pilgrimage journey.
Journey over destination … Really, honestly, and truly. Walking the Portuguese Way of Saint James from Porto to Santiago, has been such a life-changing, deeply meaningful thing to do, that I want to include journeys such as these ones each and every year now. Walking, the simplest and yet most profound of all means of movement, friendship, the fellowship of like-minded pilgrims on the way, and all those stories, thoughts, travel tales & insights along The Way … Read on about what I have written about The Way here before, including personal tips on how to prepare, finding great pilgrims' accommodation in Portugal as well as in Spain, and how The Way of Saint James is actually, "a Women's Way".
2017 will see me giving a speech about my experience on The Way back in my home town of Krems. Reeling them back in, all those life-changing moments throughout my 13 days of walking the 260 kilometres to Santiago de Compostela. Wow. It will be another beautiful moment in time.
My flat: Renounced & sold. My car: Decommissioned for a while.
Yes, this also happened in 2016. Spending just under three months in Canada, and looking at many many more trips around Europe before & after, I decided it was time to a) sell or give away stuff b) move part of my things to my parents' place nearby and c) save myself some time, money, and peace of mind before the next big step: How to grow some roots, if all you ever nurture are your wings ..? 🙂
My largest business campaign with the Austrian Eco Label and their progressive team at the Austrian Ministry of Tourism & Agriculture, extended and confirmed for yet another year.
Meeting my real fans (my blog readers) on a "chance" encounter in Lisbon.
What a moment.
"Do you still need some travel tips & ideas for your visit in town? I have been in Lisbon a couple of times, and can offer to help you gladly." Corinna lifts her head and smiles back at me, "Thank you", she says, "but as it turns out, we have already had help reading this article on five travel tips for Lisbon on this blog .. hang on a minute. ARE YOU CREATIVELENA?!"
Today still, I get goosebumps recalling this moment of a kind, even including the power of this story in my media kit about what we, as digital influencers, are able to achieve. Corinna and her partner Peter have indeed travelled to Lisbon because of my articles & recommendations for Portugal. And I have been lucky enough – it must have been written in the stars somewhere! – to be there at the very same time, in the very same spot, to actually hear that story from them !!!
While my thoughts were actually with a completely different business, landing in town on a surprise mission to honour my dear friend André Ribeirinho's "Adegga Wine Market". Spending only 48 hours in Lisbon. Without telling anyone in Portugal about it. A beautiful experience that I treasure deeply, and love to recall anytime.
Canada. "Oh Canada, eh!"
Canada has changed my life. And the most beautiful thing about it is this: I would never have thought! In actual fact, all I was thinking to do was a kind of "road show promoting my (English) travel book" in the right language market; tied to the fact that my publisher is from Canada hence providing a perfect excuse for exploring the country next to a Toronto book presentation … more or less. My original idea. It is almost like two years ago in Portugal, where arriving for the first time in my life, I could not even manage to say "Obrigada" (Thank you), but ended up becoming fluent in Portuguese only three months later, having fallen head over heels for this country of a kind, waking up to writing poems in Portuguese …
Canada, too, has worked its magic on me. Well, I already spoke English before. 😉 But who would have thought that the country, and all the people in it, move & impact me so deeply? That they would actually open up a direct channel to exactly how I felt living in New Zealand all those years ago? A friendliness beyond imagination. A genuine sense of honesty, and hospitality. Purest, heartfelt emotions. Support. Welcome. And gratitude. I credit Canadians with so much, and they deserve every bit of the beautiful praise I have since showered them with. I just love how every single one I've met one has taught me about the love for their families, the happiness of heartfelt welcomes, the respect and support in travel partnerships across the country. My article about my "10 favourite Canadian idiosyncrasies (and the stories behind)" will tell you more.
Today, Canada, just like Portugal and New Zealand, has become another home of the heart on this Planet Earth for me. For this, I am forever grateful – and shall hopefully be planning another trip there soon!
"Be Creativelena!"
Last but not least, a word of gratitude of a kind. More and more in my business negotiations with national and international clients, I observe the fact that my partners like to lean back, smile, and encourage me by saying: "You know, Elena … [we trust you] … Just do as you would. You know the market. Be creative, be Creativelena! We are absolutely open to your suggestions and ideas, and really look forward to working with you."
THANK YOU so much, dear Klaus Lorenz here in Austria, dear Jaume Marin in Costa Brava Pirineu! Like many others, you remind me of just how important it is to see eye-to-eye on fundamentals such as trust & reliability in business development, and to maintain that long-term, strategy vision that has the power to motivate people in ways previously unimagined. I love it. And really, really treasure the confidence and trust given to me, pushing me to be the best I can be, always. Next up, I will tell you more about which projects, trips & ideas to look forward to in 2017, and where my wings will be taking me this time. Stay tuned 😀
And you, my dear. What are you grateful for these days?