"12.000 kilometres for a birthday cake", is what I wrote in my latest travel post about Canada. And not just that! Besides meeting the most fantastic people, Canada has also got some of the best powder ski conditions I have ever experienced in my whole life – and take my word there as a very experienced Austrian #skilover. At least the three ski resorts I have been fortunate enough to experience as of recent. All of them are located in Banff National Park, Canada's oldest and likely among the most magnificent of all. Hugely popular during summer, I suggest you give winter in Banff a second look: Even if you don't ski, there's hot springs, stunning winter wonderland scenery, snowshoeing, cross-country skiing, ice climbing, or simply the option to go for a walk – Tunnel Mountain high above the town of Banff offers rather magnificent sunset views. ..
But then, pretty much anything in #myBanff is magnificent.
Oh, Canada. #myBanff. I miss you.
Sunshine Village, Mount Norquay, or Lake Louise then for the ski? Best be advised to visit all three. #SkiBig3, that is.
"SkiBig3" is a clever way to combine your ski experience in the Canadian Rockies through a so-called "tri-area lift ticket", including access to all lifts available, shuttle to & from each of the three resorts, the option to meet & ski with local ski hosts, admission to the Banff Hot Springs, and more. These tickets are cheaper the more days you ski and/or the earlier you buy them ahead of the season. Besides, the Banff Ski Hub in the town of Banff offers perfect, state-of-the-art rental equipment; there really is no need to carry your own ski or snowboard gear all the way in from, say, Europe. In actual fact, I enjoyed renting from the locals, so to speak – and finding their facilities and amenities really compare to what I have experienced recently in the heart of the Austrian Alps.
So where exactly are the #SkiBig3 ski hills of Banff National Park located?
A good question, and one I get asked rather often. The town of Banff itself is located approximately 120 kilometres west of Calgary, and makes for the gateway into Banff National Park for most travellers. I have written extensively about #myBanff, the love for the wonderful local people I've encountered there, as well as the magnificent Banff – Jasper Highway, one of the "most beautiful 300 kilometres on Earth". All of these articles are there to help you plan and inspire yourself for your next visit in this part of the world.
What does skiing in the Canadian Rockies look like?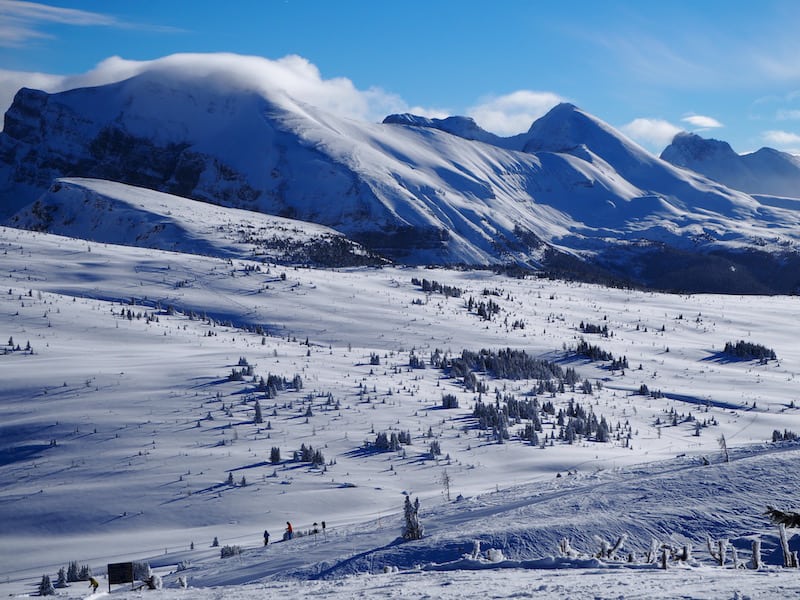 A question I had no idea I would forever keep answering in the most elated way possible. "Oooh, you know … Hardly anything compares. It's as if you stared right at an entire page spread of a National Geographic magazine – at every turn of your skis. Skiing in the Canadian Rockies, it really is that mind-bogglingly beautiful. I mean, the views of wilderness that stretch forever across the horizon: There is nothing quite like it in Europe. More than once have I been truly grateful, from the depths of my soul, that skiing has enabled me to experience a place like this, in a way like this: Fresh, pure, raw, an absolute adventure. Simply stunning …", and so on, until I run out of words and need to revert, like with you in this case, to the following travel video:
(Just a minor piece of advice. You will be wanting to go immediately after watching this, so please handle with care!).
Mmmmmh … *Sigh*. Oh Canada …
If headed for Lake Louise, consider staying at the Mountaineer Lodge & have a look around at the rather famous Fairmont Chateau Lake Louise, as well as their "nice little ice castle(s)" ..!
Thank you, Adam.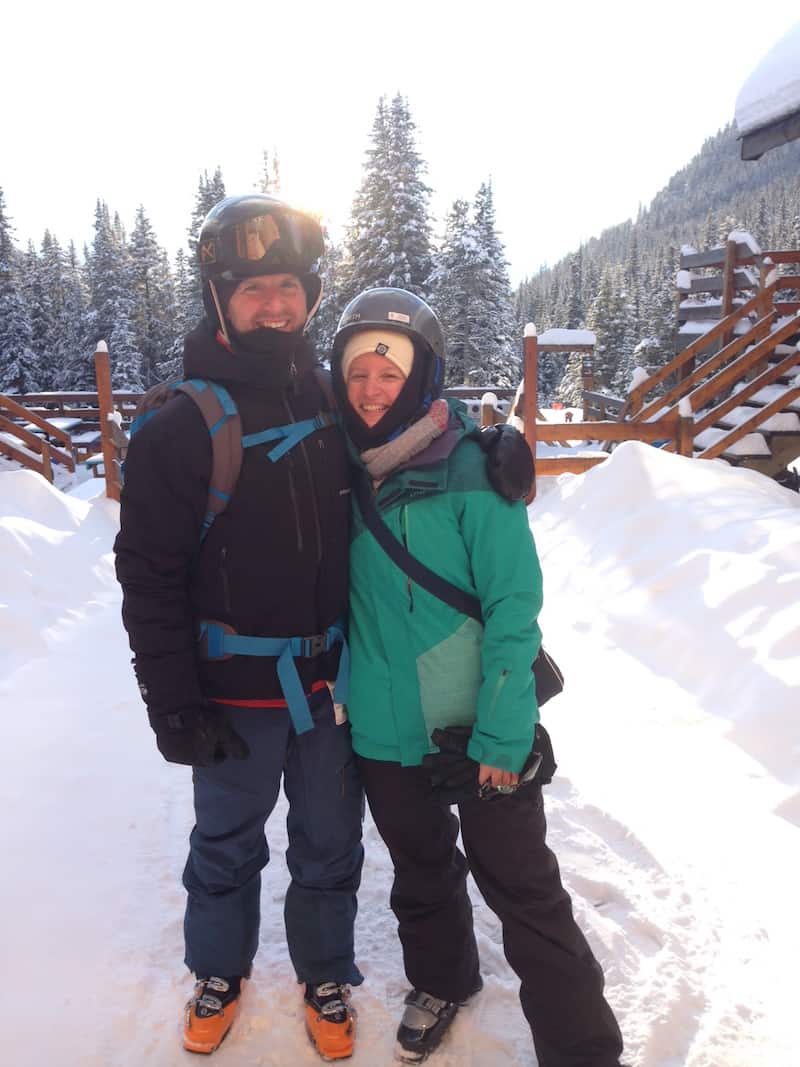 Thank you for taking me out, experiencing a part of your country in a way I would have never been able to otherwise. Together with my friend Adam (who features rather prominently in my previous article about Canada 😉 ), we experienced what it's like to have the perfect "Canadian ski experience": Go on a road trip. Get a perfect play list going. Share some beautiful world travel stories & meaningful life tales. Hang out at the steam bath & hot tub. Go get up early to "shred some powder" together. Squeal with delight, as you "break down into the bowl", "leg burner" ahead of you, catching your breath on a lift with no foot rest (crazy Canadians!), over Poutine & warm-up coffee at the ski lodge, or later during dinner or at the hot tub (after all, it's -36°C outside including wind chill … by far the coldest I have ever experienced in my whole life! My authority as an Austrian skier ends right there, as Adam makes sure I get totally bundled up before my frozen face heads back out into the cold … "sunglasses right? Just saying ..!" 😀 ).
Come & join us for a funky friends' take at Lake Louise Ski Resort:
Last but not least, here are three photographic storytelling accounts for you to follow.
All of them include images of my recent travel experiences across each one of Banff's #SkiBig3 resorts, so you will likely get a good impression of what's waiting for you there. Magic, is all I can say …
Skiing at Sunshine Village, about 20 minutes by shuttle from Banff:
Skiing at Lake Louise, about an hour's drive from Banff:
Skiing at Mount Norquay, conveniently located "just up the hill" i.e. a ten minutes' drive from Banff:
And you? When will I see you (back) in #myBanff? 🙂