You wouldn't be here if you weren't curious.*
Hi! I'm Elena! Welcome to my travel blog Creativelena.com.
For me, it is all about "life-seeing instead of sightseeing": Join me as I create, eat & live my way around the world. Curious?
*Check out my book, "The Creative Traveler's Handbook", for learning more about what we mean by creative travel. Travelling means the world to me, makes me fit for everday life and sometimes, I trust, also calmer on the inside. Read this blog with a smile, share what you love and remember to check back regularly: After all, when was the last time you did something for the first time?

My Summertime in Argentina: Kayak Trip in San Carlos de Bariloche
What to do on a late summer day in the heart of the "Swiss Andes"? Go kayaking! It might not sound as obvious, but I was taking my chance: Thanks to the great & efficient team at Achalay & Rodinia Hostels in Bariloche, I could join a small group of seven happy kayakers in no time. Our tour with Cuadrante Sur – Tours en Kayak en Patagonia at Lago Gutiérrez about 15 minutes from downtown Bariloche proved to be downright exciting and well-organised: An experience I can definitely recommend.
Visiting San Carlos de Bariloche
This city in the heart of the Argentinian lake district has been founded some 100 years ago by Swiss and German migrants, preserving a kind of "middle-European charm" – spiced up with Latin American vibes of course. For instance, there are no streetlights for pedestrians whatsoever, let alone clear traffic rules and loud, pumping Reggaeton street music will always remind you that you are far from home. In any case, as an Austrian with some Alpine experience to tell, it is funny for sure to order venison goulash with Spaetzle from the restaurant of Familia Weiss in Bariloche … Or taking a walk by the lake of the city, which bears a faint reminiscence to the mountain & lake backdrop found in the European Alps. Faint, I'd say … for everybody Argentinian, San Carlos de Bariloche is "very European" of course 😉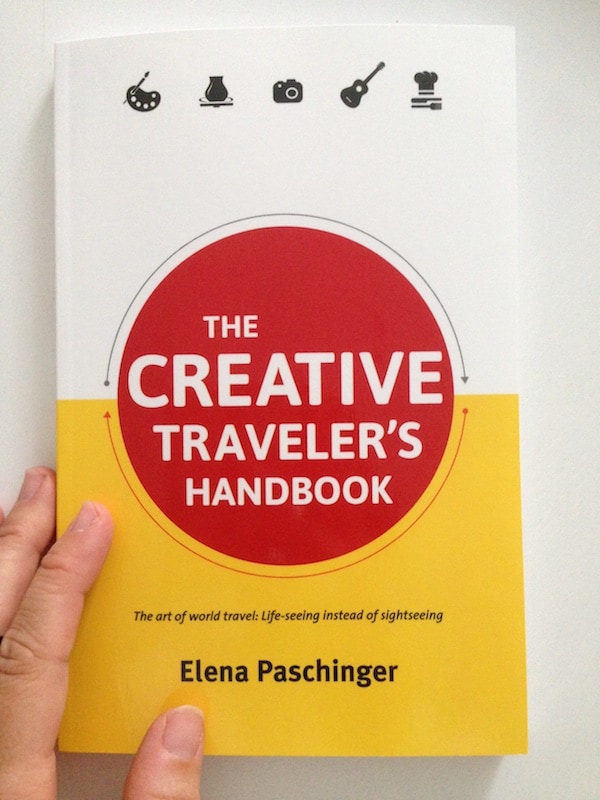 Ready for learning even more about creative travel?
Elena has recently published "The Creative Traveler's Handbook". Chock full of inspiratinal stories, travel tips and advice, it offers everything you need for planning and managing your next creative escape, addressing beginners and experienced travelers alike. Here's how to
get your hands on it
now!
Follow me on my travels: