Arrive. Revive. For some time, the Austrian National Tourist Board used this slogan to describe the feeling of arriving in Austria. Recently, I have felt just the same when travelling near the border to the Czech Republic, past the wine town of Retz, and into Thayatal National Park: Arrive. Revive. Taking that deep, wonderful, fresh breath of air …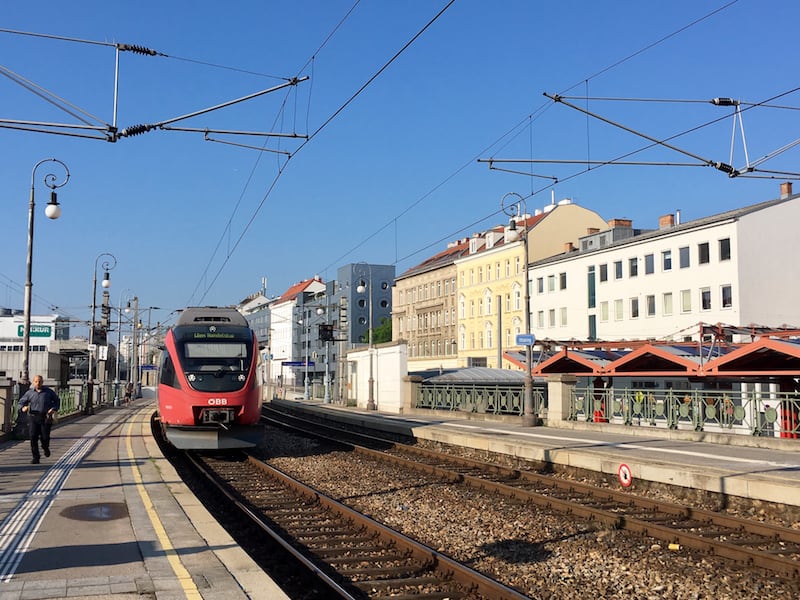 … especially coming from Vienna: The gently rolling hills of the Weinviertel district, their green lush borders with vineyards and fields all help to turn the short trip from the capital city into a welcoming journey. Up north, where Austria meets the Czech Republic, you can find a unique natural landscape called the "Green Corridor", formerly known as the infamous "Iron Curtain" but now fortunately more known for its many nature protection virtues.
Arriving at Retz main station, I take the public bus straight to the national park office in Hardegg, which next to visitors and park rangers also accommodates two "feline guests": A duo of the European Wild Cat.
And this, my dear readers, is worthy of some news, which is what I learn during the short film being shown about those particular cats: Our common cat as we know it, is in no way a descendant of the cats I see here at their Thayatal National park enclosure, but a descendant of its North African (Egyptian) relative to the south. The so-called "European Wild Cat", whose relatives have again been seen in Thayatal national park, are of a different build, which even an untrained eye like me can see after a close-up study. Wonderful. A trip this way is therefore calling all cat lovers in just the same way, as nature lovers in general!
So what can you expect from a hike through Thayatal national park?
After a quick chat, Birgit and I choose an easy hike of about six kilometres along the river Thaya, which can also be walked as a loop trail leading all the way back to the national park office. Right past Hardegg, the small town of just under 100 (!) inhabitants which is more like a medieval village, we are embraced by the sights & sounds of nature: Down the river, national park ranger Birgit and I walk in the shade of the Thayatal riverside forests, several open meadows and across two steep hills, which have formed inside river loops. They both offer excellent viewpoints, and a better grasp at just how much nature protection was inadvertently encouraged by the former "Iron Curtain" that ran here, a political border only few ever attempted to cross for decades.
Not much into hiking? Well, there are several alternatives. One of them, is a pretty "New Age" one: Rent your own national park e-bike for the day!
For many centuries, if not millennia, the Thaya river has carved its river bed pretty deep into the granite and gneiss highlands of the Wald- and Weinviertel, a fact I notice on my way to several viewpoints high above the river valley. Thanks to the "Turbo, Sport & Power" circuits of the e-bike engine on my bike, however, I'm always relaxed and not as sweaty-finished as my fellow cyclists around me – a wonderful feeling for recreational riders like me, who simply do not take to cycling as a sport as such. You can rent your own e-bike for just € 21,- per day from the national park office in Hardegg: I did a 32km loop from Hardegg and across into Czech Republic (Cizov and Vranov), and back via Felling and Hardegg in just over two hours – photo stops and short breaks to take in the natural landscape around me included. Glorious. The curious and often jealous glances of the other cyclists battling those climbs were a bonus of that trip for me!
And you, when will you come up to visit the smallest of all Austrian national parks? Maybe we'll meet there, too: I myself would also like to go back soon, as it was one fab nature weekend for sure!
More information about the National Park Thayatal, as well as all #NationalparksAustria, can be found here. Together with me, some of my friends & fellow travel bloggers have also reported on the occasion of the "European Day of the Parks" about all other, remaining national parks in Austria: Read more about their trips here:
More travel pics from my trip into Thayatal national park:
Disclaimer: We have been invited by the National Parks of Austria, to travel into one of the Austrian national parks (Thayatal, in my case). All opinions are my own.