You wouldn't be here if you weren't curious.*
Hi! I'm Elena! Welcome to my travel blog Creativelena.com.
For me, it is all about "life-seeing instead of sightseeing": Join me as I create, eat & live my way around the world. Curious?
*Check out my book, "The Creative Traveler's Handbook", for learning more about what we mean by creative travel. Travelling means the world to me, makes me fit for everday life and sometimes, I trust, also calmer on the inside. Read this blog with a smile, share what you love and remember to check back regularly: After all, when was the last time you did something for the first time?

City walk in Barcelona: Human Towers & Castles in the Sand …
I just LOVE Barcelona. Actually, I never need a reason for visiting the capital city of Catalonia. Returning home from my creative travel experience in Galicia? Barcelona is on the way, "halfway" between Santiago de Compostela and Vienna. Besides, my beautiful friend & colleague Caroline Couret, of the International Creative Tourism Network and Barcelona's creative tourism platform "Barcelona Creativa" (check it out!) lives here.
"Estoy tan contenta que estés aquí Elena! – I am so happy that you are here!" Sometimes, one visit makes two people happy: Never would we have experienced what we did experience without each other's company. What a day! Wandering off without any great expectations (simply floating on the "happiness of being"!), we found that Vienna, of all places, is building castles in the sand of Barcelona. That a new hotel offers magnificent, 360° panoramic views over town. And that the Catalonian people themselves, well … build their own (human) towers! I have only ever seen this on TV. And now, I am right in the middle of the action. Wow. What a fascinating experience!! Check this out.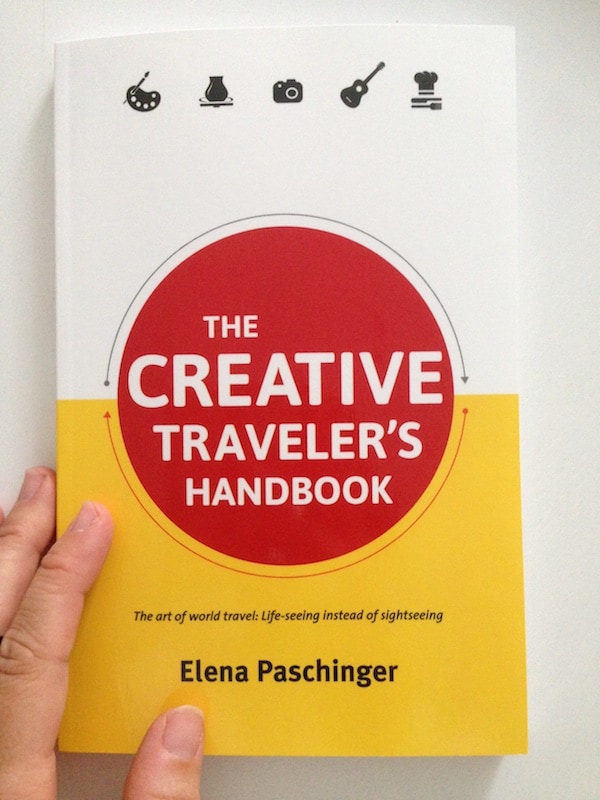 Ready for learning even more about creative travel?
Elena has recently published "The Creative Traveler's Handbook". Chock full of inspiratinal stories, travel tips and advice, it offers everything you need for planning and managing your next creative escape, addressing beginners and experienced travelers alike. Here's how to
get your hands on it
now!
Follow me on my travels: