The time has come: Our children's book "Die Abenteuer von Fina und Liam" (The Adventures of Fina and Liam) has seen the light of day! It was quite a journey from the idea to the finished book, a journey I would like to share with you today. Although I have already written and published three books (once on the subject of languages, twice on the subject of creative travel), the idea of writing a children's book has proven to be something else entirely. Illustrations and graphics need to be carefully considered. What age is the book for? Do I need a publisher? Questions upon questions …
Step by step, I found answers to these and other questions along the way. Because, remember how the saying goes?
Every journey starts with the first step.
So what is the first step in a children's book project? In the beginning there was indeed the word 🙂 and, parallel to it, the wonderful inspiration of the picture book world of my little son Liam. My family and I started showing and reading him all kinds of children's books from an early age on. Based on this new world, and in one of those creative twilight moments between being awake and asleep (believe me, there are many of those as a young mum!) I had the idea for my own children's book story. That was about a year ago. I then started writing in the lockdown winter of 2021, and the story really took off during a writer's retreat in southern Carinthia.
Encouraging the creative writing process: idea, story, developing the main characters …
I recommend a so-called writer's retreat to anyone and everyone who plans to write a book. Days off, free from daily obligations (be it laundry, cooking or shopping) are immensely rewarding. Whether alone or in a group at a communal retreat, it's a wonderful way to get into a writing flow that can last for hours, even days. Time and everything else fade into the background and you get the feeling that nothing else matters except the very story at hand. A wonderful experience. Especially for book nerds and writing fans like me! 😀
If you are joined by inspiring fellow writers, all the better: Here is more about my experiences at the writing workshop with the talented Anita Arneitz and her colleagues in southern Carinthia.
Finishing the creative writing process: Get a copy-editor!
At the end of writing a text, a story or even a whole book, you are naturally anxious: Is it good? Understandable? Interesting? Suitable for the target group you are writing for? Like writing coach Anita Arneitz, I definitely recommend an editing process that follows the completion of the text. One that gives important and valuable feedback on both content and spelling. Where are possible hiccups in the narrative, in the build-up of tension, in the beginning and end of the story? Which phrases are perhaps not easy to understand for children of a certain age?
Too many spelling, grammar and typing mistakes also do not belong in a published book: After what feels like the fifth mistake, you put the book aside in disappointment. And as an author, you always miss something; after a lot of time working on your own text, you simply become "blind" to it. As with my previous books, the investment in professional editing was worthwhile, especially for my children's book!
The thing about illustrations or: The nuts and bolts of any children's book.
Parallel to finishing the children's book story (or already in the middle of the writing process), it is good to reach out to potential illustrators. Do I know someone personally? Do those around me have recommendations for me? Social media offers a veritable treasure trove of contacts via (Facebook) groups or Instagram accounts. Ultimately, the decision is up to you, and usually based on a good mix of gut feeling, trust and previous experience (of illustrators on the subject of children's books)!
I would like to take this opportunity to introduce Anna Schumann and her "Kreativstudio Anna Schumann" to you. She is not only a long-time (travel) friend, companion and mum like me, but also incredibly talented and creative when it comes to illustration and design. I really like how she combines picture genres and subjects in her very own, creative way and thus brings my children's book story of Fina and Liam to life! You can admire the result throughout the children's book. Here is a cheerful picture of the two main characters, Fina the stork and Liam the marmot, as developed by Anna's Kreativstudio: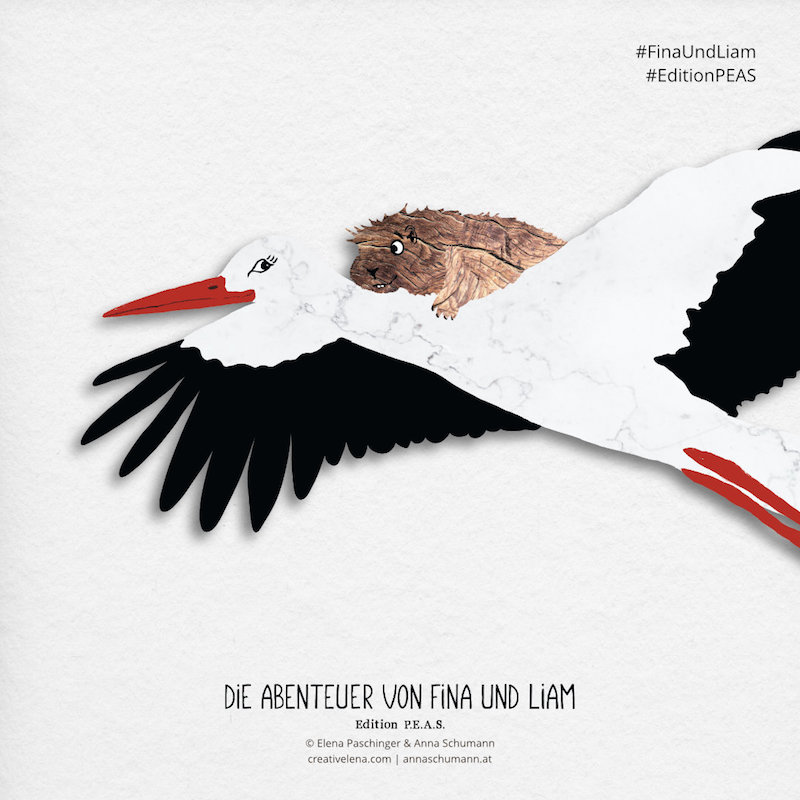 Self-publishing or children's / youth book publishers?
I have already explored this question during our writer's retreat with the experienced Austrian author Anita Arneitz. According to her experience, there are several ways to publish a (children's) book. Self-publishing for the (digital) trade didn't sound ideal for a children's book, and approaching existing publishers who then give you a single-digit percentage of the book's sales price didn't sound very tempting either. Although the networks and names of renowned publishers certainly speak in favour of a cooperation with children's and youth book publishers.
But as an author, I didn't want to have to make any concessions in terms of time or content when writing and publishing my story, nor did I want to be left with a teeny tiny share of the sales price. I and my illustrator Anna believed in the power of our story and our children's book. And above all, we believe in the power of our own networks for becoming self-published with our own "edition". This is how "Edition P.E.A.S." saw the light of day, publishing Volume 1 of the story of Fina and Liam!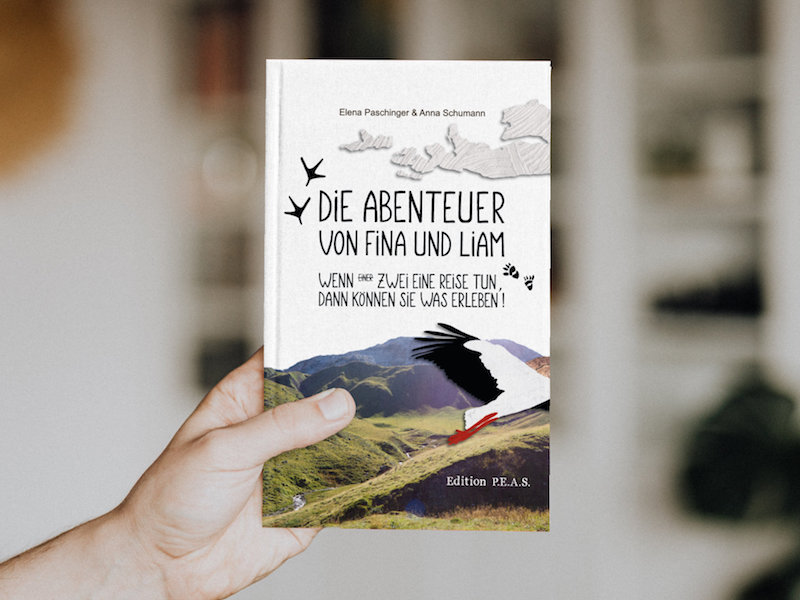 Get your own ISBN & barcode: Questions answered by the Austrian Book Trade Association.
Thank you very much at this point, Ms Isabel Huber! It was actually my writer friend Christina Leutner, who herself is currently launching her very first book #SoulLed (congratulations and thank you, dear Christina!) who put me on the track of contacting the right Austrian organisation for getting my ISBN. Ms Huber helped quickly with all the important questions and answers on the subject of ISBN allocation, barcode etc. in order to finalise our self-published children's book project in time for its sales on the market.
She also wrote something helpful that I hadn't known before: "You have to send five copies of your book to a total of three libraries within one month of printing. As an ISBN agency, we are only responsible for the ISBN allocation, we do not run a library or a physical catalogue raisonné. So you don't have to send to us." Ok then!
By the way, we received our ISBN number and the barcode for the back or inside cover of our book within a few working days of ordering it via the website https://isbn-austria.at. Thanks for the good service!
Thoughts on pricing a children's book.
This also needs to be well thought out. In our experience, the final selling price of a (children's) book takes place within the following parameters: Which price feels right? What do people close to me, or those who have experience with the kind of books I want to set a price for, think? What costs do I have to take into account (and finance), and how much of the actual selling price do I retain as sales or profit?
Currently, due to the global crisis, the VAT on books in Austria is "only" 5% (instead of the usual 10%). Here is a simple calculation example: Anna and I sell our children's book for € 14.90, from which we are left with € 14.16 per book after deducting tax. From this we have to pay the costs for printing, as well as many other smaller amounts, such as editing, photo shoots for the book, ISBN, marketing activities, etc. (I'm not even talking about our own time ). But a (very first) children's book is always a project of the heart, and so it is allowed to develop over the period of time that it needs. 🙂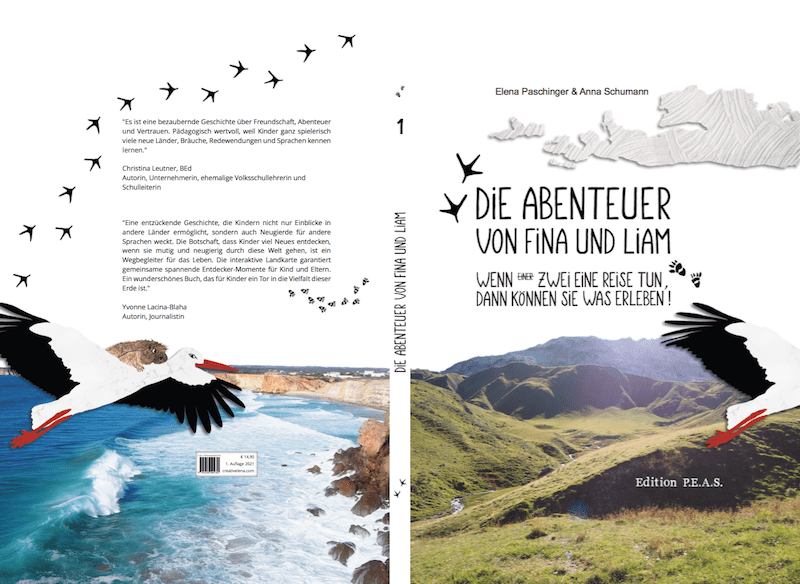 Which printing company for your own (children's) book?
As a result of my long-standing cooperation with the Austrian Eco-Label, the contact to printing companies that carry this quality label was quickly given. This value of paying attention to good environmental practices when printing our children's book was equally important to Anna and me!
Consequently, we let ourselves be guided by the dynamics of good service and, after completing all the work, we can recommend the local Austrian Janetschek printing company. No question was ever too troublesome for them (and there were many!); we were sent sample books without being asked; there were always good explanations of topics and terms such as formats, cellophaning, hot foil embossing, paper details, etc. Little by little, the path of cooperation took shape, and the price-performance ratio, taking into account the environmental aspect that is important to us, also fits perfectly. We are already sooo excited to see how our children's book will look like, which will soon be delivered fresh from the printer !!!!
Last but not least: Book launch parties, cooperation and marketing, distribution and sales.
Quite a process, isn't it? But definitely one that gives us a lot of pleasure and has also brought Anna and me closer together. We met several times to discuss the book launch and marketing, invested in professional photos, created a short video, thought about and contacted partners for (raffle) cooperations, activated our own professional and private networks with the successful interim result of having sold well over 100 copies before the official delivery of the book!
What are our plans for the new year, or the sales launch after Christmas? As soon as my baby is born in February / March 2022 (yes, I am actually pregnant with my second child 😉 as we speak!) and we've all settled in together, we would like to actively take up the topic of book launches and readings once more, set dates, push for further raffle cooperations with selected partners, and so on and so forth. Anna and I will certainly not get bored! And who knows, maybe the idea for volume 2 of "Die Abenteuer von Fina und Liam" is already in the seed of all these activities …?
Stay tuned for what else is to come!