What is PING Business Festival? "People. Inspiration. Networking. Gathering. PING!", my dear friend Inna-Pirjetta Lahti says in her opening speech of #PINGFestival18, the business festival's fourth edition in 2018. Together with her stellar team of hard-working "content gurus & business hippies" (thus the terms used throughout the event), Inna as "Head of Inspiration" has crafted PING Festival to be a "business festival" that marries facts with .. fun! Easily the most colourful, people-driven, inspiring and thought-provoking business event I've been to in recent years, and packed with loads of information to help us (well over 700 delegates to the event!) make better business decisions in this time and (Social Media) age. In line with my many conference summaries published here, let me now share with you some of the most relevant conclusions from PING Helsinki in 2018.
"The future is not something we go to. It is something we create", says Anne Lise Kjaer in her presentation about "The Liquid Society 2025+: Digital Leadership in a 4P Economy of People, Planet, Purpose and Profit."
Businesses, she argues, need to rethink their purposes: The capital P of leadership has to be purpose, i.e. tapping into the emotional landscape of the people you are working with. According to her, this requires multidimensional thinking, as well as looking at new ways of measuring success. Key trends in society?
Creative Leadership: Creativity is what keeps organisations ahead, so no matter the industry, leaders need to empower teams in order to generate and execute bold ideas. It doesn't matter which business you are in: "We all have a digital footprint", Anne Lise tells us in her keynote opening speech.
Global Citizens: "New Diversity", and "No Age Society", are becoming the norm. As influence and opportunities for global citizens grow, ideas and community are the new "social currency".
New models of collaboration will help solve global problems, secure food for the future, raise the quality of life in cities, engage people in open dialogue, etc.
From Storytelling to Storydoing: People buy your actions, not your words! And: More of those "meaningful engagements" are needed according to Anne Lise.
Economics for Humans, meaning more purpose-driven leadership. People are behind movements, and brands, that speak to their integrity. A brand has to have a heart: "People vote with their purse, and it is a vote on opinion and policy making", she recalls.
Wellbeing capital: We increasingly associate with mindful brands, who improve our (sense of) wellbeing. Health is our most important capital, now and in the future.
Digital Transformation: We are easier to reach, but harder to engage! Putting a humane interface to everything will become the winning formula for tomorrow. You cannot do it all at once, it has to be organically built instead.
Seamless living. We all live in a liquid society, where physical and digital is now blurring. People expect seamless solutions to real-time problems.
So how do we engage tomorrow's people? How do we engage the "creative collaborators", the "progressive optimisers", the "global sustainers", or the "idealistic pioneers"? And what about the future of Social Media? Will it make us more social, care more?
There are, of course, many different kinds of users, Anne Lise Kjaer argues. There are those who are super engaged, but also those wishing to detox. The use of Social Media is, and will remain, very complex, "much like a kitchen garden: My advice is to not plant ten plants at the same time, but to plant one or two and see how they get along", Anne Lise concludes with an encouraging smile. She also encourages us to always keep checking: Does what we do feel right? Are we still providing relevant information to those who follow us, believe in us, and trust us?
"Social Media should be a parallel to our real world, but it has become an overlay. The problem is our numbness. Mental health issues are going up, as people are missing human to human contact. We need to dig deeper, and really encourage people to engage on a level that also emphasizes emotional intelligence: Do not just think, but also feel!" (Anne Lise Kjaer @kjaerglobal, #PINGFestival18, Helsinki).
"Future Brand: How do we stand out in a crowded, distracted world?", asks brand strategist & Iowa University Professor Nick Westergaard during his keynote presentation at #PINGFestival18.
Branding, Nick muses, "feels a little old and stuffy. I sometimes wonder: Do people still understand brands? People can communicate more, yes, but do they actually understand more?" Nick continues to argue in favour of branding, sharing his "Seven Brand Now Dynamics" with us:
"We've rebranded!" As human beings, our primary motivation he argues, is meaning. Successful brands are meaningful, they represent something: "It's that feeling we get when we buy the branded product, reminding us to appeal to the head AND to the heart, to create a sense of belonging, a sense of humour, even nostalgia … something like the IKEA effect: IKEA isn't just in the furnishing business. They are about that feeling you get when you are at home. When you put together that shelf, IT MEANS MORE TO YOU. So ask yourself: What business are you really in?"
"Brand building". Brand building, Nick continues with his second dynamic, is something all people in a community can do together. Elon Musk, he mentions, advocates for Tesla mostly through his Twitter feed. He encourages us to rethink our most important touchpoints with our audiences, so as to help (re)structure our own branding process.
"That's a great story!" Dopamine, Nick explains, is like "the brain's 'Save' button", what with stories helping us to transmit meaning, as well as to record meaningful experiences and life conclusions. "How can we use storytelling? Star your customers! Don't round out your rough edges or conflict areas, but say it with a voice. Stand up to yourself! And ask yourself: What is your brand's core story? As in, who would do your voiceover if your brand was a movie?"
Content isn't new. The problem is a missing strategy about content creation. How can it be more business centric, and customer aware? "Take GoPro, for instance", Nick explains. "GoPro puts customers first, not their technology. It shows what customers are able to do with their technology! That is different. Ask yourself: What content can you, and only you, create?"
Who is helping us to create all of this? Embrace your brand's people power, and keep building your circles of community. Transform your employees into brand ambassadors. Put your best customers first. Create brand gravity.
Add transparency and simplicity: "If you lie, you die" (in the Social Media age). Nick: "Be consistent in what you say and what you do! Be proactively transparent. Most innovative brands globally are perceived to be SIMPLE. More isn't always better. Sometimes, more is just more! Ask yourself: Where can you simplify? Website navigation, products and services, brand promise … Transparent, simple brands move faster. Close the gap between what you say, and what you do!"
Nick concludes by introducing us to the so-called SPAM Museum: "Take a look at this. If Spam can create an interesting brand experience, can't you?! Branding is thousands of tiny punches that add up. Walk a mile in your customers' shoes. The experience should translate into a brand promise delivered. And: Think more like a Hollywood producer: Where are you NOW? Where do you WANT to be?"
Thank you Nick, for a very interesting presentation yet again!
Next up, Emilie Tabor (@imagency) has some answers for us on "how to bypass big budgets by successfully working with influencers".
I like how she mentions that "influencers are creatives, they come in all shapes and sizes: There are macro-influencers with millions of followers, but also micro-influencers with followers of between 5.000 to ten million. Working with them, is about reaching niche segments as well as pursuing a higher engagement rate." And: "Empower, not overpower. Let go of control, let the influencers be the creatives. Have a long-term, multi-layer strategy. Micro influencers, for instance, are super close to their community, so make use of that in working together with them.
"Pioneer with influencers. Influencers often move faster than brands. You can be there with the influencers, experiment with them, co-create and style with them. The future of influencer marketing is going to the micro influencers, to the niche audiences, who have their communities strongly involved. Facilitating this, you are closer to your target audiences than you have ever been!" (Emilie Tabor, #PINGFestival18, Helsinki).
After the keynote and networking sessions of the morning, all of us "business hippies" and "content guru" participants to PING Festival could choose to attend two parallel sessions of a total five, whose core takeaways I'd again like to share with you here, namely:
"How creativity and out of the box thinking can help us make better business solutions in digital marketing. With case studies from Haikara watch, Visit Helsinki, Kyrö Distillery, and content creator Jasmin at "Tea & Twigs".
"Figure out the perfect story to tell. Use AI-driven ad campaigns to target your most relevant audiences. Share individual stories and messages about what people care about the most. Find out who likes you the most, and highlight these customers as brand ambassadors. Tell each person exactly what they want to hear. If you have thousands of hardcore fans, no further money is needed in advertising: People believe in the story, and will keep sharing it. It's a tailor-made absolute", says David Blinov, of Haikara watch (follow David @davidblinov in order to learn more).
"A brand story is only a good story if it is true. Look at your website as an online service portal, enabling active participation from your community. Keywords are cross-organisational collaboration, freedom, trust, and having the time to do everything at your own pace. Our #MyHelsinkiResidence has now yielded an AVE of close to seven million Euros, with more than 400 million people reached by working with 161 influencers from 20 different nationalities. For a comparatively small international capital city such as Helsinki, that is quite considerable", says Elisabeth Heinrichs of VisitHelsinki (follow Elisabeth @EHdragonfly in order to learn more).
"You cannot only be selling, you have to be helping! Earn the trust from your audiences with good quality content. How do you build trust? Easy: You deliver on your claim. We started thinking one day in the sauna: There should be a rye whisky distillery in Finland, and we should be the ones to do it. So we did it. We organised festivals, our own pop-up stores, even created and performed songs there, made a 'moisturyeser' rye-based hand cream for 'our bartenders'. We co-create and experiment with them. Only a year later, we won the Trophy for best gin in a Gin & Tonic at the IWSC International Wine & Spirit Competition. The core value needs to be trust, i.e. civilised, and open debates, between your brand and the customers", says Mikko Koskinen, of Kyrö Distillery Company (follow @kyrodistillery in order to learn more).
Last but not least, @Jasmin_ of "Tea & Twigs", who is a content creator as well as working in PR, reminds us that there are "several deal breakers that hurt trust in building successful business relationships":
The ratio between sponsored content and "real insights" published should be 40/60. Readers demand more of the "real me, please".
Missing or wrong labelling of sponsored content is an absolute no-go, both illegal and unpopular. As is:
Loss of reality, ungratefulness, and overwhelming luxury on Instagram. Remember thinking: Does this fit with my target groups? Otherwise, it may easily be considered as "fake".
One-way communication, impersonal vibe, a no-show in the comment section, are all deal breakers, too. At some stage, you have to be visible and get out there, be "relatable".
Micro influencers should be considered over Social Media super stars. They have more expertise, and typically, they also have less paid content and show more of their real me.
Do not host "broad influencer campaigns with the same product or concept. To see just the same post on five people's Instagram channels does not seem right … and it weighs more on influencers than on big brands, you have to be careful there", concludes Jasmin.
"Be really mindful of what you curate. What you share, what you don't share. Follow the 'red thread' in your work and with your audiences!
You can buy most content creators, but not their fans. Virtual success does not support an actual product forever."
To finish off this year's insights from PING Helsinki festival, I would like to introduce you to John Schoolcraft, who shares one tremendous (brand, Social Media, business, etc.) story of a seemingly unglamorous product with us: Swedish oat milk. His concept, approach and persona, though, are so refreshingly bold and creative that I encourage you to head over to http://www.oatly.com NOW and follow them for whatever it is they do (can't wait to see @oatly in Austrian shelves any day soon now, too!).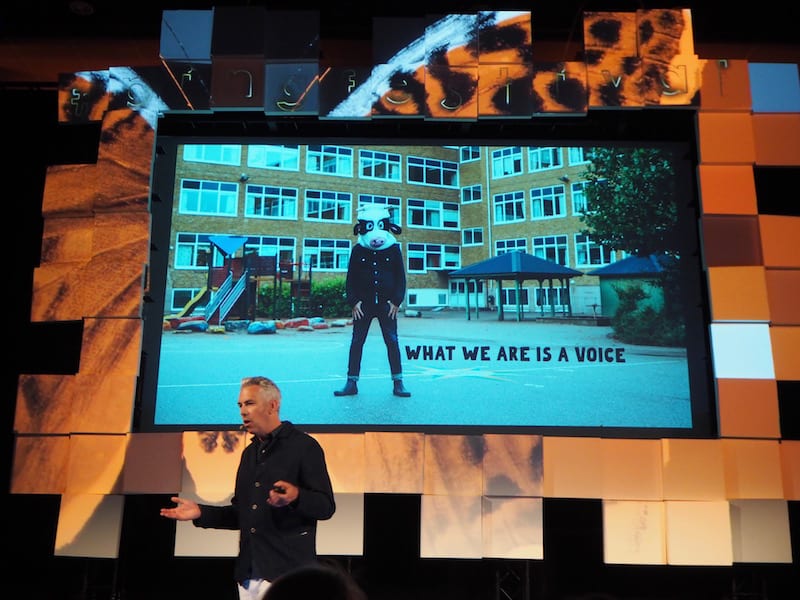 "We are a company that tries very hard not to act like a company. We are a group of people hanging out to help other people. We do not have a marketing department. What we have, is more like a voice. Someone you could talk to that has an opinion. Ours is: Eat healthier without ruining the planet. We sell so many products, because we never actually sell."
.. says John in his closing keynote speech at #PINGFestival18. To him, it is all about (re)creating a really cool company culture. How did Oatly do it?
For a start, him and his team produced a book called the "Change Book" that was handed out to all employees of the company. The idea was to shift focus on how to measure success: "It's cooler to help people change their lives and do something for the planet, than focus on profits and margins. We successfully went from becoming a food processing company to a lifestyle brand. How did we do that?" Well, yes John, how? Silence as everyone hangs on the words of the talented storyteller and presenter John, who in just half an hour has us all turned into oat milk fans!
"We don't try to make everyone happy. We brief ourselves and approve our own work. Our reasons for success? We are very value-based: Sustainability, transparency, trust. You see, for instance: The packaging is our main media channel. It's like a 'free billboard' to us, and shows the international community what a small country like Sweden can do! As soon as we changed packaging to create storytelling, sales just exploded! Because we have an opinion, we have become human – and not 'just another branded logo'. THAT is the difference."
"Be honest. Be human. Be consistently inconsistent. Don't be evil." (John Schoolcraft, #PINGFestival18, Helsinki).
Turn package into jewellery. Make people experiment and play with your product.
Find a way to fit into people's lives! Help people create change. The meat and dairy industry are responsible for 14.5% of all greenhouse gas emissions, which is more than the traffic industry. The simple message is: Eat more plant based foods. End up contributing more to society, and not just selling products.
Execution is everything. Don't talk about the process, focus everything on the execution.
Everything that is unnecessary is totally necessary.
Focus on people, not shareholders.
Soul. Don't forget to have some.
Oh yes. Word, dear John! Thank you so much for such an inspiring, out-of-the-box presentation, way of thinking, and bold and successful execution to a really change-making business !
Flick through all of my #PINGFestival18 photos here: